Check out the latest updates to the Flyntlok Equipment Dealer Management System.
Machine Purchase Orders
New Features
Machine Adding
We've made it easier to sort and filter the list of machines when adding machines to a voucher.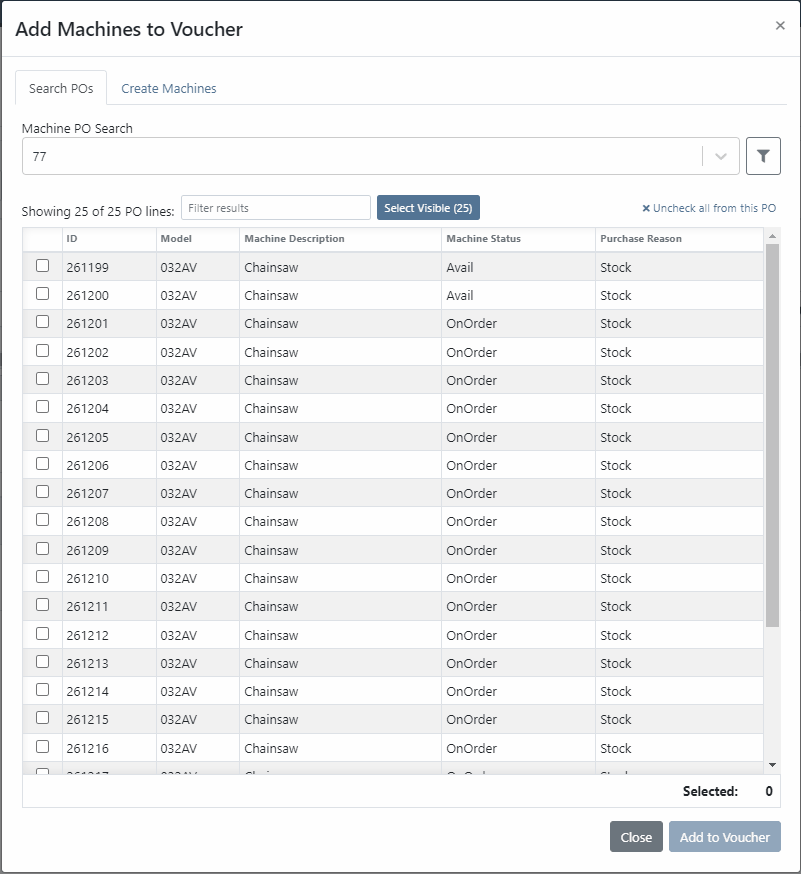 Machine Creation
While adding new machines to the voucher, you can now designate a quantity of machines to create.
Label Printing
We have added label printing functionality to the bulk actions!  Don't forget - Flyntlok consultants can customize these labels to your business needs. Just submit a support ticket!
Permission for Completing a Voucher
We added permission that must be turned on if the user would like to complete vouchers.  You can also designate a user to receive a notification and pending action when a voucher is submitted for completion.
Auto-Calc Allocation Changes
We have removed the recalculate button and will recalculate the fees live.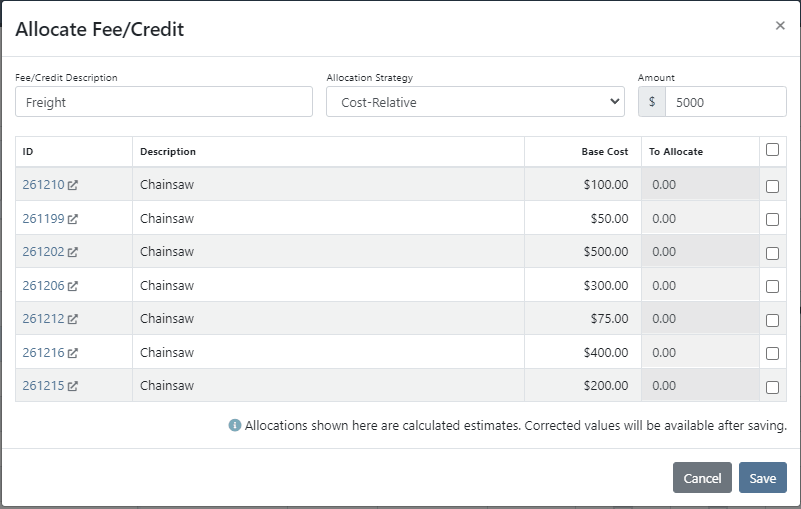 Year Auto-fill
If you add a date and leave the year blank, we will assume that you would like to use the current year.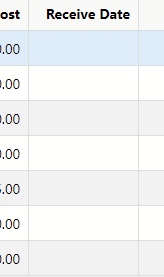 File Attachments
If a machine received on a voucher has files attached to it, you will see a voucher files section on the machine's dashboard. Remember, files attached to a machine using the detail view will be attached directly to the machine.
Bill.com Support
If you track your payables through bill.com, we have added the ability to set up a bill.com machine clearing account.  If this is set, we will offset the asset amount on the journal entry to this account.
Mobile
New Features
Login
If you log in from a phone, you will now be taken directly to the mobile view. If you want to return to the desktop version, click Return to Desktop at the bottom of the page!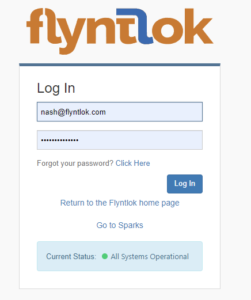 Clocked-In Work Order & My Work
The work order you are clocked into will display at the top of the page. The My Work button will show you all of the work orders you have assigned to you.
Point of Sale
Enhancements
Card Error Messages
We've updated messages coming back from our card processor to make it more clear when a card has been declined or if there was an error during the payment process.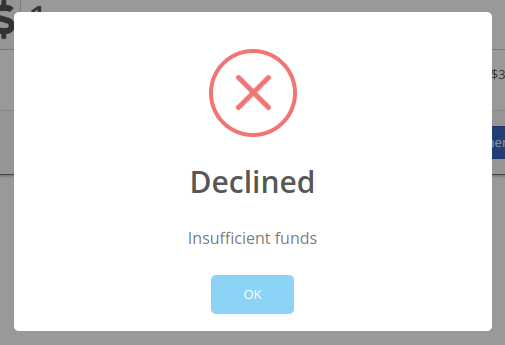 Rental
Beta Features
Improved Date/Duration Selection
We will be beta-ing a new feature with pilot dealers that should make it much easier for us to properly calculate your billing durations given a date range on a calendar. This should allow you to set up contract data in a much easier format and reduce the number of dates you need to manage for a rental contract.
Contract Interim Billing Cycle
We will be beta-ing a new feature with pilot dealers that allows you to set a default interim billing cycle for a contract. This should greatly reduce existing date adjusting when trying to create an interim invoice. This will also let us notify you when you have a contract due for billing, and in the future, offer us the chance to generate these bills automatically for you!
Enhancements
Location Selection
You can now select a location during the rental contract creation. Previously, we only allowed you to change it once the contract was created.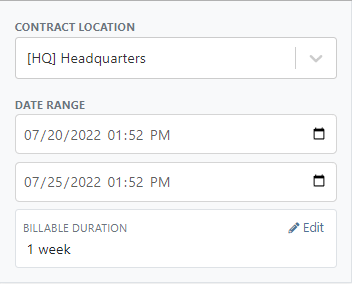 Address's
While entering an address on a rental contract, you can now click the Save to Customer box to save the address to the customer address book.
Consumables
Consumables can be configured in two different ways: Standard and Capacity-Based. Capacity-Based is better for fuel because fuel is measured in percentages, not quantities. Standard is better for renting out consumables that are measured in units.  Tire wear, cutting edge wear, and other specifically measure consumables should be setup with the Standard style.
Equipment Return Work Orders
When auto-generating work orders at rental check-in, we were using the machine's last known hours, not the hours at check-in. That has been fixed, so work orders populate with the machine's hours at check-in.
DMS Work Orders
Enhancements
Bug Fixes
We fixed a handful of bugs causing the work order error when you tried to save.  Some of the most notable are:
Fixed Asset category work orders
Work Orders with a machine that had the owner removed
Missing labor types
Notifications
Preferences
Notification groups should now be more clear in which aspect of Flyntlok they tie to.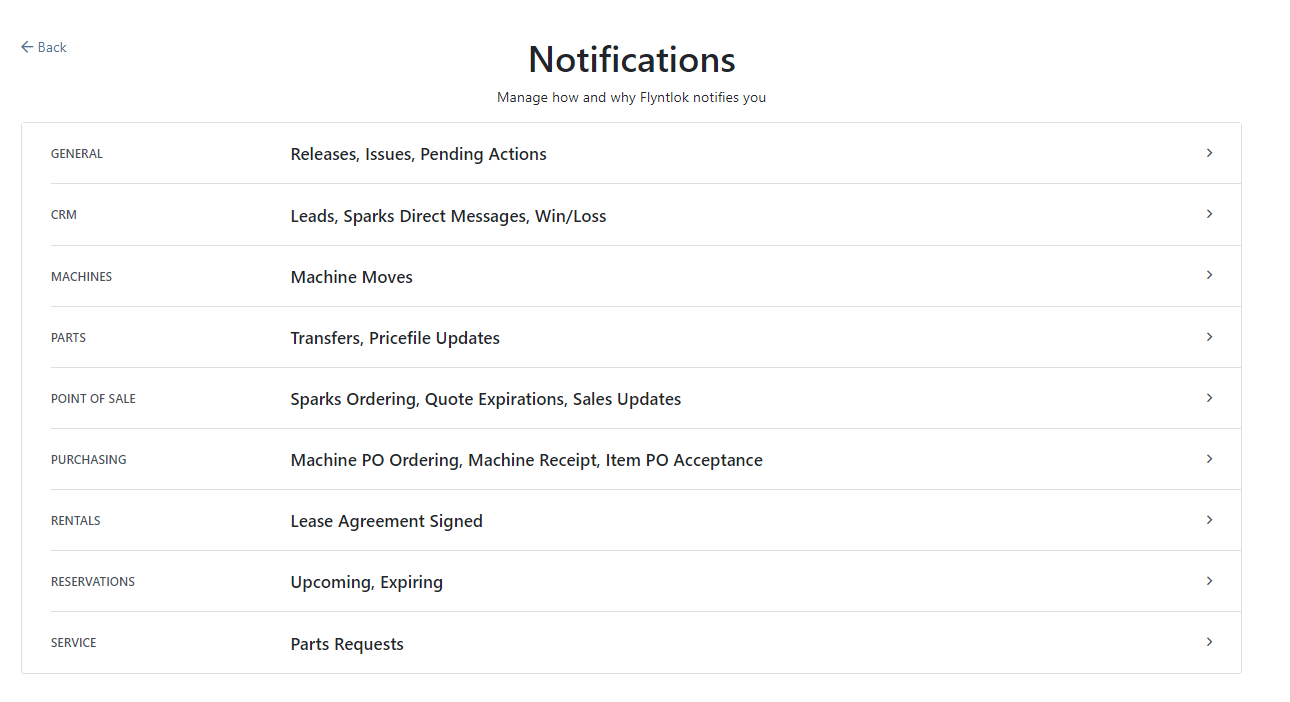 Assigned Lead
Along with adding more categories of notifications, we added a new notification you can receive if a CRM Lead gets assigned to you.  You can configure how you would like to receive this notification by clicking your name in the upper right of Flyntlok and heading to preferences -> notifications.
QuickBooks Online Interface
Enhancements
Syncing / Not Syncing Accounting Contact & Email
We've added an option on the customer profile to decide if you keep the customer's accounting contact in sync with Quickbooks Online data or if the data you enter in Flyntlok should be the source of truth.  This is the email we use to auto-send invoices and receipts.  When this is on, we will always override what is in those fields with what is set in QuickBooks Online.  When it is off, the contact and email will remain whatever you enter under the customer profile in those fields.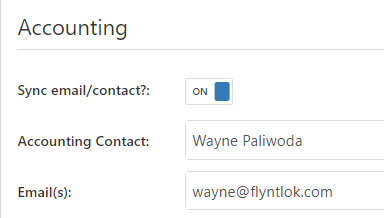 Posting Customer Payments (Z-Out)
We were presenting you with some errors almost anytime you ran the end-of-day process to post customer payments. Those errors were erroneous in that the posting had gone through successfully.  We prevented those unnecessary errors from displaying going forward. Actual errors still display!
Last Release Notes
Not yet a Flyntlok Customer?
Learn More at Flyntlok Dealer Management System
Youtube
Check out our Flyntlok YouTube channel for more highlights of the application!