Check out the latest updates to the Flyntlok Equipment Dealer Management System.
Inventory Sprint Update
Just in time for inventory counting season, we have made enhancements to Flyntlok's inventory sprint system! Our new sprint dashboard provides a better user experience, the ability to create new sprints, and view all old sprints all in one location. Links for sprint reporting can be found here as well.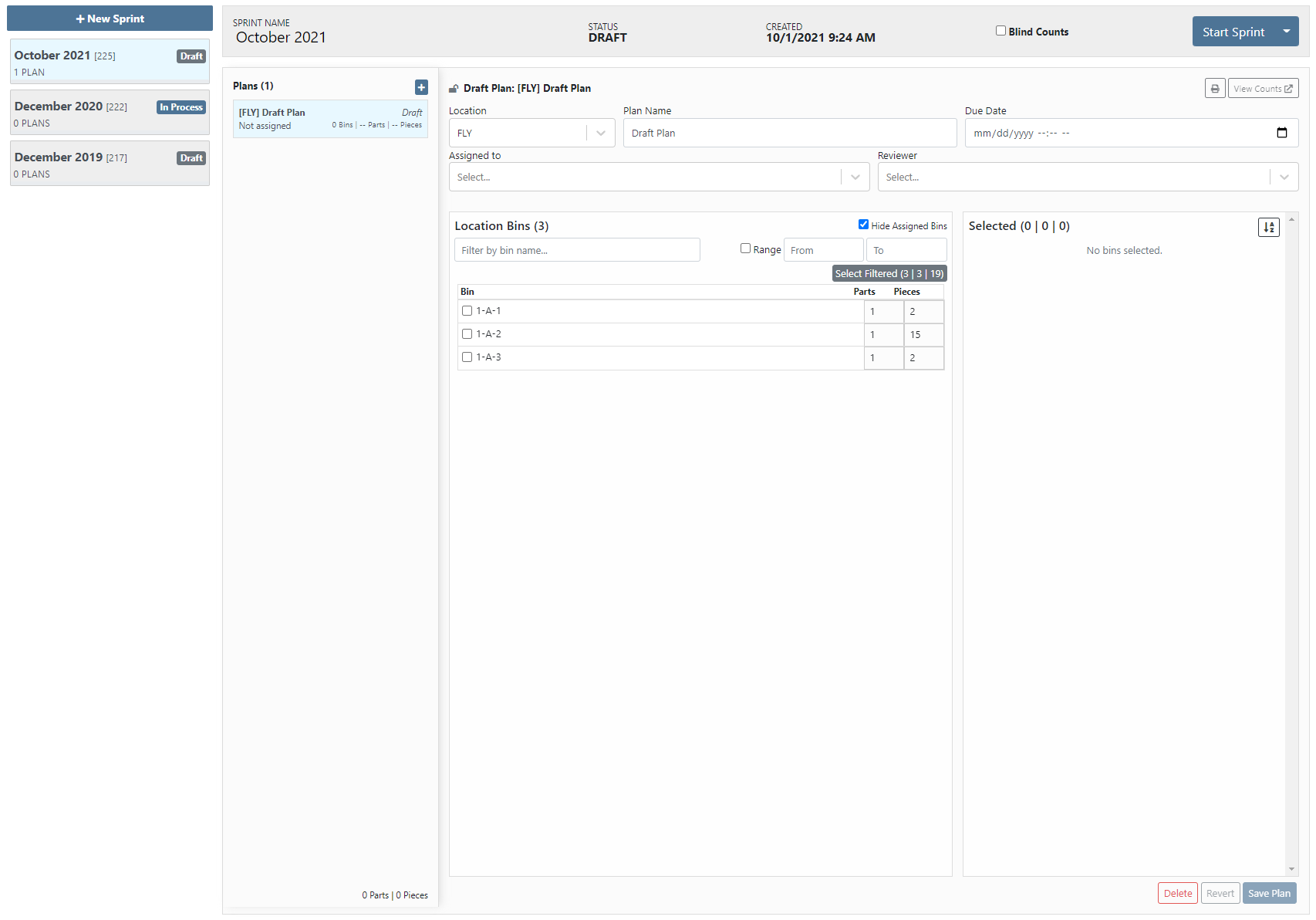 The functionality of the sprint system is still the same. You create a sprint, then create plans per location with the bins to be counted, then you assign that plan to an employee for counting. One of the highlighted new features is allowing for the sprint to be a blind count. The blind count will not show the employee the quantity of the item that Flyntlok says you have. Click the following link to check out our updated sprint documentation that will walk you through using our sprint system. (Sprint Documentation)
Barcode Scanning
To make adding items to a sales order easier, when on a Flyntlok sales order, you can scan an item's barcode, and have that item populate the search with the item number. This will allow you to set the quantity and add them item without having to type in the item number!
Transfer Notifications
When a transfer was requested from your location, Flyntlok would not tell you that someone had sent this request. Now, if your profile is set to receive the transfer notifications, you will be notified when a part transfer is requested from your location, when a transfer to your location has been accepted, and when a transfer to your location has been moved to Transit status.


Linked to Pricefile
Our original wording for indicating whether or not an item was linked to the vendor's price file was confusing. We now express this in simpler terms.

Work Order Updates
Finance Sections
Previously, the finance sections of work orders were adding pricing of items on quote internal parts orders. Quotes will not be considered when calculating the finance sections.
Rejected Quotes
When an internal parts order quote has been rejected, we will indicate this in the Parts Invoices section and on the part within the job.

Sales Order PDF Updates
Vendor Short Code
An item's vendor shortcode will now be in parenthesis before the item's description on sales order PDFs.

Linked Work Order
On the final bill out of a work order, we will show the associated work order on the sales order PDF.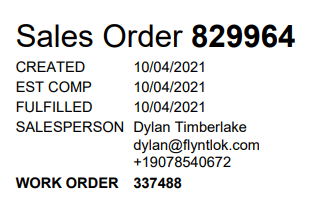 Customer Contact
If there has been a contact assigned to a rental or work order, we default set that contact on any sales order created for billing and show the contact information on the PDF.

Special Order Asterisk
We have brought back the asterisk that appears next to an item's description on the sales order PDF to indicate if a part was special ordered.

Sales Order Machine Description
When selling a machine, we default populate the description on the sales order with the description of the machine. We can now set you up to have the long description of the machine default to what shows on the sales order. This will show any options or default configurations that you have associated with the machine to the customer.
Last Release Notes
September 22nd, 2021 Release Notes
Not yet a Flyntlok Customer?
Learn More at Flyntlok Dealer Management System
Youtube
Check out our Flyntlok YouTube channel for more highlights of the application!