Check out the latest updates to the Flyntlok Equipment Dealer Management System.
Point of Sale Item Import
For the large orders that customers send on Excel sheets, you can now import those files to the point of sale! The import only requires the item number and has an optional field for quantity.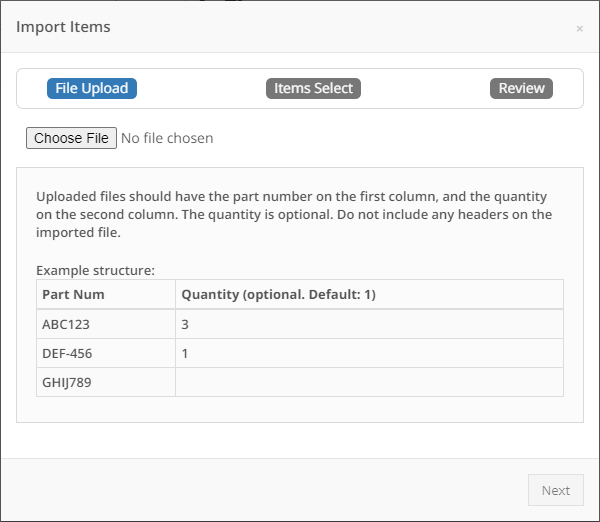 After a file is attached, we will show a list of all the items from the file. If there is a red X, we could not find a matching item number and this item will not be added to the sales order. If the item has a green checkmark, we were able to find a match for it. If there is an orange triangle, we found more than one item number that matches the item. We give you the option to choose which item you would like to add.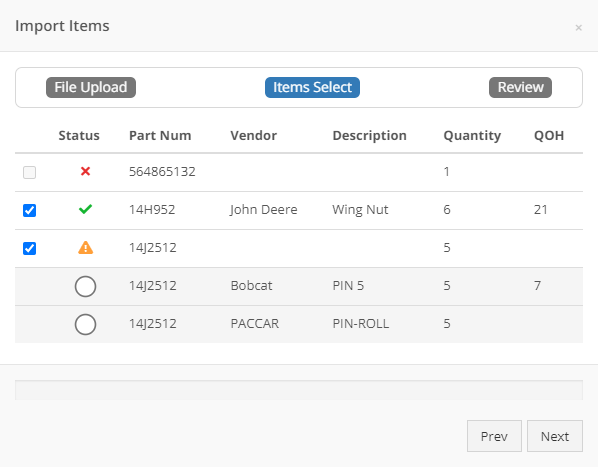 NOTE: We support the following file types for import:
Quick Add Customer Address
In our quest to make actions on the point of sale quicker, we found that users were quick adding customers and still having to go edit their profiles to add address information. You now can add an address from the customer quick add form.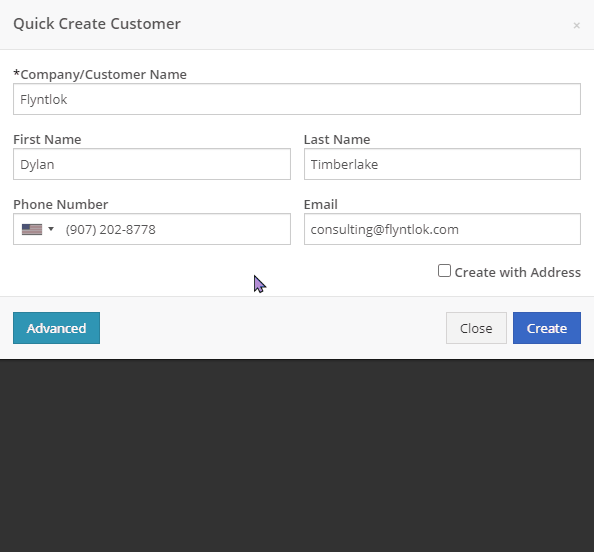 PACCAR Bond Loyalty
For PACCAR dealerships, you can now search for customer's Bond Loyalty accounts and add any relevant coupons to a sales order. You can also create new Bond Loyalty accounts or edit existing ones.
Assigning a Bond customer to a sales order is done from the sales order information section.

Once a bond customer is assigned and all the customer's parts are added to the sales order, you can click the dollar bill icon in the upper right and add available coupons.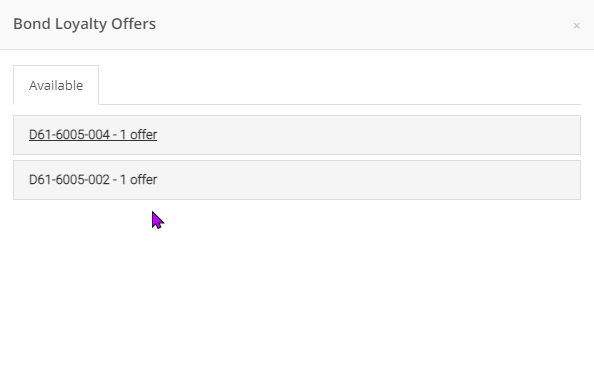 Please note that there may be some delays in searching and loading Bond Loyalty customers and coupons. This is due to slow responses from the company we have integrated with. They are aware and actively working on a solution!
Part Verification
When a customer submits a sales order from Sparks, we mark those parts as unverified with a red warning triangle. Once the parts are verified by the store, you can click the Verify All button in the Details tab instead of clicking on each item to verify.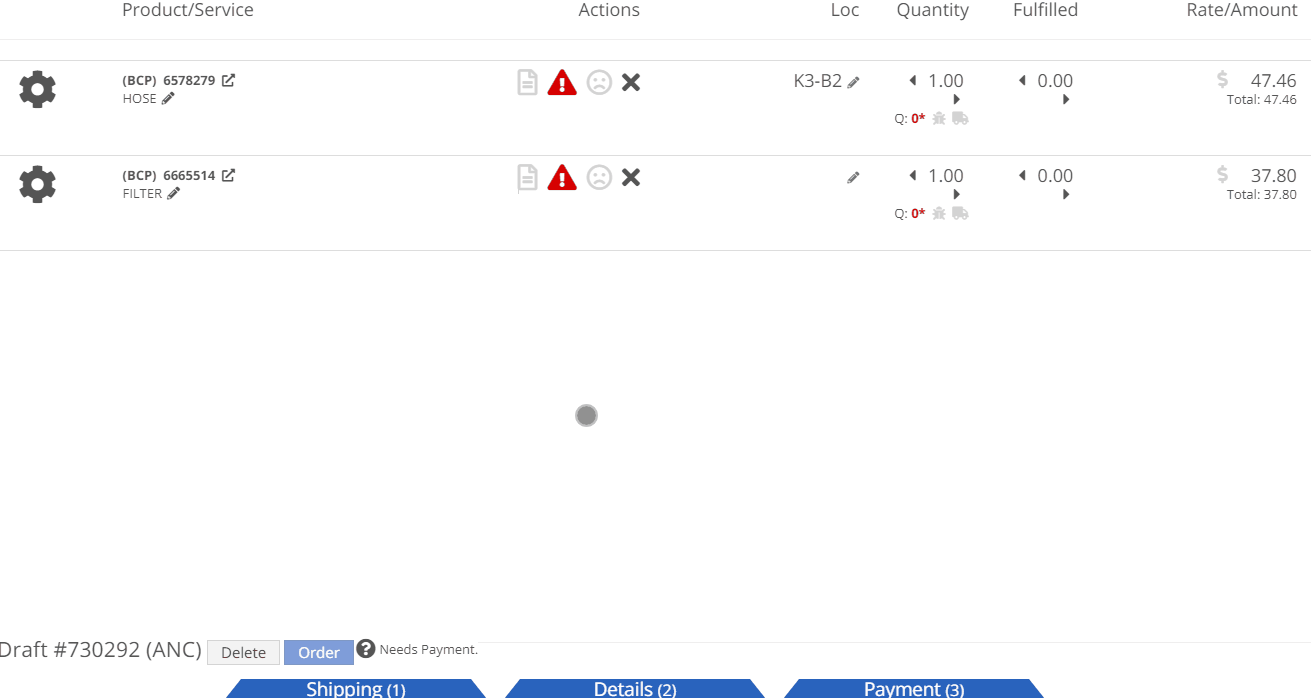 Sales Order PDF [BETA]
We are starting to roll out the new sales order PDF to all our customers. Please contact Flyntlok if you would like to be included in this beta.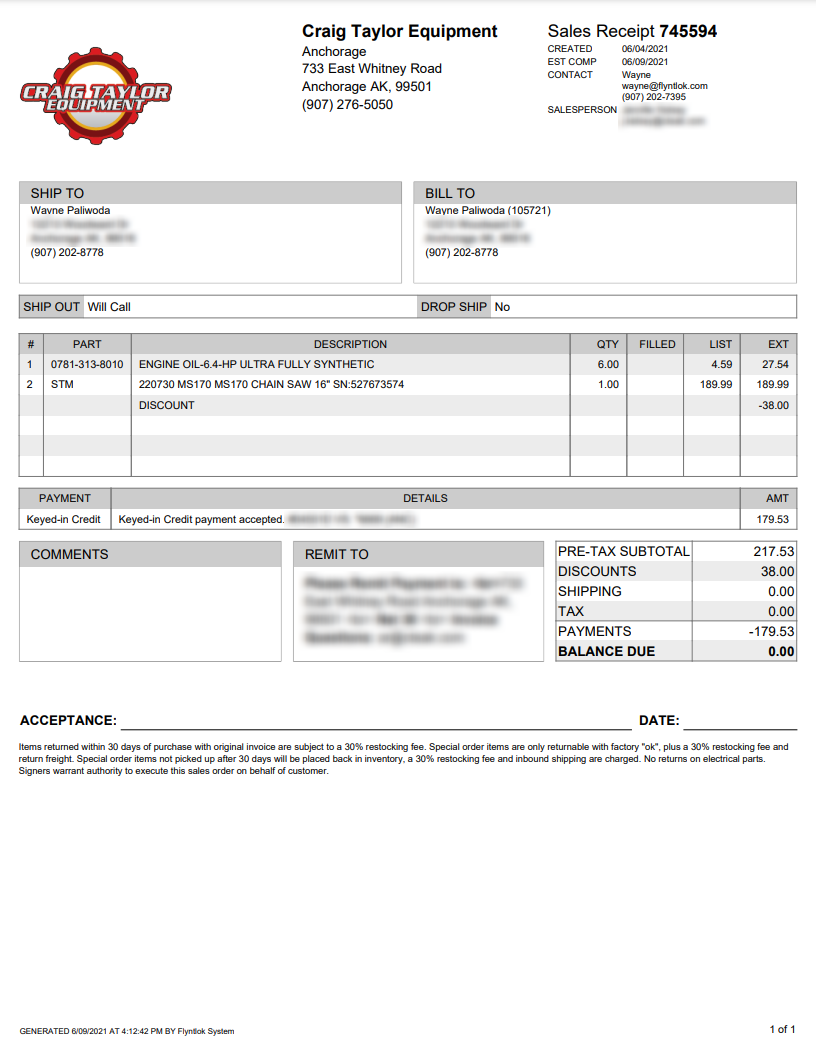 Work Order Job Templates
We found that our old job template editor was difficult to work with and not friendly to smaller screens. We have redesigned the editor to provide a smoother and more user-friendly experience. Also, we have added the ability to attach associated forms to job templates. These forms will then be attached to the work order when the template is added.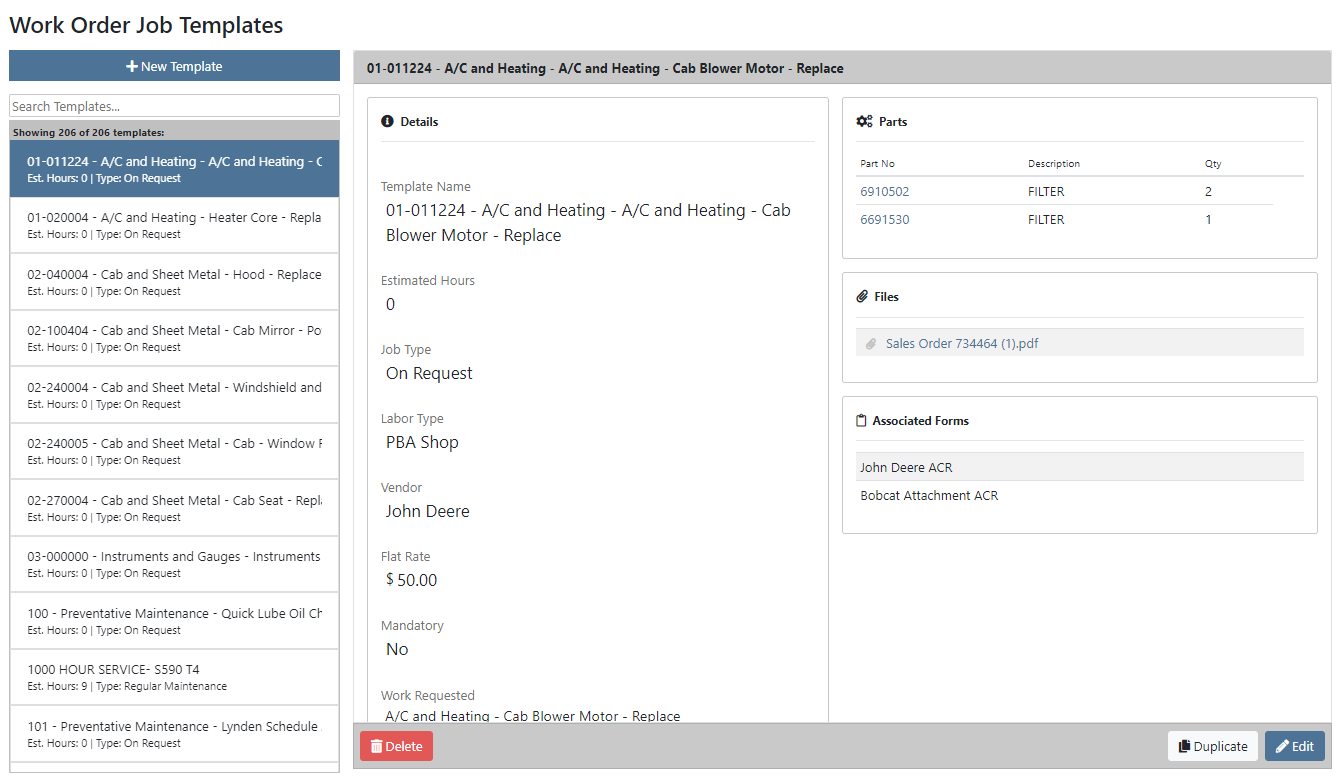 Service Dashboard [BETA]
The service dashboard now has a new look! You still can filter this report via date range to view the productivity and efficiency of each store location.
Here is a list of definitions for the statistics we are reporting on:
Productivity: Actual hours clocked in divided by time reported on imported timecards.
Efficiency: Billable hours clocked divided by actual hours clocked in.
Utilization: Billable hours divided by clocked hours.
Effective Billable Cost: The cost of labor multiplied by billable hours clocked, divided by actual hours clocked in.
Effective Billable Rate: The billed rate of labor multiplied by billable hours clocked, divided by actual hours clocked in.
By clicking the More button in the bottom right of the location's details, you can view the labor details by labor type for that store location.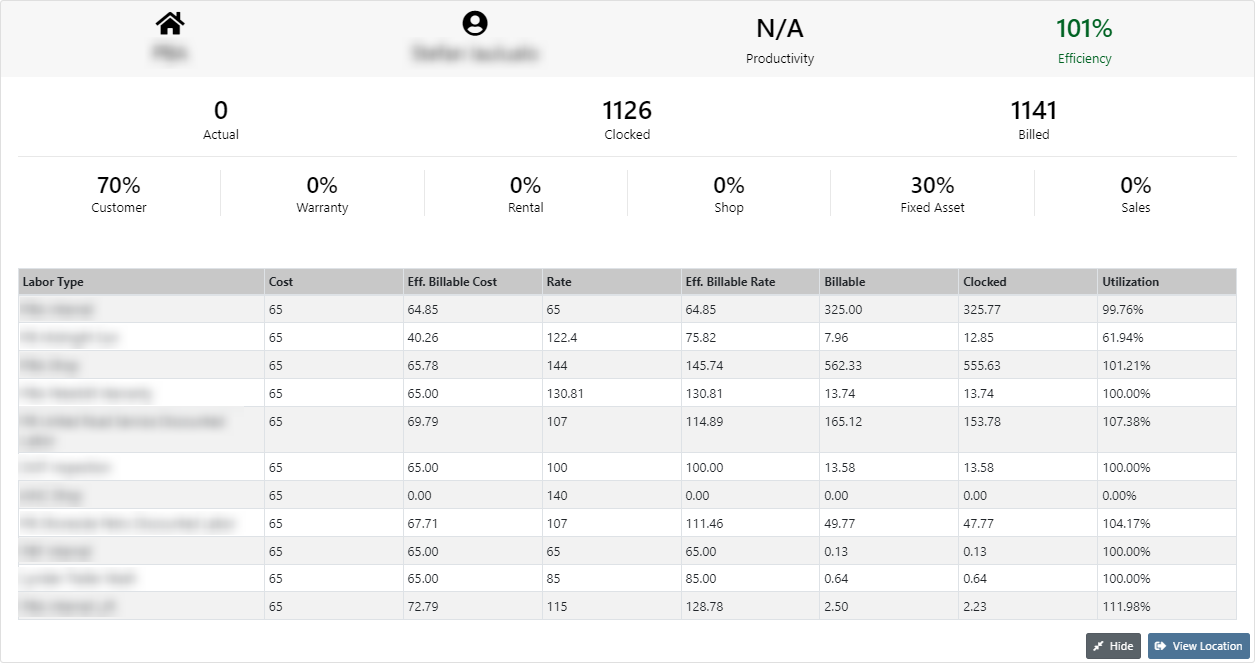 By clicking the View Location button in the lower left of a location's breakdown, you can view the statistics of a location and continue to drill down to view the statistics on a per technician level.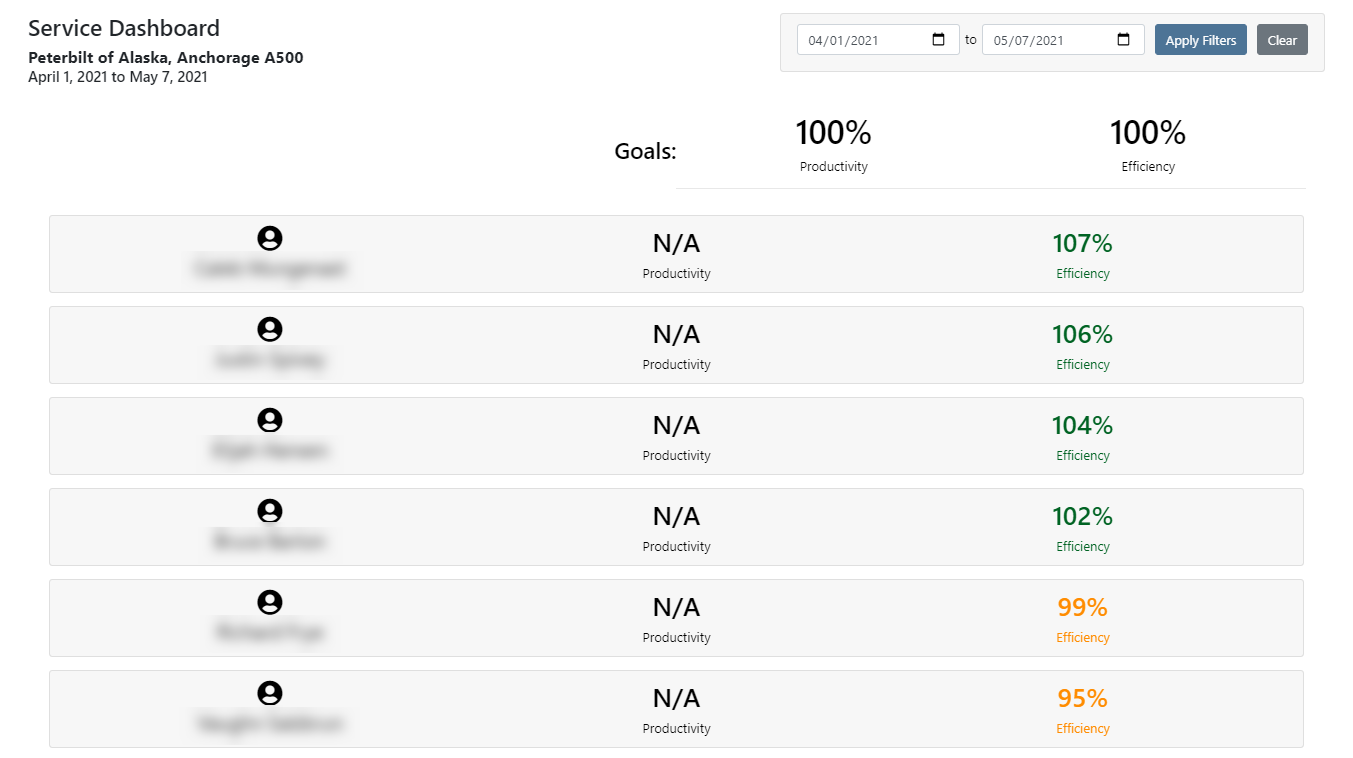 Consignment Items
When adding a new item to a consignment location, if you canceled the pending transfer because of insufficient quantity, the item would get removed from the consignment location. Now, if you add an item with a target quantity, it will immediately be put on-site with zero quantity, and a pending transfer for the quantity will be created.
MRP Work Order Grading
Previously, we did not require an assembled by signature before applying the final grade to a work order. We now require there to be an assembled by signature before there can be a final grade.
Work Order Creation Machine Search
Two weeks ago, we updated the machine searcher on the work order edit page to allow for searching customer unit numbers. We have made the same change to allow for searching customer unit numbers when creating a work order.
Model Save and Update
The button to save and update machines when editing a model is now blocked by permissions. If you do not have the permissions for this, you will need to contact your management team.
Last Release Notes
Not yet a Flyntlok Customer?
Learn More at Flyntlok Dealer Management System
Youtube
Check out our Flyntlok YouTube channel for more highlights of the application!