CRM
CRM is a major focus for dealers and that makes it a major focus for us! Look forward to more updates to this system in the coming weeks.
New Feature
Mobile Conversations View
You can now access your SMS conversations from the mobile view of Flyntlok.
You can view a list of your conversations and search for any existing conversations or contacts.
Interacting with a conversation by sending a message will automatically subscribe you to the conversation. You can unsubscribe by clicking the star icon.
Responses will show up live so you can continue to interact with your customer. All of this interaction is logged under the customer profile in Flyntlok.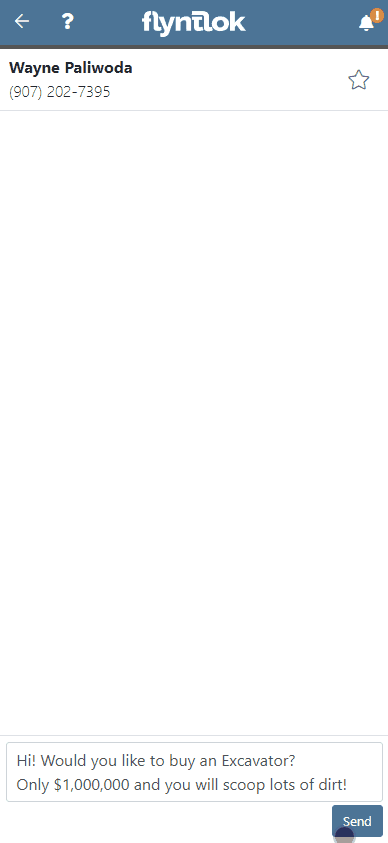 Create Rental Contract from Lead
You can now create a linked rental contract from the actions dropdown on a lead.
Email Prompt
We have updated the settings around the "Text Us" website widget. Now if a potential customer is trying to input a non-US phone number they will receive a prompt from Flyntlok to instead submit an email address.
Point of Sale
New Feature
Backorder Column
We have added back order column to the sales order PDF. Backorder is any quantities not yet picked or received via a special order.
Transfer Icon
For better visibility, we have updated the item transfer icon to be highlighted green if there are any linked transfers! This will help prevent accidentally executing duplicate transfers to fill a sale.
Purchasing
New Feature
Substitutions on Item Purchase Orders
When a substitution is made on an item purchase order, you now have the option to retain the substituted part if you have not received any.  If you have received quantities against the substituted part, we will only substitute the remaining quantity, and the PO will retain the original line for the amount already received.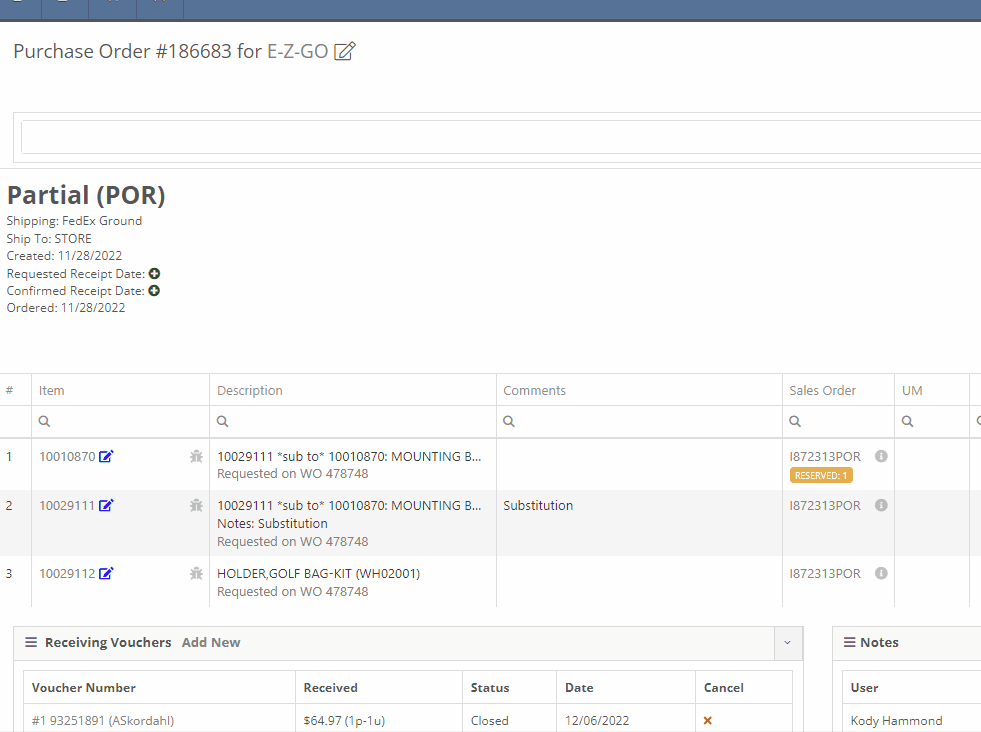 Editing Ordered Machine Purchase Orders
Voiding a line, or deleting an entire purchase orders, will now go out and mark the associated machines as "Deleted".  Previously, this had to be cleaned up manually.
Work Orders
New Feature
Transfer Labor
You can now transfer a single labor punch to a new work order and job by clicking the transfer icon found on the labor tab.

Managing Customer Contacts
You can now add/edit customer contacts while creating a work order.

Logout Will Clock Out
Flyntlok will automatically clock you out of work orders when logging out. This applies only when you choose to log out.  If you close your tab, exit your browser, etc. you will remain clocked in. This applies to both ERP and DMS Work Orders.
Quotes on Internal Parts Order
Flyntlok will show you a warning when you try to invoice a work order that has quoted parts.  Quoted parts will not be added to the work order invoice.
Customers
New Feature
Customer Create Reason
We have added this field as an option in all places you can create a customer in Flyntlok.  Previously, you could only record the reason for a new customer from New -> Customer.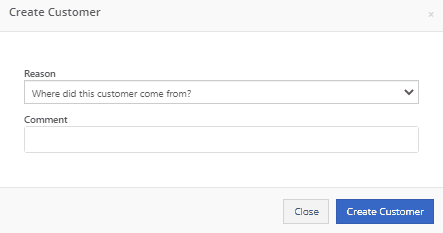 Default Work Category
You can now set a default work category by customer. This new field is found in the "Other" section while editing a customer. Customer Dashboard-> Actions-> Edit
Rental
Enhancement
Win/Loss Report
We have added rental as a source option in the win/loss report with a link to the rental contract in the source link.
Machines
New Feature
Individual Posting of Asset / CoGS
You can now configure a vendor to record purchases or sales by machine. When the option is set to yes, you will get a single journal entry for each machine involved in the transaction when posting to QuickBooks Online.
Enhancement
Model Delete Warning
Users will now see a warning message when they are about to delete a machine model, if that model is tied to active machines. The user will then be prompted to choose the new model those machines should be moved to.
Last Release Notes
February 1st, 2023 Release Notes
Not yet a Flyntlok Customer?
Learn More at Flyntlok Dealer Management System
YouTube
Check out our Flyntlok YouTube channel for more highlights of the application!