Check out the latest updates to the Flyntlok Equipment Dealer Management System.
Click Reduction Winner
We have selected multiple click reduction winners. We received a record number of entries, many of which will be implemented! Here are the click reduction winners. Each suggestion was submitted by multiple people. Everyone involved will receive a gift card.
Is it possible to upload item #'s to create a PO/RO? I'm working on surplus returns and have to manually enter each item. Is there a way to upload an excel file with the required info? Each PO is roughly 150 lines, so that would save quite a bit of time and clicks.
It would be great if you could create a drop down menu for changing locations on P.O.'s. rather than using the widget to change locations
Add the capability to add line items to a current p.o. Currently, if we forget to add a part to a p.o., we have to create a new p.o. and merge into the original p.o., this is very time consuming.
Point of Sale
New Features
Tax Adjustment
We are introducing a new tax rule editor on the point of sale. This screen will make working with a large number of tax jurisdictions much easier.
The first step is to remove unwanted taxes from the sales order. Then, add the correct taxes by selecting the check mark and clicking Enable Rules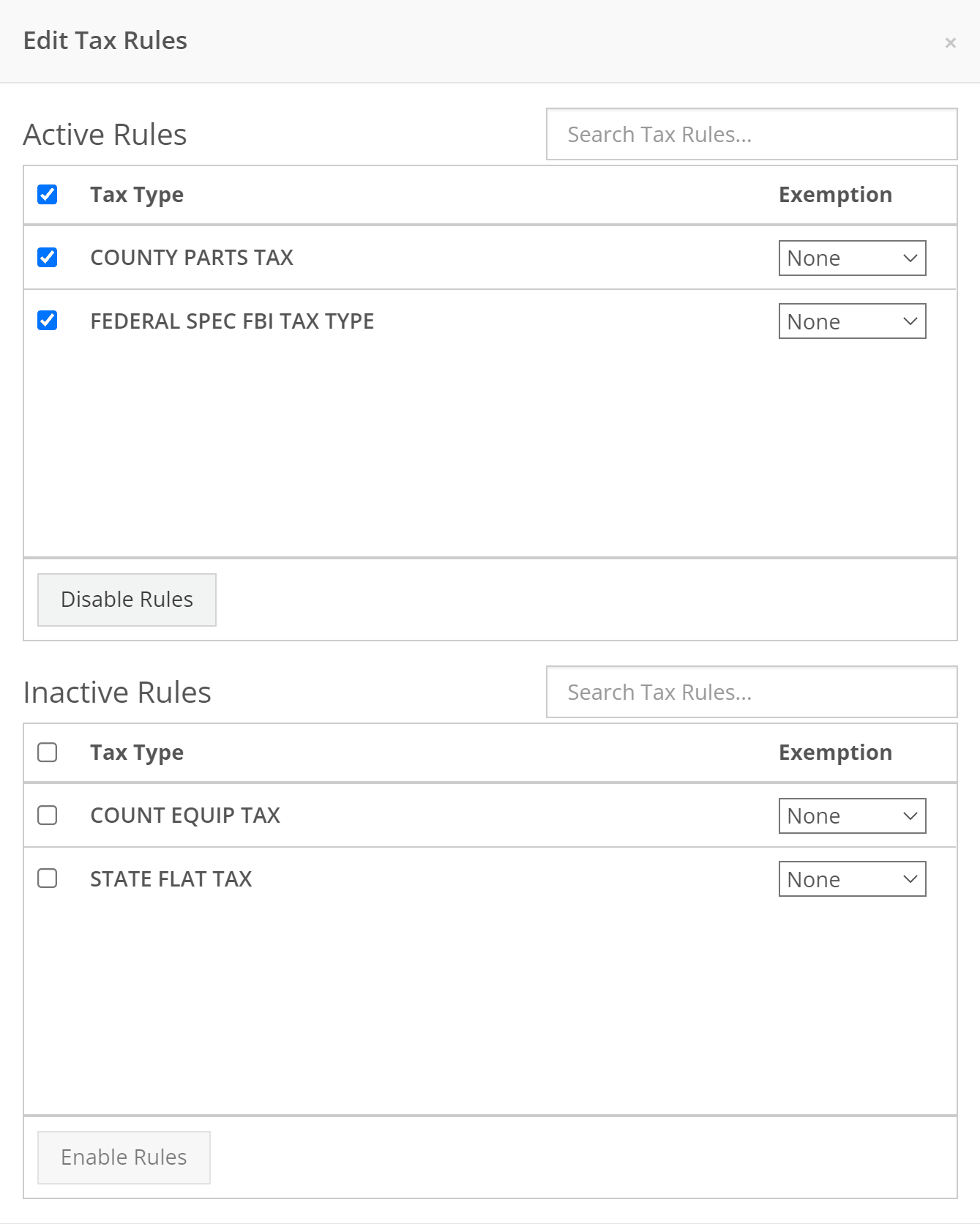 Work Order
Enhancements
Work Order Creation - Welcome Message
When a work order is created, Flyntlok can send a SMS welcome message to your customer. The SMS can include a custom greeting and the work order number. You can chose to send this SMS on a work order by work order basis.
Example:
Welcome to Flyntlok, Your work order number is 404230. You'll get updates as they happen. Feel Free to respond to this message at anytime with questions.
If you would like to configure a custom message, please submit a support ticket and we will work with you on the configuration.
Work Order Creation - New Field
When creating a work order, you can choose whether the customer receives SMS messages by default. When this box is checked, Flyntlok will send a message at work order creation, check-in, status change, and check-out.
Work Order Creation - Additional New Fields
New field options were added to the work order creation page. If you would like any of the new fields added to your page, please submit a support ticket!
Additional Fields:
Customer Purchase Order
Itemize Labor
Itemize Parts on Estimate
Blocks Further Actions
Work Order Creation - Machine Searching
After a customer is selected on a work order the machine searcher will only search machines owned by that customer. Searching by make is now supported as well.
Mobile Work Order - Enhancements
Job Completion
Jobs can be marked as complete using Flyntlok Mobile!
Completed jobs will have a green check!
Work Order / Job Category
The work order category is displayed on the work order dashboard.
The job category and job type is displayed on the job screen.
Inventory Sprints
New Features
Add Item
If you are counting a bin and find an additional item, click add item!
Add Bin Location
Bin locations can be created from inventory sprints. If you find a loose part, create a new bin and set it on the shelf!
Service Trucks(Beta)
Service truck functionality will start being released. The first release allows inventory tracking and truck inventory use on work orders. In the future we will be adding additional service truck functionality. If you are interested in being part of the beta release, please submit a support ticket.
New Features
Adding a New Service Truck
New service trucks can be added by clicking Actions -> Create New Truck.
Add the truck's information and click create.
Inventory Management
Inventory can be transferred onto and off of a service truck using the Quick Transfer button. First, add a transfer quantity to the item that you need to transfer.
Then, click Quick Transfer and select to transfer in or out.
Review the transfer. Once you are ready to move the parts, click Transfer.
Last Release Notes
September 28th, 2022 Release Notes
Not yet a Flyntlok Customer?
Learn More at Flyntlok Dealer Management System
Youtube
Check out our Flyntlok YouTube channel for more highlights of the application!