Check out the latest updates to the Flyntlok Equipment Dealer Management System.
$25 Visa Gift Card Click Reduction Contest Winner!!
As a recap, we selected a winner based on the total number of clicks saved by your recommendation. We will probably do this again in the not too distant future!
Congratulations to Jim W!
Recommendation: The ability to quickly create a machine as you are creating a work order.  We believe we can remove six clicks with a rewrite of this dialog box. We hope to complete this for the  05/26/2021 release.  Jim, we will reach out to get your information for your gift card!
Notable Runner-Ups
These ideas may not have won this time, but we liked them so much that we are going to do the enhancements anyway! 
We added the following to this week's release:
Jim B.
Three additional hotkeys were added to the sales order.
E:

This will bring up the Email screen.

P:

This will bring you to the print/download PDF screen.

ESC:

This will unfocus you from a field or button that you are on. For example, if you are done entering parts, you can hit escape to leave that field and use other hotkeys on the point of sale.
Brandy W.
When inputting journal entry data, pressing the Tab key out of the class field will save that data and move your cursor one column to the right.
Kevin W.
Instead of using the Tab key to go from the item searcher to the quantity field on a sales order, you can use the Enter key. We now let you set a user setting on whether or not Tab or Enter moves you from the part searcher to the quantity input!
Hae S.
When adding an item to a Quick Order, we will default the quantity to 1 (we used to default to 0)
Suggestions Added to Future Releases
Chad G.
The PO link on a machine's dashboard will provide a preview of the PO data for that machine - not the whole PO. This will save, in many cases, about three clicks. This is slated for our 05/19/2021 release!
Gabe K.
If your search preferences are to open your search results in a new tab, we will remove the focus from the search field. That way, when you navigate back to the tab you were searching from the search examples pop-up will not be shown.

On the ERP work order, if you highlight a note and your mouse leaves the pop-up, it will close. We will update that so it doesn't close!
Create a hotkey to get to the quick searcher (upper left search in navigation) from any page.
Joe H. (25126)
While adding a fee/credit to a voucher, you had to use the mouse or Shift + Tab back to the save icon.  We have changed this so you can save the fee/credit line by tabbing to the save option to the right of the cost field.
Sean B.
A better way to create items for a specific vendor in bulk.  Be on the lookout in the future to add the ability to add new data to the system in bulk via imports!
Thank you all for your participation!
---
New 🆕
Flyntlok Support Surveys
Obtaining customer feedback is one of the driving factors behind creating a better business. The desire for feedback led us to integrate with one of the most well-known customer survey platforms, SurveyMonkey.  Starting this week, when a Flyntlok support ticket is closed, you may receive a customer feedback survey. We would appreciate your participation in these surveys.
In the coming weeks, we will offer the SurveyMonkey integration to your dealership! You will be able to set up custom surveys to send to your customers after sales orders are closed. As a manager, you will then be able to review the results each week to see how your dealership performs.
POS Hotkeys and Flows
We have added more hotkeys and tab flows to reduce the need to use the mouse at the point of sale.  You can print a hot key cheat sheet here!

Tab Flow
From the creation of a new sales order, you can tab through each field in the customer section all the way to the part searcher.
Email Hotkey
You can press the "E" key to open the emailer for the sales order.
Print Hotkey
You can press the "P" key to open the print dialog for the sales order.
Add Note Hotkey
You can press the "N" key to add a note to a sales order.
New Line Hotkey
You can simultaneously press the "Shift + Enter" key combination while typing an item description to add a new line.
Close Item Description Hotkey
You can press the "Escape" key to finish adding an item description.
Order Hotkey
You can press the "CTRL" + "O" key to complete the sales order.
Dashboard Widgets Open / Close Settings
Not all information on the customer, vendor, machine, or item dashboard may impact your day-to-day workflow. We have always given you the ability to close those widgets, but they would open back up if you refresh the page. When you close a widget, we will save that closure until you choose to reopen it. This will save you from scrolling through multiple widgets to find the information that you are looking for!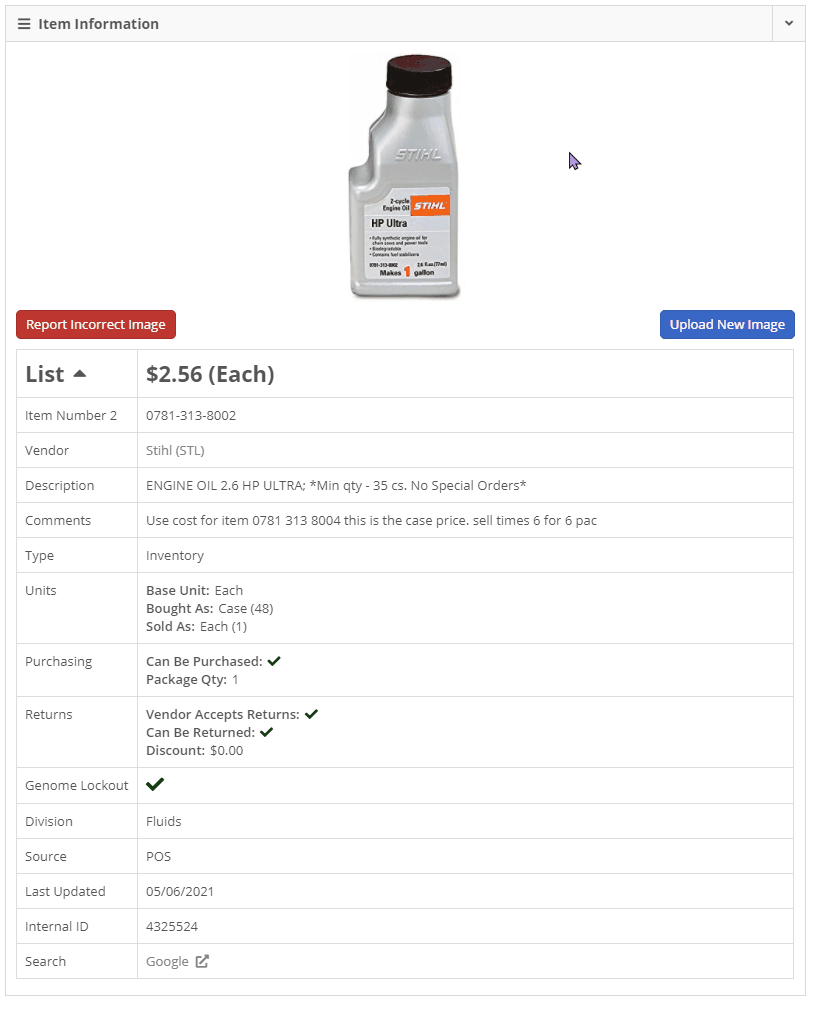 ---
Enhancements 🙌
POS New Lines on Item Descriptions
When editing an item's description on the point of sale, the edit box was small and tough to work with. When you click the edit icon for an item, you will notice that the editing field is much larger. We also support adding new lines within that box by clicking the Shift + Enter keys together. Once you have the description completed, you can click the Enter key to save it.

Machine Sale Conflict Warning
To help deter multiple sales of one machine, you will receive a warning if the machines on that sale are listed on any other sales documents. The warning includes links to the conflicting data so you can review it.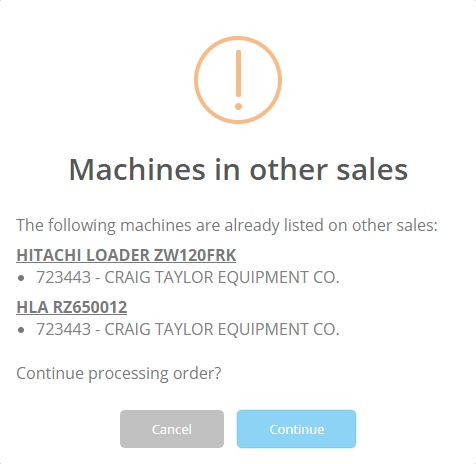 POS Work Order Parts Request
We have streamlined the workflow for creating parts requests now at your organization. You will note that the "Parts Request" option will no longer show on the Work Order Job Section.  The following conditions must be met to have a parts request sent out:
The creator of this invoice must have the user type "Technician." (Not user group!)

The location must have one or more users pre-set to receive this request.
To create a parts request notification, follow these steps:
Click the "Add Parts / Services" Button

 Once on the invoice, use the hotkey "N" to add a note line for each part you wish to request.

Update the description of that note to have each part number/description and quantity needed. If your technician knows the part number, they should be entering the part number directly instead of a note.

Once all requested parts have been added, click the "Order" button.
When the order button is clicked, the user(s) configured to receive parts requests will be notified via their preferred notification setting (Email/SMS/Internal/Rapid).  If you were already actively using this feature, we have done this setup on your behalf.  If you are interested in utilizing this, please submit a support ticket, and a consultant will reach out to assist!
POS Machine and Customer Buttons
The icons to the right of the customer and machine fields on a sales order have been changed to buttons to reduce confusion and easily clickable.

Work Order New Preferred Contact
With the new feature last week of adding a preferred contact on work order creation, we found that it is time-consuming to add the preferred contact if they are not already set up. Now, when creating a new work order, if the preferred contact is not previously created, you can add them right from the form!

Model Merge Widget
We have added a new widget for merging duplicate models. When merging two models, we will move all machines and rent templates linked to the old model into the remaining model.
---
Resolutions 🐛
Item Voucher Reversals
In many cases, when attempting to reverse an item voucher from QuickBooks Online, users would receive an error causing the voucher to be removed from QuickBooks Online but remain in reversing status in Flyntlok. We made a fix to help prevent this situation from happening.
POS File Attachment Count
After uploading a file to a sales order, the count of attached files was not ticking up until the page was refreshed. This count will now immediately update when files are successfully uploaded.
POS Screen Utilization
While interacting with a sales order on a device with a smaller screen, you may have noticed the Order and Delete button would hide behind the Shipping tab. We have made some adjustments to prevent this from happening on standard laptop screen sizes.

---
Last Weeks Release Notes
Not yet a Flyntlok Customer?
Learn More at Flyntlok Dealer Management System
Youtube
Check out our Flyntlok YouTube channel for more highlights of the application!