Check out the latest updates to the Flyntlok Equipment Dealer Management System
New 🆕
Reported Loss Widgets
On the lower left of the item and machine dashboard, you will find a reported losses widget. We will show the 10 most recent loss reports for the item or machine.
Item Dashboard Widget: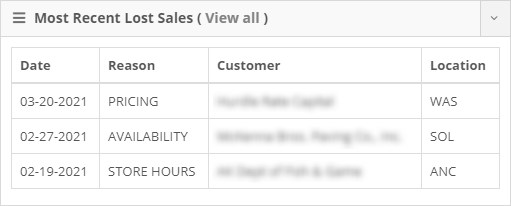 Machine Dashboard Widget: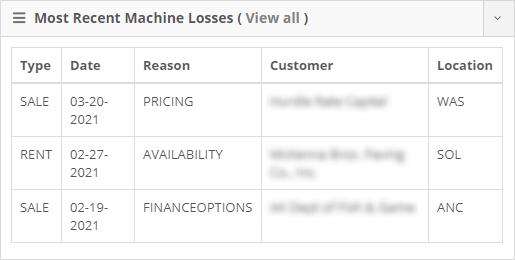 You will also be able to click the View All button to all losses reported for the item or machine.
Item Transfer and Purchase Combination
When you are transferring an item to be used on a sales order, but not transferring enough to entirely fulfill the order, we now create a purchase plan for the remaining items. When the combination of the purchase and transfer is received, you will be able to fulfill the order and any excess received parts will go into the QOH.
---
Enhancements 🙌
Sparks Portal  - Configuration
We can now tailor your sparks portal closer to your business workflow. For example, if you do not do rentals at your business, we can disable that feature from Sparks. This also applies to showing work orders and machines.
Sparks Portal  - Common Parts
We updated the common parts button on Sparks to show common parts for the customer, and if you have a machine selected, common parts for the machine associated with the sale.
Sparks Portal  - Customer Discounts
We made sure to let your customers know that they must save their drafts to see their custom pricing discounts.

Sparks Portal  - Payment Screen
We made the modal when accepting payments on Sparks a bit more contextual. For example, if one of your customers is charging to their account, the modal previously said Enter Card.  It now says Charge instead.
Sparks Portal  - My Orders
We have added the sales order number to My Orders view. The view now also sorts in the order the sales were created.
---
Resolutions 🐛
Merging Core Purchases
When merging a special order purchase plan into a stock order, if there is a core associated with the item, we will merge the core purchase onto the stock order as well.
---
Last Weeks Release Notes
March 10th, 2021 Release Notes
Not yet a Flyntlok Customer?
Learn More at Flyntlok Dealer Management System
Youtube
Check out our Flyntlok YouTube channel for more highlights of the application!