Check out the latest updates to the Flyntlok Equipment Dealer Management System.
Customizable ID's
We have begun an upgrade to make IDs for things like Machines, Work Orders, Sales Orders, Rentals, and Purchase Orders increment on a per-customer basis.  We expect this full update to be completed by year-end.
Customizable Machine IDs
Flyntlok now supports customer-specific machine IDs! While editing a machine, you will have the option to that machine's ID to any string of characters you would like. You will be able to view this machine ID on all reports and dashboard reports. We also support using the "m?"  search in the upper left to find the machine with the specified ID. If you do not want to use the custom IDs, Flyntlok will still generate a machine ID for you.
Updating Item Metrics
When you set or update an item's metric override, we will now go out and update the metrics of that item so you can immediately see what Flyntlok recommends you order or return!  We will continue to add this update to any place an item is transacted so your stocking recommendations and sales history become "live."
New Sales Order PDF
We fixed an issue causing tax not to calculate properly in the subtotal.
When billing a work order, all parts and labor will be in the same order as they are on the work order.
We fixed an issue causing flat rate jobs not to nest visually when printed.
If you are not already using this new PDF, please reach out to consulting@flyntlok.com so we can get you set up!
Salesperson Relationships with Customers
Inder the Wrench-> Point fo Sale -> Edit Customer Relationship Types you can now add your own custom relationships. This is used when adding multiple sales reps to a customer account.
New Rental System Updates
If you are not using the new rental system yet, please have your management team reach out to consulting@flyntlok.com to schedule your migration.
Machine Dashboard Shows Recent Rentals
If you are using the new rental system, you can now view a list of the most recent rental actions on a machine.
Rental Machine Conflicts
When attempting to rent machines, we will give you more detail into what is causing that conflict if it has conflicting actions.
Rental Dashboard Hotkeys
We now support customizable hotkeys on the new rental dashboard! These hotkeys behave just like the ones on the work order dashboard. Some of the supported hotkey actions are:
Showing the Info or Contract tab.
Checking out or checking in items
Toggling the Activity panel
Rental Invoices Auto-Fulfilled
Flyntlok will set each of those lines to be fulfilled on the invoice to reduce the number of clicks necessary to close out an invoice when generating rental invoices.
Multi-File Uploading
You can now add up to 10 files at a time while uploading a file to the new rental system.
Work Order Dashboard Updates
Transfer Internal Parts Orders
We have brought back the ability to transfer internal parts orders to different jobs or different work orders.
Transferred Parts Order Discounts
When transferring an internal parts order to a different work order, we will recalculate the discount on the items to match the discount given to the new work order's customer.
Parts on Hold Icon
When there are pending parts on a job, we will indicate that with a new icon in the jobs list.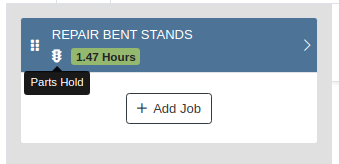 Attaching Files
Previously, we locked down any action on the new work order when it was in Invoiced status. However, we know that there can be additional information files that come in after the work order has been closed, so we have opened up the ability to attach files no matter the work order's status!
Job List Colors
We use icons to indicate certain actions or statuses of a job, but this can sometimes be missed. For example, if a job is completed, we will highlight that job green.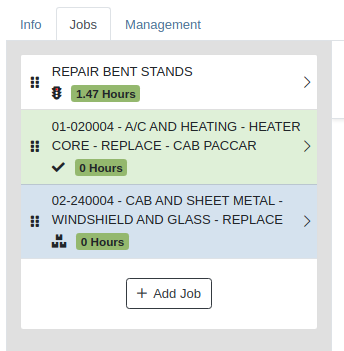 Prefilling Billable Labor Hours
When adding start and end times to a labor line, we calculate the billable time off of those time punches.
Rejected Quotes
On the new work order dashboard, there wasn't a way to tell if a quote for an internal parts order was rejected or not. So we will now show that internal parts order with a Rejected badge.
Complaint, Cause, and Correction on PDF
We have added the ability to support the complaint, cause, and correction on the new work order dashboard, but those three fields were not showing on the work order PDFs. So if you have those three fields filled out, we will now show them in the WO PDF. Since the Cause field is not required, we will only show the complaint and correction fields if it is not filled out.
Associated POs
If an item on the work order is associated with a PO, when you click on that item in the list, we will show the list of POs that the item is associated with.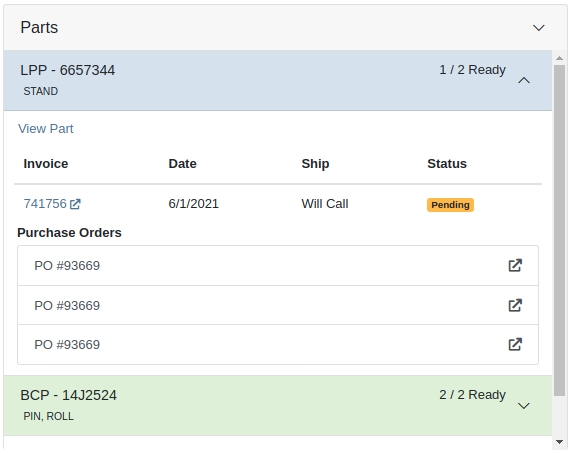 Clocked in Technicians
We added a list of technicians clocked into the work order on the Info tab in the last release. We took this one step further and have added the work order jobs where we will show a list of technicians clocked into that job.
PACCAR Warranty End Dates
When submitting a PACCAR parts warranty claim, we were not allowing users to input the end date of the claim. Therefore, we have added the end date as an optional field when creating the parts claim.
PACCAR Warranty Submission
From the new work order dashboard, if the work order is eligible, we will show the option to create a PACCAR warranty claim from the work order.
Last Release Notes
August 25th,2021 Release Notes
Not yet a Flyntlok Customer?
Learn More at Flyntlok Dealer Management System
Youtube
Check out our Flyntlok YouTube channel for more highlights of the application!