Flyntlok Supports Volvo Equipment Dealers


Flyntlok has worked with Volvo to implement available interfaces with some additional ones in our development queue currently (as of 1/19/2021). In fact, one of our first customers is the Volvo dealer for all of Alaska. We support the following integrated activities.

Volvo Equipment Automated Purchase Order Entry (Parts Linq)

Flyntlok's integration with Parts Linq lets you place electronic purchase orders and review order history directly Flyntlok. The interface is bi-directional, and you receive additional information directly into Flyntlok as the order progresses. See quick video of this feature below. Note: Functionality will include access to Volvo Extended Offer parts in 2021.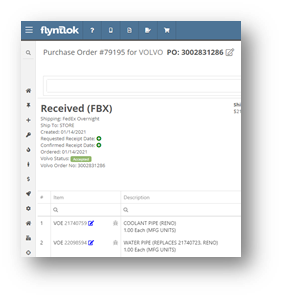 Volvo Automated Purchase Order Recommendations (MMI)

Dealerships can receive recommended orders directly from Volvo based on consumption trends. Flyntlok shares transactional data with MMI daily and they provide a weekly order suggestion. We also support an auto-confirmation option where Volvo places the order on behalf of the dealership. Dealers who opt into this program get special pricing on shipping and credits for returns.

Volvo Equipment Price List

Flyntlok partners with Volvo to provide timely price and parts information. At no additional cost, we load Volvo's pricing and substitution files into the Flyntlok Item Genome. With Volvo these pricing changes and supersessions are updated daily. From there, you control how pricing is propagated into your DMS. For instance, you can add default markups from list price or you can exclude certain parts from updating at all. If you desire, you can use different units of measure while still receiving pricing updates. Once the Volvo file updates are loaded, we send an email with a link to a report in Flyntlok showing any changes.