Point of Sale
Paying for Multiple Outstanding Sales Orders
You will now be able to accept a single payment to cover the cost of several different Sales Orders for a customer. This will help streamline the experience for collecting payments as well as saving your business transaction fees. To pay off outstanding Sales Orders you will want to navigate to the customer's dashboard. In the customer information section, you will see a new field titled, outstanding Sales Orders. This new field will display the number of orders still requiring full payment. You can then select the (pay icon) to review and select from a list of outstanding orders to pay off.
This new feature is currently in a beta version. Please reach out to the Flyntlok support team if you would like this set up or if you need any additional information!
Pay outstanding Sales Orders will also be available in the Actions button dropdown menu!
A list of outstanding Sales Orders will then display on your screen. From this list, you can review the date, status, and outstanding balance. You can then choose which order(s) to pay off. Once selected you will be able to customize the amount applied to each individual order and generate the new pay-off Sales Order by selecting the Create Invoice button.
The outstanding Sales Orders will NOT be pulling invoices, only active Sales Orders with an outstanding balance.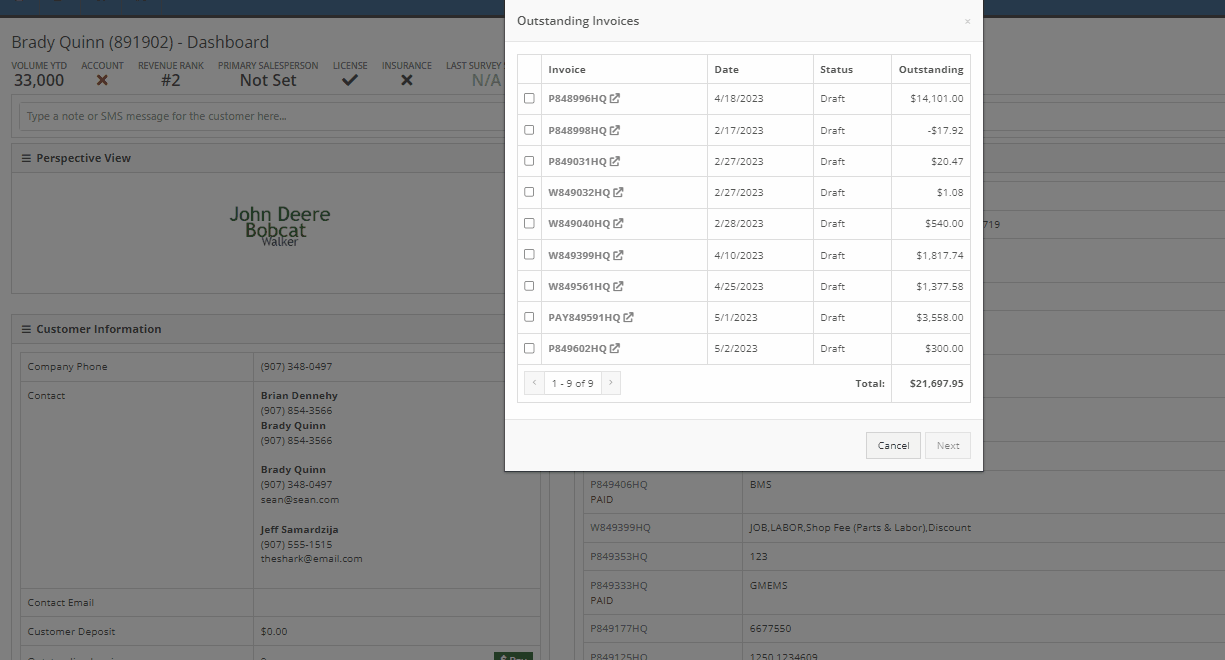 From the pay-off Sales Order, you can now add a payment type and select the order button.  
The pay-off Sales Order will not allow you to add items and machines or reverse the order.
The pay-off Sales Order will distribute the payment to the selected outstanding orders.
A new payment line will populate the individual Sales Orders
Enhancement
Default Salesperson
When adding a machine to a new Sales Order and selecting the (Add and New) option, the previously selected salesperson will now default into the field when adding additional machines.

Parts
New Feature
Kit Parts
We have added a new item type, titled (KIT). This new item type will give you the ability to sell a group of parts at a set list price.

To set up a kit,  you will first need to create a new item. This new item will be the placeholder for the kit items. When creating the kit item you will also be able to associate different items from your inventory to the kit and set a list price on the kit item. When you add the new kit item to a transaction all associated parts will also populate on the transaction but Flyntlok will only set the list price on the kit.
Left Navigation Menu->New Tab->Item
When the new item's type has been set to "KIT" you will see a (Configure Kit) icon populate below the item type field.
 When the configure kit icon is selected you will be able to add items from your inventory and set the quantity.
 To set the list price navigate to the retail section on the right of your screen
Select Create Item
Once you have the kit item created and configured you will be able to add the kit to Sales Orders

Please reach out to the Flyntlok support team if you would like any additional information on this new feature!
Machine Purchase Orders
New Feature
We have added a new section to the machine receiving vouchers for associating a machine with a quoted model. If there is a quoted model on an open sale, you will see an Associate button in the Associate Invoice field. Once clicked a list of open sales orders, ordered from oldest to most recent, will display on your screen. Once an invoice is selected, the machine will be allocated to the sale.
Associated Invoice

Machine PO Export
You will now be able to export Machine Purchase Orders to an Excel spreadsheet so that they can be imported into OEM ordering systems.

Rental
Enhancement
Expand All
We have made an update to the rental creation page. When searching for available machines to add to a rental, if the expand all option is selected, all new search results will be default expanded. Previously when you search for a machine all the info was defaulted to the collapse all view.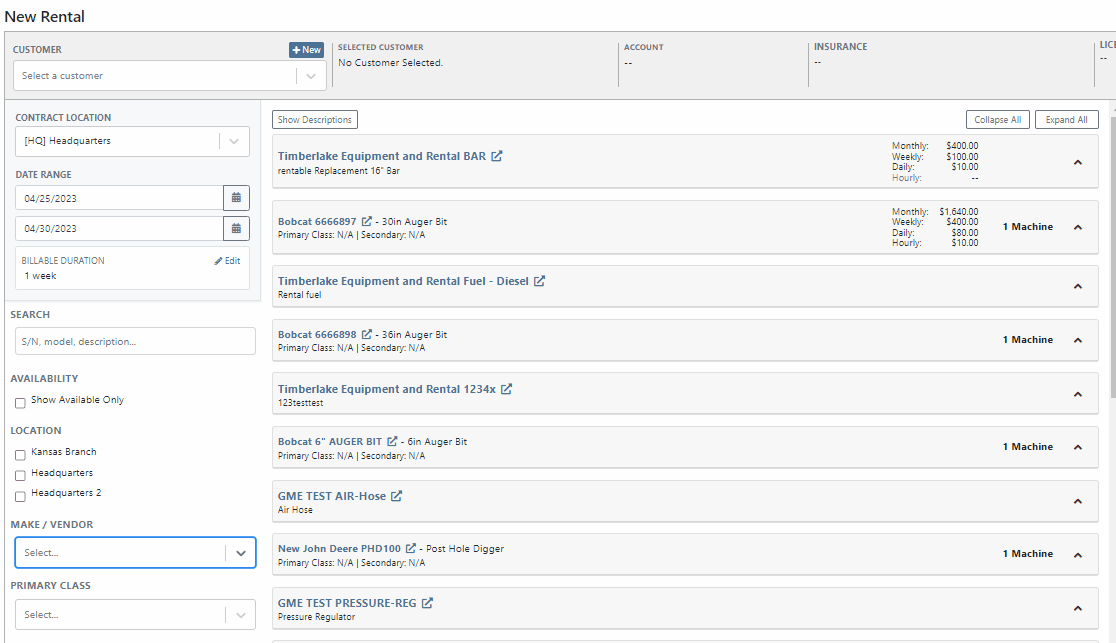 Service
Enhancement
SMS Templates
We have added an editor for updating the work order status change automated text message templates. This editor can be found on the Flyntlok Settings page under the Service SMS Templates section.

Model Description
When creating a new machine to associate with a Work Order, you will now see the model's description populate in the drop-down menu of the model searcher.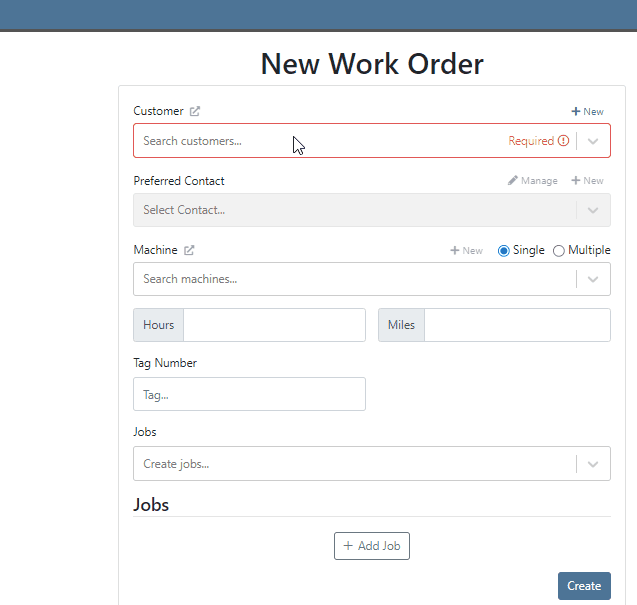 Accounting
Enhancement
Journal Entry Account Mismatch Notification
When creating a new journal entry, Flyntlok will now notify you if there are mismatched account types and line types. CAP lines can only have asset accounts associated with them; COS lines can only have expense accounts. When types and accounts do not match on a given line, you will see an error icon to the right of the account name. Hovering over this icon will show a pop-up explaining why it is displayed/ what is mismatched.
You will also see a new message populate your screen if you are trying to submit a journal entry with mismatched lines.
Last Release Notes
April 19th, 2023 Release Notes
Not yet a Flyntlok Customer?
Learn More at Flyntlok Dealer Management System
YouTube
Check out our Flyntlok YouTube channel for more highlights of the application!