Check out the latest updates to the Flyntlok Equipment Dealer Management System.
This will be the last Release Notes until January 18th, 2023.
Flyntlok will be closed on December 23rd, 26th, and January 2nd
Purchasing
New Feature
Import Parts List
We have added a new feature to the vendor dashboard, which will allow users to create new purchase and return orders by importing a parts list. To import a part list go to the vendor's dashboard and select  Actions->Import PO/RO From Spreadsheet.
Stale Warning
We have added a warning to the Vendor Stock orders page, for users to see stale parts at other company locations. On the New Purchase Order page, for creating stock vendor orders, users can open an item row to show detailed information about the item, including location-based stocking information. When an item is stale at a particular location, this table will now show a red "Stale" label on the "To Target" column.
We have also added a stale column so you can sort and filter for stale parts at other locations.
Report Exceptions from Voucher
You will now be able to report item exceptions from the receiving voucher. To report an exception you will click the bug icon to the right of the item number.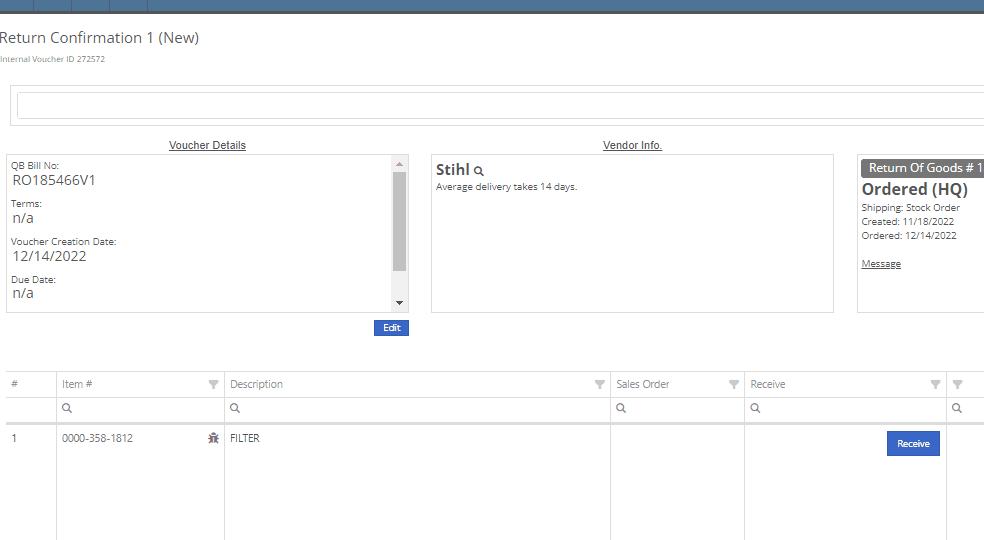 CRM
Enhancements
Color codes
We have added icon to indicate if the last SMS message is incoming or outgoing.
Associate Machine
You will now be able to associate a machine to  a CRM LEAD.
Machines
New Feature
Deleted Machine Notification
We have added a new notification to be sent out to users when a machine has been deleted from Flyntlok. If you would like to receive these notifications, you will need to set your notification preferences and choose how you would like to be notified. Notification options include internal, SMS, email, and rapid. To edit these settings click on your user name on the top right of your home page. Username->Preferences-> Notifications->Machines.
Work Orders
New Feature
Machine Description
We have added a field for the Machine description on both the desktop and mobile view of the work orders dashboard. This will be helpful for technicians and new employees that are not familiar with model numbers, to easily identify the machine they are looking for.
Mobile View Tag Number
We have added the tag number to the mobile view of the work order.
Reload Warning
We have implemented a new feature on the work order dashboard. When typing out a cause or correction on the jobs tab of a work order if you moved to a different page before you saved you would lose the text you were currently typing. Now when a text box has not been saved and you try to leave the page, Flyntlok will display a warning message, alerting you that if you leave the page your work will not be saved.
Enhancement
Customer Owned Machines
We have updated the machine field on the Create Work Order form, to auto populate all customer owned machines into the dropdown menu of the machine searcher. You will still be able to search for non customer owned machines.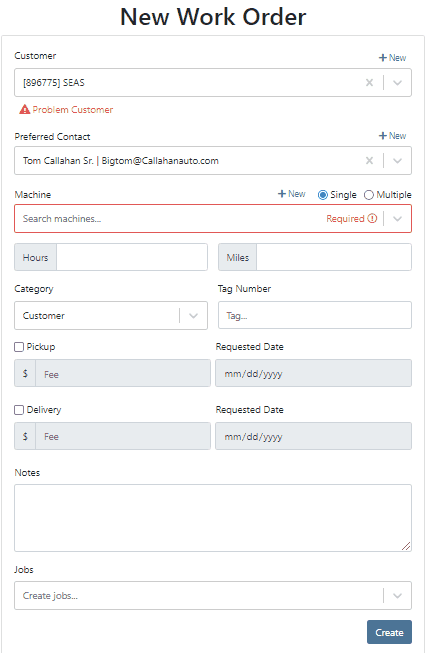 Point of Sale
New Feature
Margin Value
We have added the dollar value margin to the header on the sales order invoice. Previously you would only see the margin percentage.
Enhancement
Subtotal on PDF
You will now see a new subtotal line to the sales order PDF.
Rentals
New Feature
Pick Up/Delivery Address
When billing for pick up or delivery we will now include the address as a line item on the invoice.
Customer Information on Rate Sheet
When a customer is selected we will display their information on the rental rate sheet.
Enhancement
Primary/Secondary Classing
You can now distinguish which classes are primary or secondary. This will help searching for a machine by class.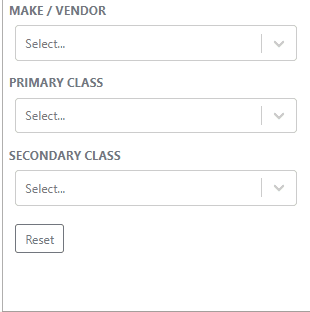 Machine Purchase Order
New Feature
Add Model
You will now be able to create and add a new model from the machine purchase order.
Items
New Feature
Vendor Merge Block
We will block a vendor merge if an item number is shared by the vendor you are merging. You will get a pop up of the list of duplicate items. You will then have to merge the items before you can merge the vendors.
Duplicate Item Link
Now when trying to create a new item if that item already exists in Flyntlok, you will be given a link to the duplicate items dashboard on the error message.
Last Release Notes
November 30th, 2022 Release Notes
Not yet a Flyntlok Customer?
Learn More at Flyntlok Dealer Management System
YouTube
Check out our Flyntlok YouTube channel for more highlights of the application!