Adding Items to a Sales Order
The Item Search Bar, which appears on the top left side of the Point Of Sale, can be used to quickly search, view basic item information, and add items to Sales Orders. New items can be quickly created from the POS, also, Files containing Part Lookup numbers and their coinciding quantities can be imported to add items in mass to a Sale Order. Another Search Bar feature allows users to add part items by scanning their UPC codes.

How to add items to a Sale Order
Adding items to a Sales Order is a necessary step to complete an SO for a customer. Users can add items by:
Looking up the item in the

Item Searcher

 

Items can be looked up by their Item Number, Item Number 2, MFR Item Number, Description, Comments

 

Items that have been superseded will show up red with an option to view the Alternates

Once you have highlighted the Item that you wish to sell, Tab or Enter (based on your user settings) will move you to the Quantity Field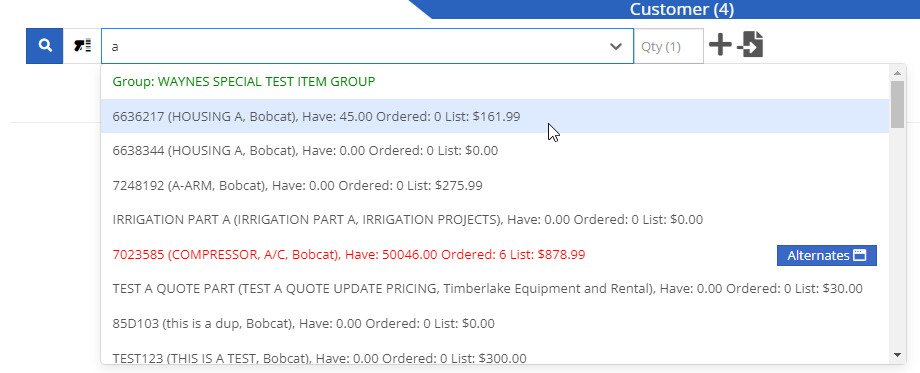 How to quickly create a new item from the Point-of-Sale
If the item does not exist but needs to be added to a Sales Order, the user can create a new item by:
Clicking the

Add a new item

button, displayed by a

+

icon

  

Fill out the required fields with the correct item information on the

Quick Create Item

pop-up menu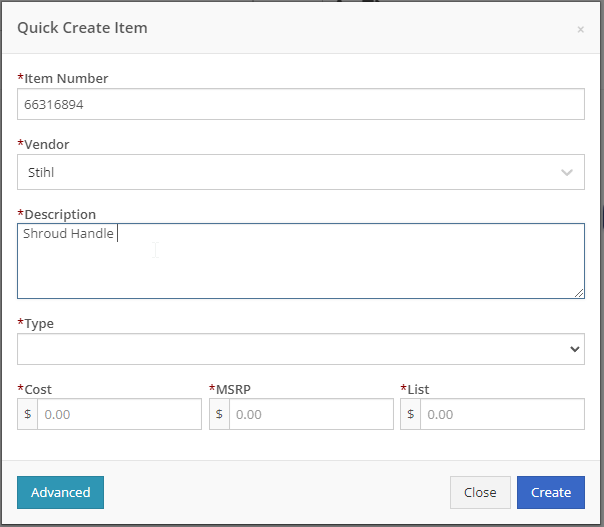 How to import a sales order from a file
Creating a Sales Order from a file can be handy when you have any Excel or CSV file with Part Numbers and their quantities. Follow the next steps to import items from a file.
Click the

Import items from file button located right of the Parts Searcher

Choose the correct file in a table format to upload

This table should consist of a column with the desired part numbers as well as a column with correlating quantities

User may have to check the prompted box if the imported file contains a first-row header

After clicking next, correctly assign columns from the imported file and click next again

View the selected items that were pulled from the imported file

This step may require unselecting unwanted items, or resolving items with duplicate Item Numbers that match across different vendors

Click next to go to this final stage and verify item quantities and quantities on hand

Click

Add

and listed items will propagate into the item lines of the

POS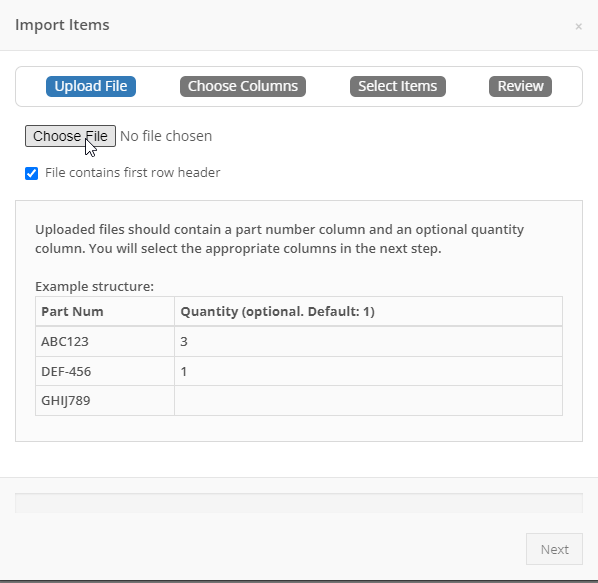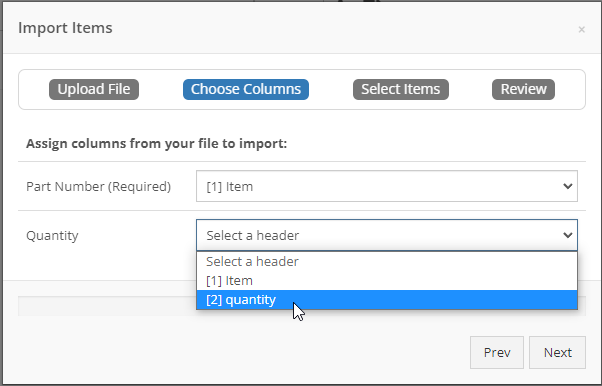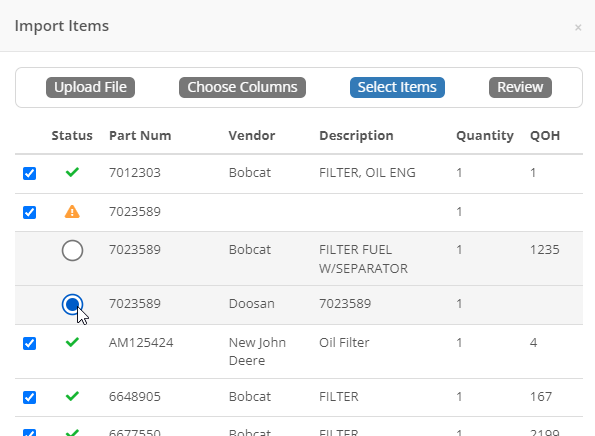 How to add part items to a Sale Order by scanning the item
Adding items efficiently may require adding items by scanning items' UPC. Users can scan items into SOs by:
 

Clicking the

Scan items

button located left of

the Item Search Bar

This is also a hotkey (Alt+B)
Some scanners can be programmed to run the hotkey as you scan

Scan each item's

UPC

Note that scanning an item twice will increase the quantity within its already preexisting item line and not create a new line

Confirm correct items and item quantities were added into the SO after scanning