Here is a list of the new features and explanations of the new layout for the work order dashboard.
You will notice three tabs in the top left of the screen. Everything will be located on one page, split up by tabs. We found that having to load an edit page to make changes took valuable seconds away from workflows.
Work Order Tabs

Here is a list of the tab explanations:
Info: This tab will contain work order and customer information that can be edited.
Jobs: Here all the jobs of the work order will be listed and the information about those jobs.
Management: Work order financials and the labor editor will be located under this tab.
Labor Editing
On the Management tab, you can edit, add, or remove any labor that has been booked on the jobs.
On the far right of each line, you will find the Edit and Delete buttons. In the upper right of the labor editor, you can click New and add labor lines to any of the jobs.
Comments and Activity
In the lower right of the page, there is an Activity bar. When you click on this, the section will expand to show activities that have been taken on the work order and comments added to the work order. This is also where you can add more comments about the work order.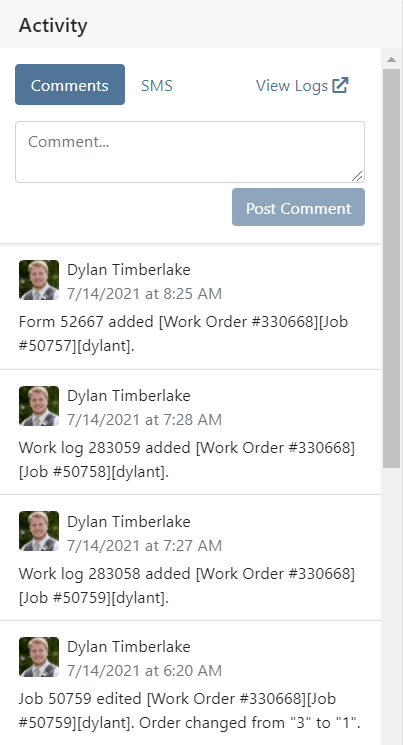 Also, within the Activity pop-up, you can view the SMS correspondence with the customer or continue the conversation.
Job Organization
By clicking and dragging a job, you can reorganize the order of the jobs!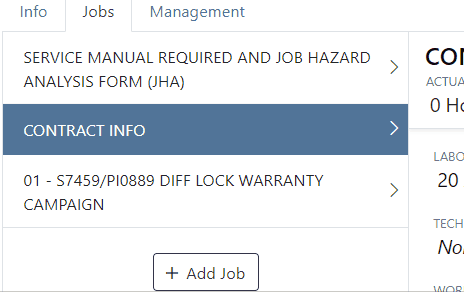 The custom order of jobs will also show on all work order PDFs.
Notable Missing Features
You can no longer set a work order to capitalize the cost to a machine. This will be done through the customer that is set on the final invoice of a work order. If you have any questions about this process, please reach out to the Flyntlok team and we can step you through it.
You can now assign a type and assign a tech to a job. These are new features and we do not have reporting on this yet. Keep a lookout for reports in the near future!