What Defines a Rental Conflict
A Rental Conflict is when a piece of equipment is already scheduled out to be rented over a period of time that conflicts with the time period that the current Rental Contract is reserved for.

Rental Conflict Status
The Conflict will show as a status when adding new machines onto a new Rental Contract. When adding machines onto a rental contract, the Conflict status will show in yellow under the machine line after you click the dropdown button. 
If there is no Conflict on the machine when renting it out, then the Status will show as a green Available
Once a conflict machine has been added to a rental contract and the rental contract set to reserve, then the machine's Check Out button will show a cautionary warning. This Check Out button will still allow the machine to be Checked Out.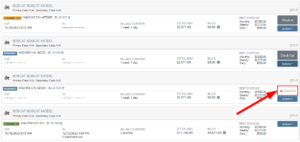 Clicking on the Cautionary Check Out button will populate the Check Out Conflicts tab and will show all conflicts on the machine such as the conflicts Source, Conflict message, and if the conflict Prevents the Check Out.

Reviewing the Rental Conflict
To review the exact Rental Conflict, click the yellow Conflict button and the page will display the conflict whether the machine is currently On Order, or if the machine is on a conflicting rental contract.
Also, from the rental contract, click the Machine Number and the page will redirect to the Machine Dashboard and the top section of this page will show all conflicting actions taken up on the machine via Red and Blue Banners.