Add Shipping Type
The blue Shipping Tab allows users to create, edit, and view customer Shipping Addresses, choose Shipping Methods for outbound as well as inbound, choose Drop Shipping, Ship, view Address Label, and Track. You will always see a list of default shipping methods in the dropdown menu.
Go to Shipping Methods
As a Flyntlok admin, you will be able to Add additional shipping methods that will populate this Tab. 
1. To Add a new Payment Type click the Wrench Icon in the upper right of your home page. From here you will select Point of Sale -> Shipping Methods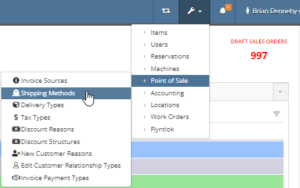 2. From here you can select the + Icon to add a New Shipping Method.
3. Now you can set up this new shipping method. You will need to Name the new method, set the shipping fee metrics, and decide if this new shipping method will always display in the Shipping Tab. You will also be able to set defaults and shipping clerks.
Shipping Method Editing Options
The following are all possible fields that can be entered for each specific Shipping Method: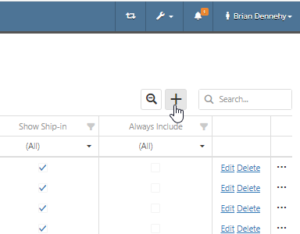 Base shipping Info
The Short Name is the friendly name of the Shipping Method shown in reports

The Long Name is the full name of the Shipping Method that will show on the Sale Order page as well as the PDF copy of the Sale Order

Disclaimer

Default select
Fees
Shipping %

Shipping Min.

Shipping Max
Other
Shipping clerk

Show ship out

Show ship in

Always include
4. Be sure to hit the save button!
5. Once saved you will see the new shipping method populate into the Shipping Tab, allowing you to select and apply it to a Sales Order!