Adding Payment Type
What is a Payment Type?
The blue Payment Tab, accessible at the bottom of the Point Of Sale or by pressing the hotkey 3 when on the Point Of Sale homepage, allows users to access all necessary payment options in order to complete the Sale Order. Payment options include Cash, Credit, Debit, Check, Trade-in, Text2Pay, Use Deposit, Cash on Acct, and multiple other payment methods. After clicking, a tab to Add Payment to the Sales Order, a menu pops-up with preselected payment options.

As a Flyntlok user, you will be able to add new payment types that will populate onto this Payment Tab.
Adding a Payment Type
To Add a Payment Type click the Wrench Icon in the upper right of your home page. From here you will select Point of Sale -> Invoice Payment Type
1.) You can now view and edit all existing payment types. To make a change to a current payment method select the Edit button on the right.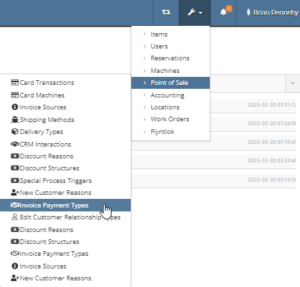 2.) To Add a new payment type you will select the + icon in the upper right of this page.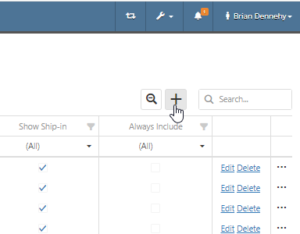 3.) You will now want to Name your new Payment Type, choose a QB account to book unearned income, undeposited funds, and payment clearing. You can then choose a transaction type, customer override, and determine if this will be set to auto-approve.
If the

Other box

is checked the

Payment Type

will populate into the

Other payment

methods dropdown menu.
4.) Be sure to hit the Save button at the bottom of your page.
Selecting the New Payment Type on a Sales Order
Once saved you will see the new Payment Type populate into the Payment Tab giving you the option to select and apply to a Sales Order.