The blue Shipping Tab allows users to create, edit, and view customer Shipping Addresses, choose Shipping Methods for outbound as well as inbound, choose Drop Shipping, Ship, view Address Label, and Track. You will always see a list of default shipping methods in the dropdown menu.
As a Flyntlok Admin, you will be able to Edit the Shipping Methods that will populate the Shipping Tab. This is for all default shipping types as well as any that have been manually entered.
          1.) To Edit a shipping Type click the Wrench Icon in the upper right of your home page. From here you will select Point of Sale -> Shipping Methods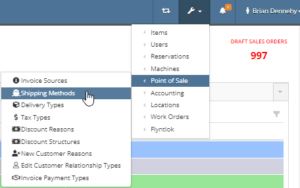 2.) You can now view and edit all existing shipping types. To make a change to a current shipping method select the Edit button on the right.
Base shipping Info
Short Name

Long Name

Disclaimer

Default select
Fees
Shipping %

Shipping Min.

Shipping Max
Other
Shipping clerk

Show ship out

Show ship in

Always include
3.) Be sure to hit the save button!