First, go to the item dashboard of the item you want to transfer and click Transfer This Item under the actions drop-down.

Next, enter the Transfer from and Transfer to locations and the transfer quantity. You can also assign the transfer to an invoice under the Assign to invoice drop-down.

Notice the transfer out and in quantities under the Location and Quantity on Hand module.

Now go to your left-hand menu -> Point of Sale -> Transfers to see a full list of transfers at your company.

The user at the Transfer from location can accept this transfer by clicking the check-box next to the transfer and then the Confirm button. This will move the transfer to an Accepted status.

Back on the item dashboard, you can see the QOH was depleted from the Transfer From location.

After the transfer has been shipped, the user at the Transfer from location will now go back to the transfers report to move the transfer into Transit status.

Once the Transfer to location received the part(s), the user at the Transfer to location will go to the transfers report and move this transfer into Received status.

Notice the QOH at the Transfer to location updated. (If this was linked to a sales order, this quantity would not update. Instead, it would update the Ready quantity of the invoice it was linked to.)

Here's a helpful chart to visualize the transfer process.
Quick Item Transfers
You now have the ability to transfer an item directly from a sales order! Previously, this could only be done from the item dashboard. After adding an item to the sales order that needs to be transferred to your location, you will see a truck icon next to the QOH of the item.
Clicking this will bring up the transfer information box. In this form, fill out how much, from where, your comments, your preferred shipping method (for the transfer), and whether or not this should be drop-shipped to the customer. This will queue up a request to transfer the item to your location.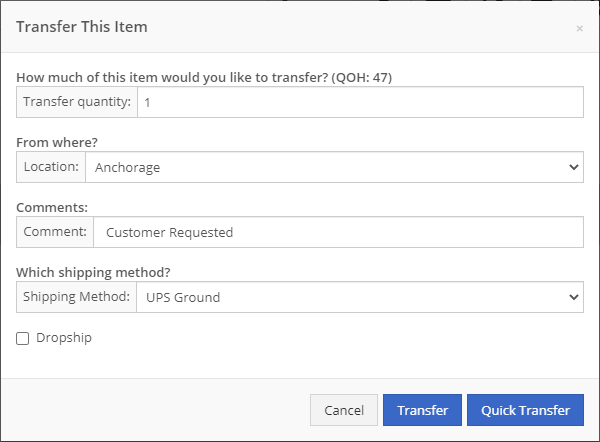 NOTE: The quick transfer button will move your inventory instantly from one location to the next. This means upon clicking this button the QOH is immediately removed from the source location and moved to the destination location (your invoice location). This bypasses all the current transfer workflows in place, but will still create a record of the transfer.