Point Of Sale Overview
The Point Of Sale (POS) allows a user-friendly way to create Sales Orders (SO), quotes, and other internal documents. It offers a large range of customizable features that expedite and improve customer experience. These features include texting customers when parts arrive, sending out customer experience surveys, emailing customer invoices, and more.
Getting to the POS
Users can access the POS from the Quick Searcher by searching for a Sale Order. You can also click the Sales Order number wherever found in Flyntlok.

Creating a Sales Order
The most common way a user can create a Sales Order is by clicking the Shopping Cart icon located in the Top Menu Bar.

The other ways users can create a Sales Order: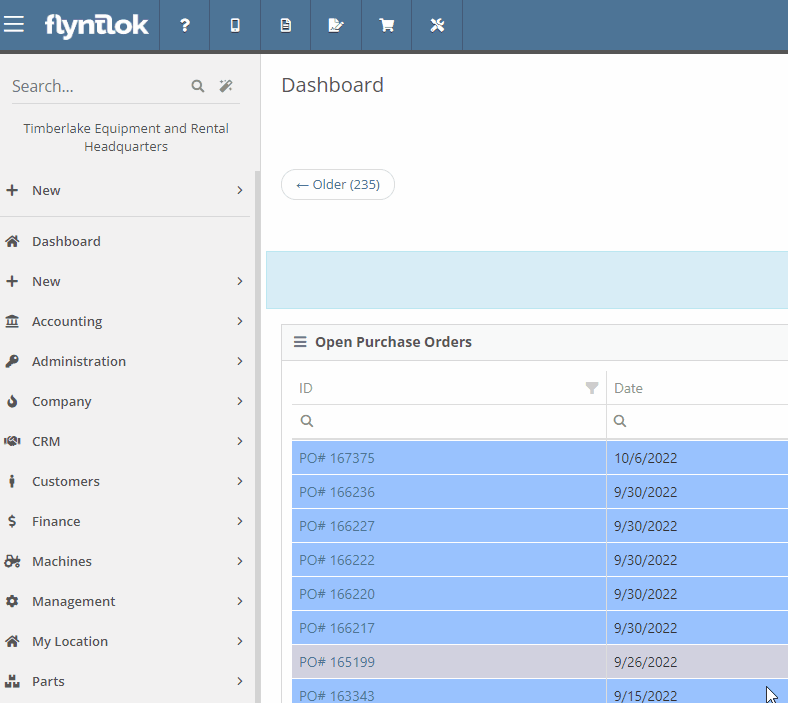 From the

Customer Dashboard

->

Actions

->

Sales Order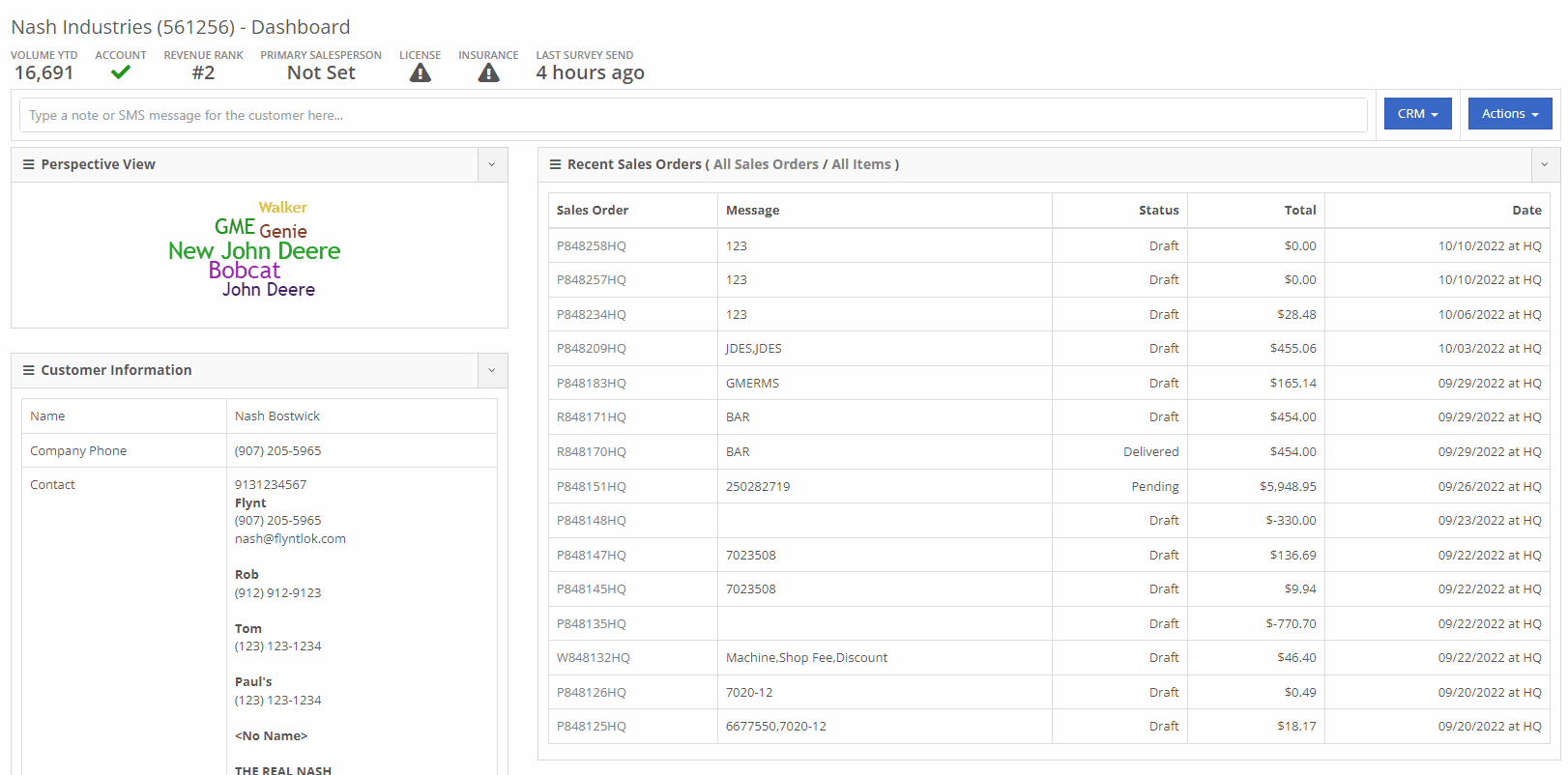 From the

Item Dashboard

->

Actions

->

Sell Item
From the

Machine Dashboard

->

Actions

->

New Linked Sales Order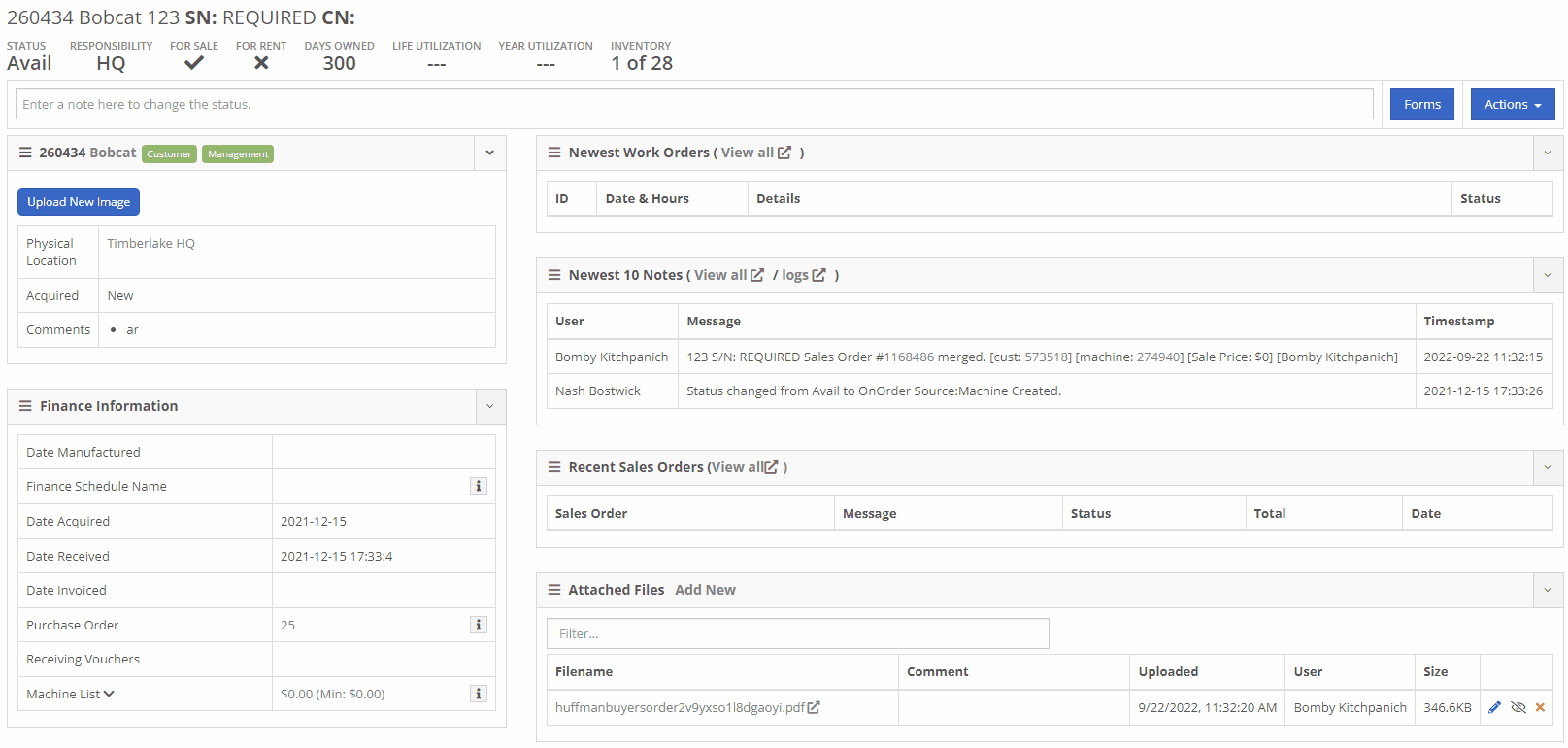 POS Layout
Once arrived, a dashboard appears which includes blue tabs labeled:
The blue Customer tab is the initial tab opened when creating a new Sales Order. This tab prompts users to fill in Customer, Contact, Machine, and other general information. Head to the Customer article for further information.

The Shipping tab includes the ability to create, edit, and view customer Shipping Addresses, and designate inbound and outbound Shipping Methods. Head to the Shipping tab article for further information.

The Details tab includes Customer Purchase Order, public and private message fields, and other actions and settings. Head to the Details article for further information.  

The Payment tab give you options to take Payment, Quote, Copy and more. Head to the Payment or Actions article for further information.
The Activity tab includes a Note Section, SMS options, and a link to the Sales Order Audit Logs. Head to the Activity article for further information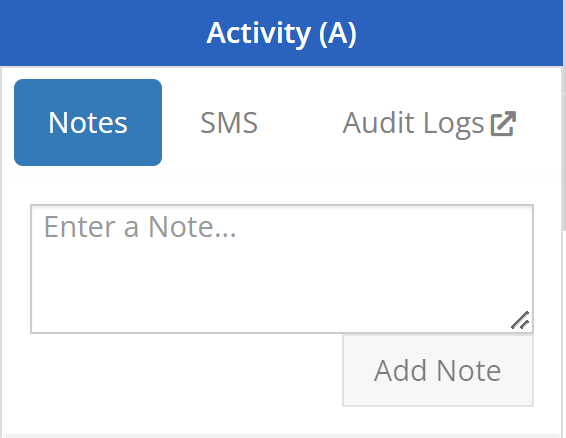 Clicking below the prompted Customer tab into the center of the POS or clicking above the Shipping, Detail, or Payment tabs, will reveal the Item Search Bar, Item Line Details, and other Sales Order Features. Go to the Item Search Bar article for further information on the following Look-up functions.
Search Mode vs. Scan Mode
Part Number Searcher
Quantity editor
Add a new item
Import items from a file
For further information on looking-up and entering Items in the Point of Sale, go to the Item Search Bar article.

In the homepage of your POS, users can access all necessary Sales Order Actions. Many of these features are displayed by relatable icons in the top right corner of the POS and include: 
Reverse line-item order
Email this Sales Order
Print this Sales Order
Print thermal receipt
View packing slip
Apply a percentage discount to the entire order
View internal pricing information
Fulfill all items as much as possible
Modify tax rules
Adjust payment posting dates
Your most commonly sold items
Sell a machine
Export to Excel
Create Label
For further information on Point-of-Sale Actions, go to the Actions Articles.

By searching or scanning, items are added to the Sales Order. In each item line, users can:
Access

Item Dashboard

View/Edit line description

Fulfill line

Check traceability

Verify the correct item number

Report lost sale

Remove item from a

Sale Order

Update item bin

Change quantity

View quantity on hand

Override quantity on hand

Fulfill quantity

View/edit/discount line amount
Above the Shipping tab, users may view the status, the Sales Order number, view Downstream Operations, as well as choose to Delete or Order. Also, above the Activity tab, badges describe additional context of the Sale Order and Customer. For further information on Line Items, go to the Line Items article.

| | |
| --- | --- |
| Main Point of Sale Screen | |
| Key | Action |
| E | Emails Sales Order |
| F | Fulfill all Items as Much as Possible |
| N | Adds a new note to a sales order |
| CTRL + O | Completes Sale |
| P | Prints Sales Order |
| 1 | Opens the Shipping tab |
| 2 | Opens the Details tab |
| 3 | Opens the Payment tab |
| 4 | Opens the header box |
| Tab/Enter | Either Tab or Enter can be used to switch from the parts searcher to quantity. |
| Item Description | |
| Shift + Enter | Starts a new line while typing |
| Escape(Esc) | Closes Pop-up |
| Payment Tab | |
| C | Cash |
| R | Credit |
| D | Debit |
| K | Keyed in Credit |
| A | Account |
For further information on POS Hotkeys, go to the Hotkeys article.
Settings for the Point of Sale can be found underneath Editors (Wrench) -> Point of Sale. These settings allow users to adjust:
Customer relationship types
For further information on Point-of-Sale Administration, go to the Point-of-Sale Administration article.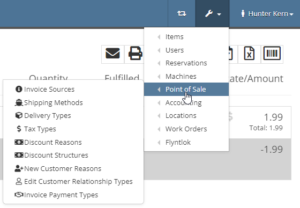 Check out the newest updates to the Flyntlok Equipment Dealer Management System.
New 🆕
Volvo Extended Offer
We are now integrated with Volvo Extended Offer. When you order extended offer parts from Parts Linq, Flyntlok will receive order confirmations and shipping confirmations for these orders' styles.
Volvo plans to let you place these orders from your business system in Q3/4 of 2021.  We will add that functionality when it is available.
Enhancements 🙌
DMS WO - Clock Directly Into Job
When clocking into a DMS work order, you can now choose a job to clock into right away!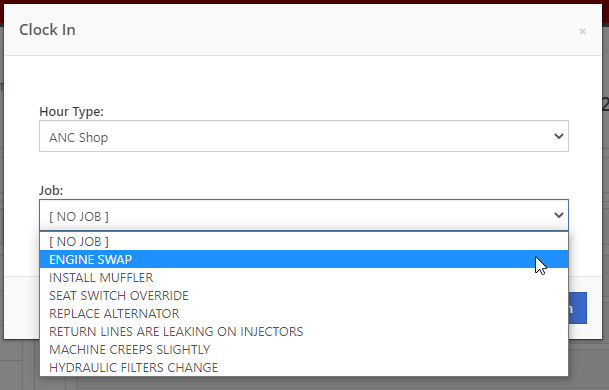 You will also see the option to clock in listed on the jobs as well.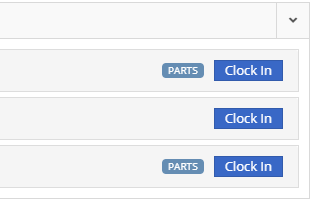 Part Transfers
We made some small adjustments to the form for requesting parts transfers.  The first field in the form is now the "From where?" section.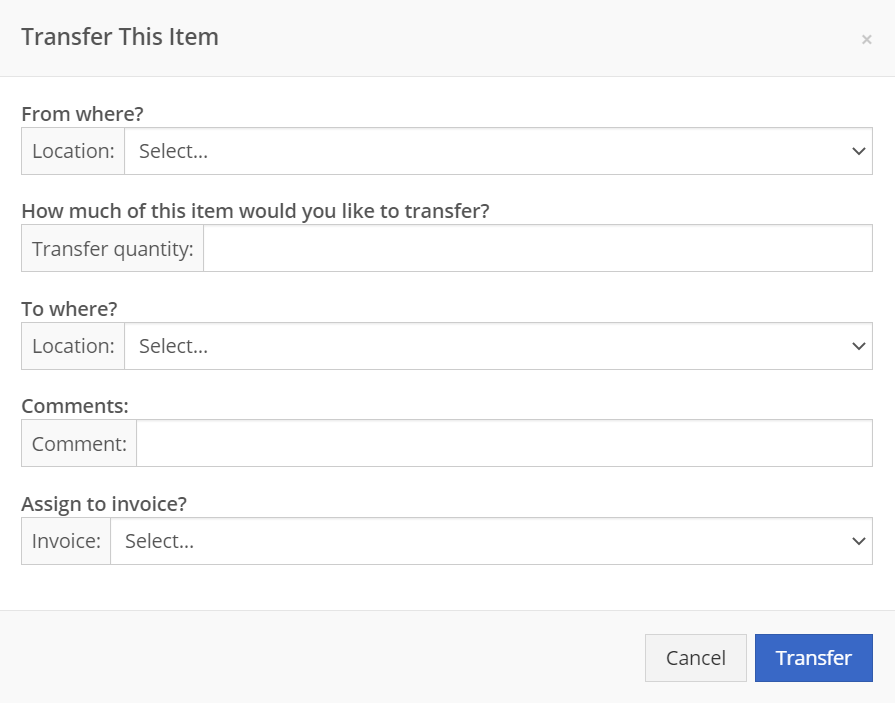 We also now show you the QOH at the location in the dropdown.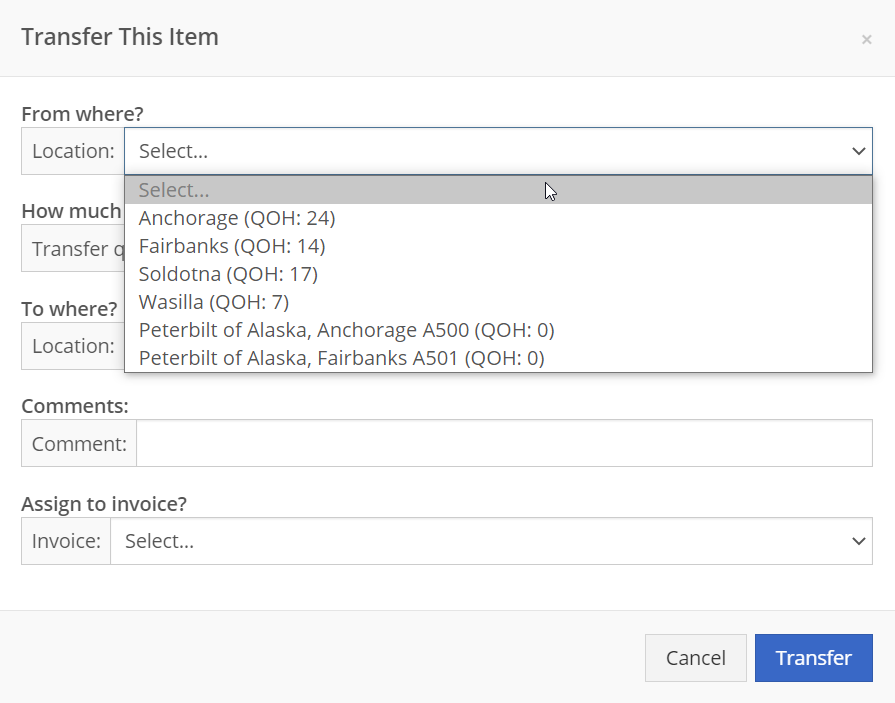 Multi-Discounts for Customers
You can now give a customer multiple discounts. To do this, navigate to the customer editor. In the "Accounting" section, you can set the discounts.
These discounts must be pre-defined by an administrator at your business.
Reject Quantities on MRP Work Order
We will now show you the amount that has been rejected in the top banner of the work order.

PDF Flat Rate Jobs
We have adjusted the DMS work order PDFs to now account for flat rate job pricing.

New Vendor Notification
We have added a new task that will get created for one user, set at the company level when a new vendor is added. This will allow for the vendor's accounting configuration to be double-checked and prevent any incorrect postings.
Journal Entry Logging
We have added logging to the Flyntlok Journal Entry system.
Updating Bin Location
Now, when receiving an item, you will be able to edit or set the bin location.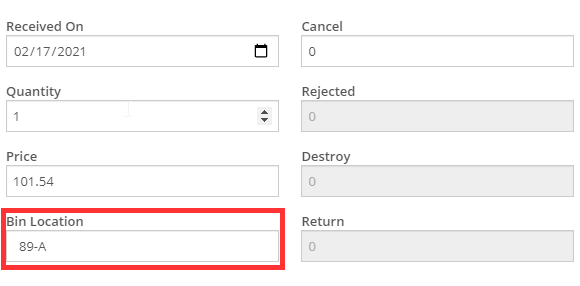 Resolutions 🐛
DMS WO Clock Icon
The clock icon on the list of open DMS work orders will now be highlighted if any tech is clocked into the work order. Previously, it was only if the technician assigned was clocked in.
DMS WO - Template Labor Types
If a job template does not have a default labor type, we will default for you.
DMS WO - Template Parts
We found a bug that prevented draft parts orders from being created when adding a job template to a work order.  That is fixed, and adding a template to a work order that contains parts will create a draft order of those parts.
Incorrect Core Location
We've tracked down and resolved an issue with cores being added to purchase orders with incorrect purchasing locations. Occasionally, when an item was being purchased with a core, the core added to the purchase order was for the incorrect store location.
Notification Setting
We found a bug in notification settings where we were overriding your setting. That is fixed, and they should stick now!
Not yet a Flyntlok Customer?
Learn More at Flyntlok Dealer Management System
Check out our Flyntlok YouTube channel for more highlights of the application!