Check out the latest updates to the Flyntlok Equipment Dealer Management System.
Machine Purchase Orders
New Features
Machine Adding
We've made it easier to sort and filter the list of machines when adding machines to a voucher.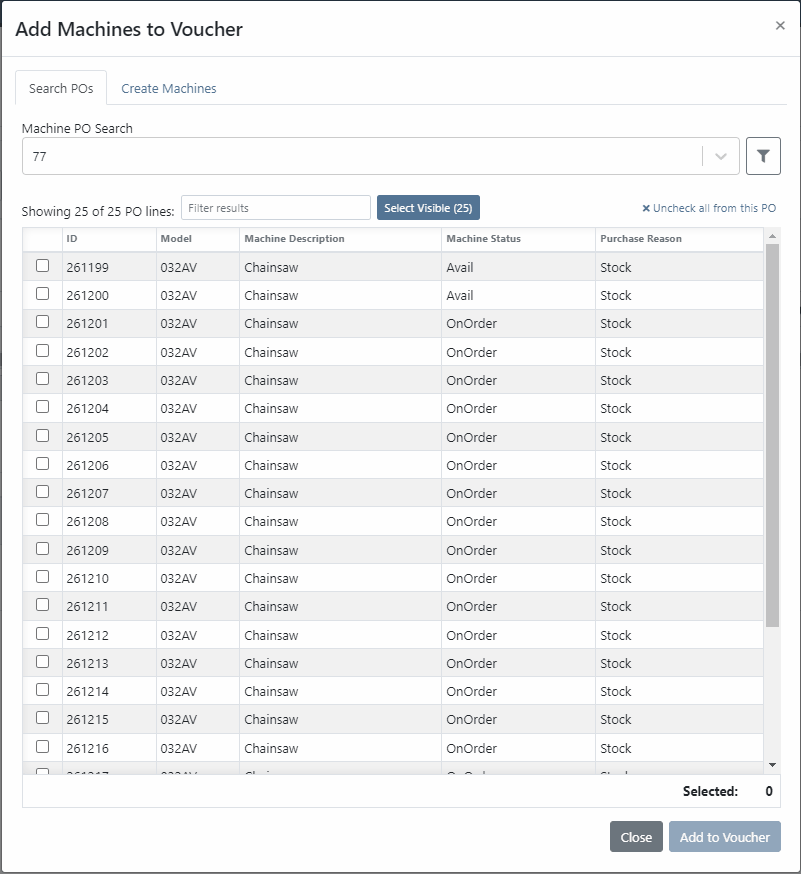 Machine Creation
While adding new machines to the voucher, you can now designate a quantity of machines to create.
Label Printing
We have added label printing functionality to the bulk actions!  Don't forget - Flyntlok consultants can customize these labels to your business needs. Just submit a support ticket!
Permission for Completing a Voucher
We added permission that must be turned on if the user would like to complete vouchers.  You can also designate a user to receive a notification and pending action when a voucher is submitted for completion.
Auto-Calc Allocation Changes
We have removed the recalculate button and will recalculate the fees live.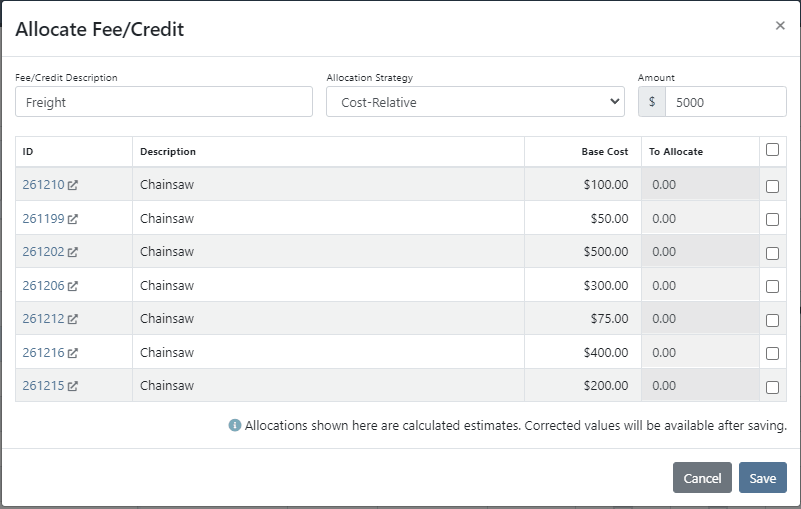 Year Auto-fill
If you add a date and leave the year blank, we will assume that you would like to use the current year.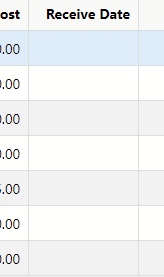 File Attachments
If a machine received on a voucher has files attached to it, you will see a voucher files section on the machine's dashboard. Remember, files attached to a machine using the detail view will be attached directly to the machine.
Bill.com Support
If you track your payables through bill.com, we have added the ability to set up a bill.com machine clearing account.  If this is set, we will offset the asset amount on the journal entry to this account.
Mobile
New Features
Login
If you log in from a phone, you will now be taken directly to the mobile view. If you want to return to the desktop version, click Return to Desktop at the bottom of the page!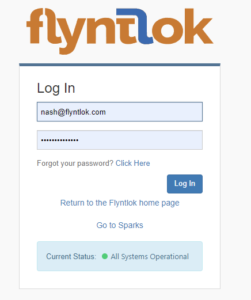 Clocked-In Work Order & My Work
The work order you are clocked into will display at the top of the page. The My Work button will show you all of the work orders you have assigned to you.
Point of Sale
Enhancements
Card Error Messages
We've updated messages coming back from our card processor to make it more clear when a card has been declined or if there was an error during the payment process.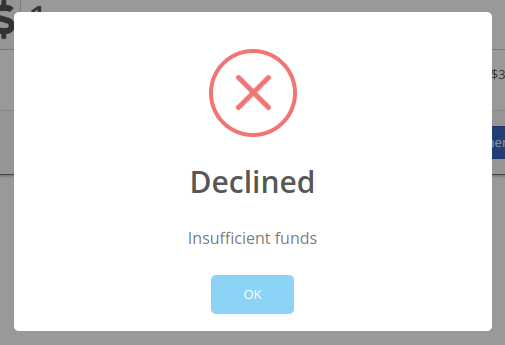 Rental
Beta Features
Improved Date/Duration Selection
We will be beta-ing a new feature with pilot dealers that should make it much easier for us to properly calculate your billing durations given a date range on a calendar. This should allow you to set up contract data in a much easier format and reduce the number of dates you need to manage for a rental contract.
Contract Interim Billing Cycle
We will be beta-ing a new feature with pilot dealers that allows you to set a default interim billing cycle for a contract. This should greatly reduce existing date adjusting when trying to create an interim invoice. This will also let us notify you when you have a contract due for billing, and in the future, offer us the chance to generate these bills automatically for you!
Enhancements
Location Selection
You can now select a location during the rental contract creation. Previously, we only allowed you to change it once the contract was created.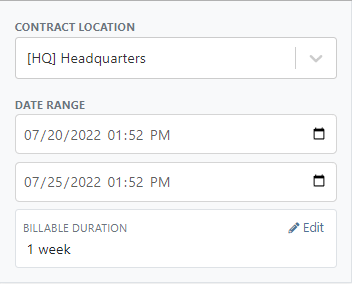 Address's
While entering an address on a rental contract, you can now click the Save to Customer box to save the address to the customer address book.
Consumables
Consumables can be configured in two different ways: Standard and Capacity-Based. Capacity-Based is better for fuel because fuel is measured in percentages, not quantities. Standard is better for renting out consumables that are measured in units.  Tire wear, cutting edge wear, and other specifically measure consumables should be setup with the Standard style.
Equipment Return Work Orders
When auto-generating work orders at rental check-in, we were using the machine's last known hours, not the hours at check-in. That has been fixed, so work orders populate with the machine's hours at check-in.
DMS Work Orders
Enhancements
Bug Fixes
We fixed a handful of bugs causing the work order error when you tried to save.  Some of the most notable are:
Fixed Asset category work orders
Work Orders with a machine that had the owner removed
Missing labor types
Notifications
Preferences
Notification groups should now be more clear in which aspect of Flyntlok they tie to.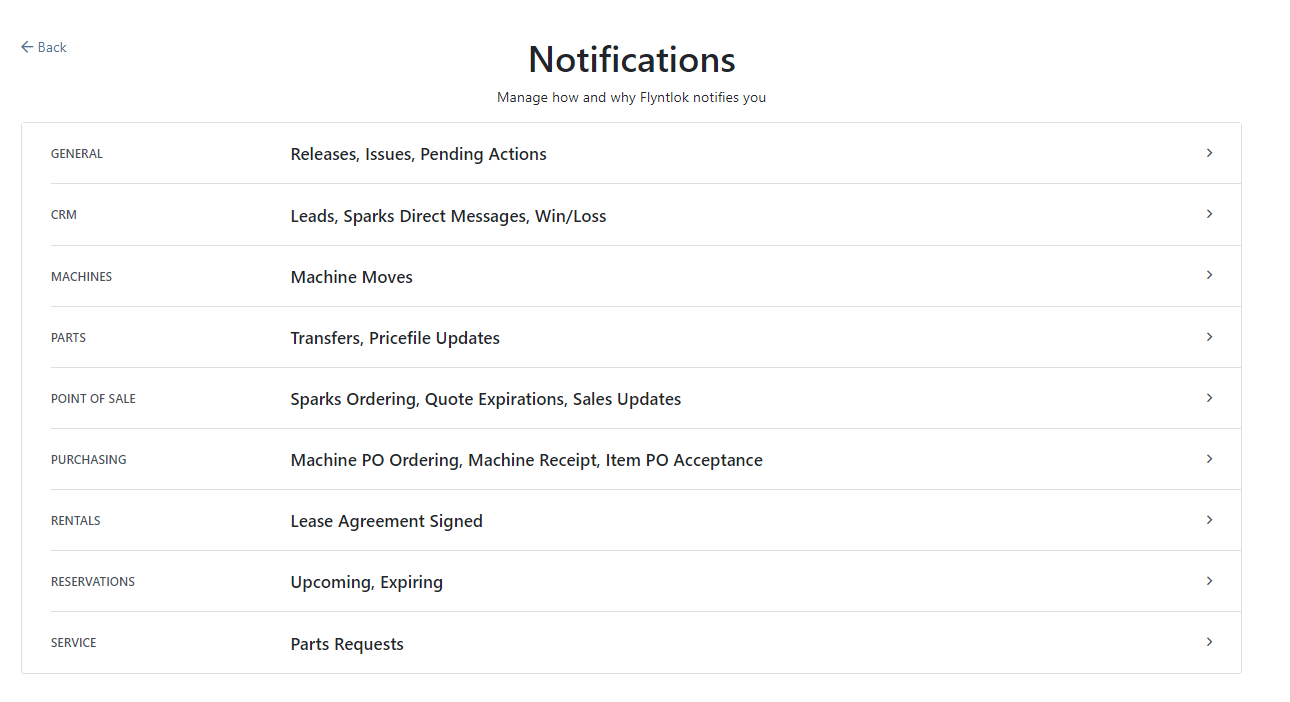 Assigned Lead
Along with adding more categories of notifications, we added a new notification you can receive if a CRM Lead gets assigned to you.  You can configure how you would like to receive this notification by clicking your name in the upper right of Flyntlok and heading to preferences -> notifications.
QuickBooks Online Interface
Enhancements
Syncing / Not Syncing Accounting Contact & Email
We've added an option on the customer profile to decide if you keep the customer's accounting contact in sync with Quickbooks Online data or if the data you enter in Flyntlok should be the source of truth.  This is the email we use to auto-send invoices and receipts.  When this is on, we will always override what is in those fields with what is set in QuickBooks Online.  When it is off, the contact and email will remain whatever you enter under the customer profile in those fields.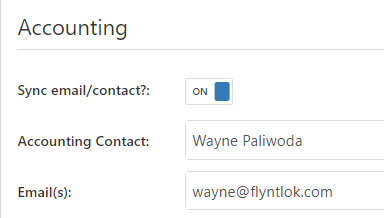 Posting Customer Payments (Z-Out)
We were presenting you with some errors almost anytime you ran the end-of-day process to post customer payments. Those errors were erroneous in that the posting had gone through successfully.  We prevented those unnecessary errors from displaying going forward. Actual errors still display!
Last Release Notes
Not yet a Flyntlok Customer?
Learn More at Flyntlok Dealer Management System
Youtube
Check out our Flyntlok YouTube channel for more highlights of the application!
Check out the latest updates to the Flyntlok Equipment Dealer Management System.
Point of Sale
New Feature
Selling A Model Creates A Purchase Request
When you sell a model, we will recognize that a purchase request needs to be generated. The workflow is very similar to selling items.
First, click the rocket icon. Then select the Quote Model tab. Remember to click the Generate Purchase Request checkbox.
Lastly, after you click the order button, a machine purchase request will be created.
Enhancements
Tax Selector
If you have a lot of taxes, it can be time consuming to configure them. We have added a select all and a de-select all function to the tax editor. This can be found on the point of sale and also on the customer dashboard.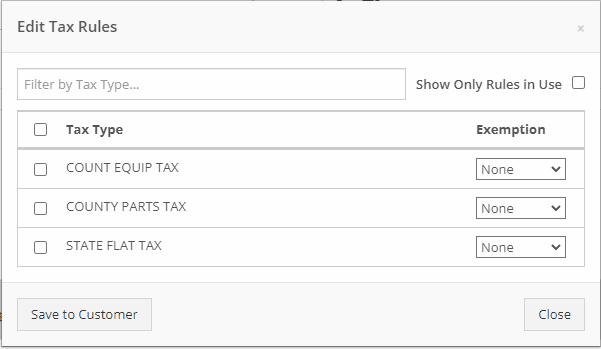 Work Order
Enhancements
Work Order Creation Wrench
We want to make work order creation easy. A wrench has been added to the top bar. Click the wrench and you will be brought to the work order creation screen.
Transfer Jobs To A New Work Order
You no longer need to have an existing work order to transfer a job. Instead, if you click the Transfer to New Work Order option, a new identical work order will be generated with that job on it.
Job Coloring
Jobs can be configured to change color based on percentage of completion. We are calculating percentage of completion based on actual time / estimated time. Currently there are two colors that can be configured, yellow and orange. You can configure when the colors change. By default, work orders will change to yellow when 75% of labor has been added and orange when 90% of labor has been added.
Estimate Tab Permissions
The Estimates Tab has been put behind a permission. If you would like to simplify your technicians dashboard or limit the users at your business can send an estimate, you can head over to the Access Control Page and turn that tab off.
Purchasing
Enhancements
Machine Purchase Order Vouchers Column Chooser
You can edit which columns you see and the order you see them by clicking the Gear icon!
Machine Purchase Order Vouchers Accounting
The machine income, asset, and expense account can all be set on the machine purchase order voucher.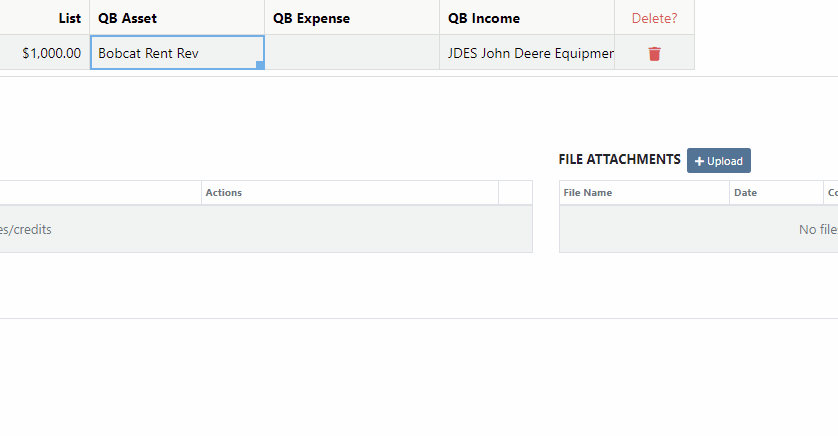 Machine Purchase Order Vouchers Bulk Actions
We added a bulk actions button to help fill the most common fields. We currently have the following bulk actions:
Set List Price
Set Invoice Date
Set Receive Date
Set Vendor Invoice
This is in addition to the corner drag and fill function.
Upcoming Bulk Actions:
Record360 tasks
Work order creation

Machine Purchase Order Vouchers Attachments
If you are using Bill.com, you can check the Send To Bill.com box to automatically send the attachment to your Bill.com email.
Machine Purchase Order Vouchers Detail View
The detail view is ready for use. This works the same as the list view, but looks like a form.
Rental
Enhancements
Contract Reopening
Rental contracts can be reopened! To reopen a rental contract, delete the final sales order and you will be redirected to the rental dashboard with the rental in checked in status.
Line Level Billing Information
We have added a Billed and an EST Billable column to the rental contract line. Billed will tell you the amount that the line has already brought in. EST Billable is the remaining amount that should be billed during the rental based on the billable duration set on the rental contract line. In the case shown below, $20 has been billed out of the $200 expected total.
Last Release Notes
Not yet a Flyntlok Customer?
Learn More at Flyntlok Dealer Management System
Youtube
Check out our Flyntlok YouTube channel for more highlights of the application!
Check out the latest updates to the Flyntlok Equipment Dealer Management System.
Rental
Enhancements
Over Usage Billing
Flyntlok is automatically tracking and billing over-usage on rental contracts! If you do not want to bill for overages, leave the hours field blank.
If you want to bill overages, make sure that an Overage Rate is set. The Overage Rate is set on the models' rent schedule template or on the contract! In the case shown below, we are renting this equipment out for 1 week. During that week the customer is allowed 40 hours. Every hour over 40 hours will be billed at $10.
Remember to set the machine hours during checkout! In this case, the machine was checked out with 100 hours.
At this point, the rental has taken place and the machine has returned to your location. The customer has returned the machine with 42 hours, 2 hours over the 40 hours allowed.
The overage is communicated to the customer on the final sales order. The explanation can be found in the line item description!
Work Orders
Enhancements
Multi Machine PDF's
We have added more machine information to all work order PDF's. It will be much easier to tell which machine was worked on! This only applies to multi machine work orders.
Estimate Messages
When sending an estimate with both recipient and cc'd email addresses, only certain emails would contain the message body. Now, everyone on the email chain will receive the message body. This should keep all interested parties in the loop!
Itemized Labor
Your business has the option of itemizing labor on the work order pdf. This can be set as a default for your company, or set on the work order itself. This can be helpful when submitting warranty claims.
Below is what the labor looks like on the pdf.
Point Of Sale
Enhancements
Manufacture Date
When taking a trade in, it is important to be able to add the equipment's manufactured date. We added a Date Manufactured field on the trade-in payment type to make this easy!
Tax Id
Instead of inputting customer tax id's into the customers comments field. Tax ID's can be added to the new Tax ID field on the customer dashboard. If a customer has a tax id it will also show on invoice PDF's.
Model Quantities
We added a quantity field to the Quote Model screen. If a customer wants 13 machines of the same model, add the model, then adjust the quantity to 13!
Purchasing
Enhancements
Exception Notifications
If an exception is reported on a purchase order, it is important that you are able to notify the correct customer contact. We have expanded the Notify Customer contact list to include all of the customer contacts.
Click Reduction Contest
We will be running a click reduction contest! If you have an idea that would save clicks somewhere in the application; please submit a support ticket outlining your idea! We will review all of the ideas, and pick the 2 ideas that will help our application the most.  The winners will be  announce in the May 11th release notes. Each will receive a $25 Visa gift card!
Last Release Notes
April 16th, 2021 Release Notes
Not yet a Flyntlok Customer?
Learn More at Flyntlok Dealer Management System
Youtube
Check out our Flyntlok YouTube channel for more highlights of the application!
Check out the latest updates to the Flyntlok Equipment Dealer Management System.
Point Of Sale
Invoice Customer Panel
We have restructured the customer panel to make it more space-conscious and moved the contact selector next to the customer selector.  Previously, the contact was selected in the details panel at the bottom of the page.

You can now designate the type of invoice and use that for reporting.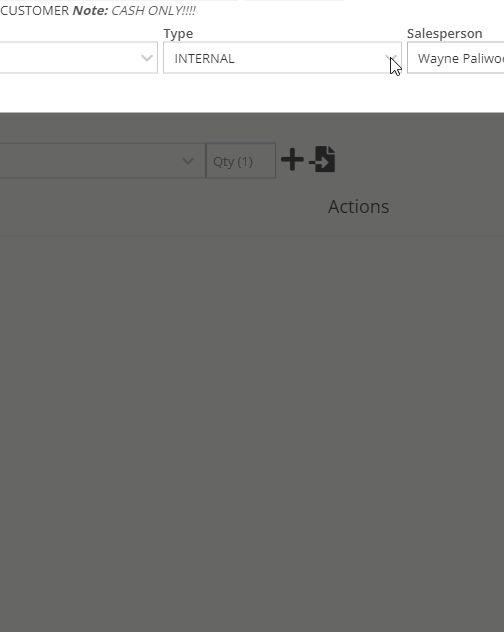 The type and location can also be encoded into the ID.  If you wish to enable this feature, please submit a support ticket.

Activity/SMS Panel
We have made it easier to add/edit notes and send SMS's from the point of sale by adding an activity panel on the lower right of the page.

When a customer responds, you will get a notification in the lower right of Flyntlok, and on your dashboard.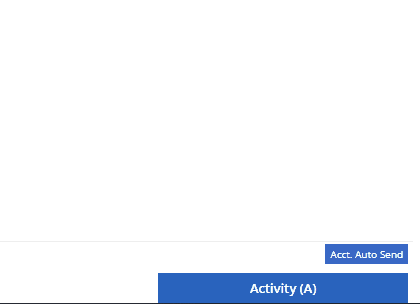 You can reply from the notification, customer dashboard, or right in the activity panel on the invoice.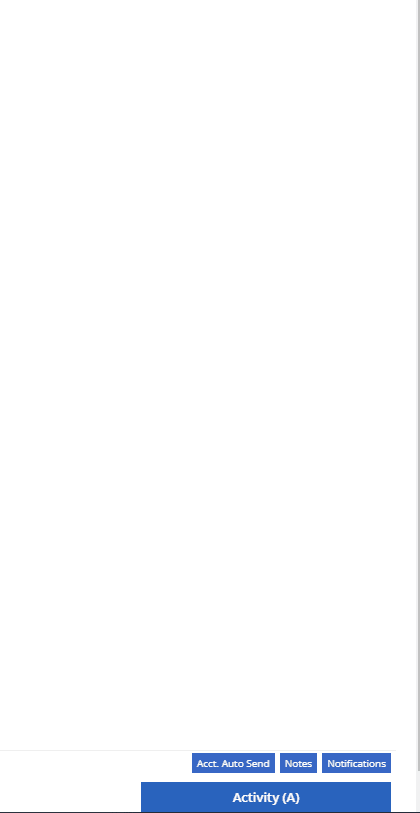 Returning Dirty Cores
Previously when creating a return for a sale that includes cores, we were not populating the return sales order with the dirty core.  We updated that so you no longer have to add that manually when the customer returns with the dirty core.
Machine Owner / Bill To
We have updated the sales order PDF to reflect the machine owner if it is different than the bill-to.

Work Order
SMS Templates
You can now customize your own templates for SMS's sent from the work order system!  To configure your templates, please submit a ticket and a consultant will work with you to get them setup.

Activity/SMS Panel - Unread Activity
We have added an unread activity indicator on the activity panel. Once you open the panel, the notes will be flagged as reviewed and the indicator will be removed.
Estimates - Icons
We have added icons to the estimate section to indicate when an estimate has been emailed to your customer, and when they respond.  Look for more updates to this feature in the coming releases!
Rental
Activity/SMS Panel - Unread Activity
We have added an unread activity indicator on the activity panel.  Once you open the panel, the notes will be flagged as reviewed and the indicator will be removed.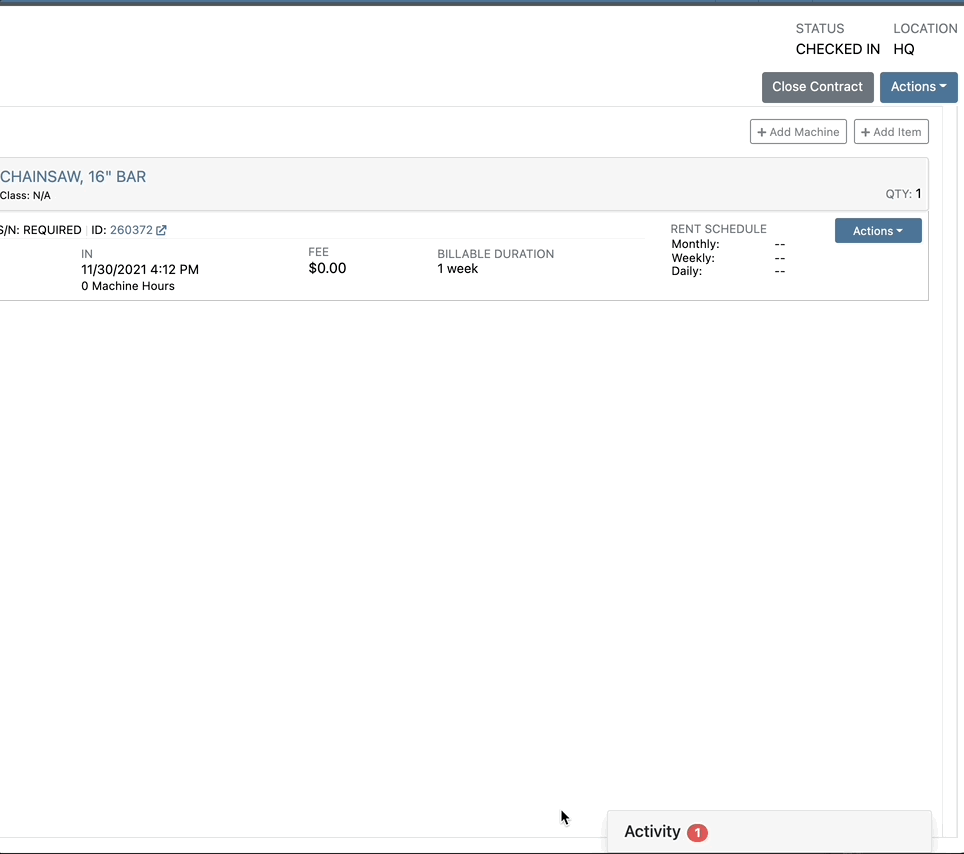 Auto-Generated Work Orders for Rental Actions
Based on your company's settings, we will automatically create a work order at the first rental, and every subsequent check-in of a rental.  We updated this functionality to create these work orders as segmented.  In the coming release, you should be able to designate one or more job templates to be added to this style of work order.

Purchasing
Bulk Printing Labels
We moved the bulk printing of labels from the PO to the voucher.  This lets you print off a barcode label for each item you are receiving.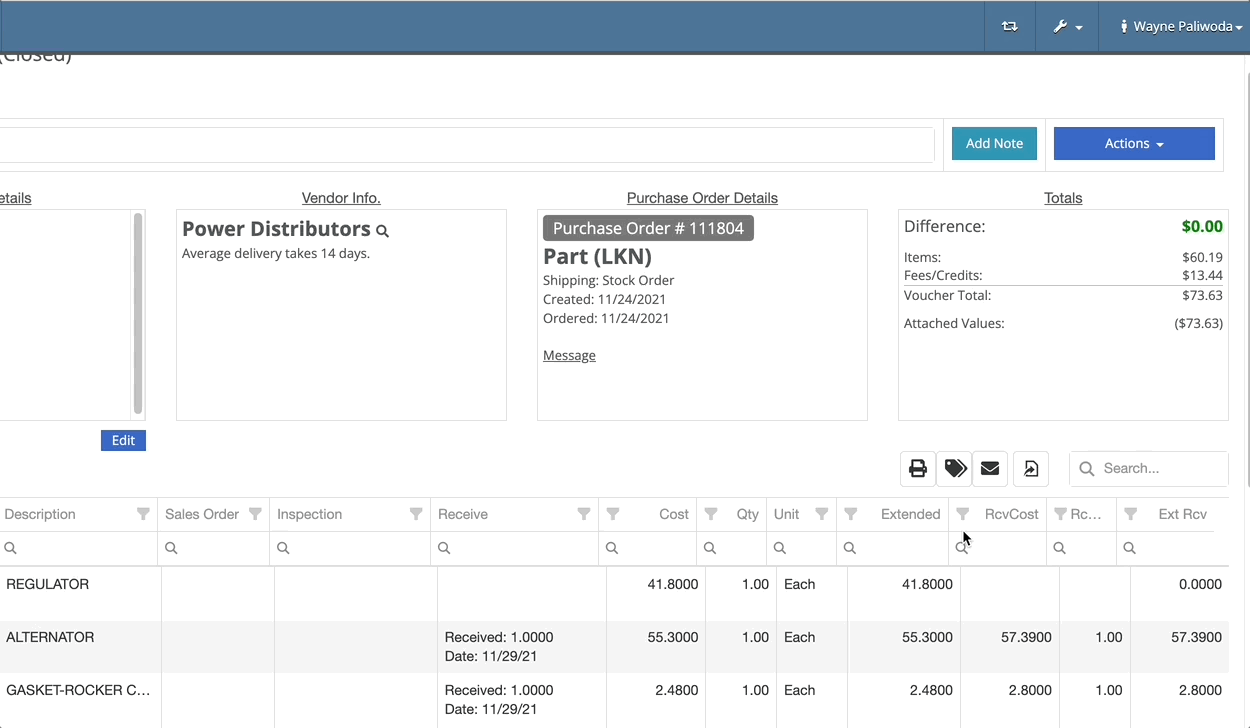 Accounting
Customer Accounting Settings
Previously we were updating the Accounting Email and Auto-Send setting on the customer when you re-loaded them. That caused confusion when QuickBooks Online had different data than what was set in Flyntlok. We will no longer automatically update those fields.
---
Last Release Notes
November 17th, 2021 Release Notes
Not yet a Flyntlok Customer?
Learn More at Flyntlok Dealer Management System
Youtube
Check out our Flyntlok YouTube channel for more highlights of the application!
Check out the latest updates to the Flyntlok Equipment Dealer Management System.
BETA Work Order Updates
By request, we have been moving users over to the new work order system. Thank you for all the great feedback! Please submit a ticket if you would like to start using the new system.
Recommended Jobs for John Deere and Hitachi
After creating a work order for a John Deere or Hitachi machine, we will look for open PIPs. If any are found, they will be listed just below the Add Job button in the new Recommended section of the work order.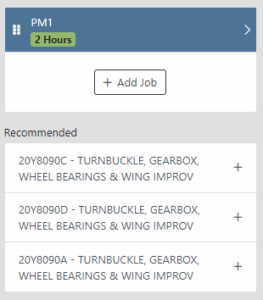 Once you select a recommended job, we will pull information directly from John Deere like the PIP title, type, and even the items needed for PIP. If you choose to create the job, we will also create the internal parts order with the required parts for the job.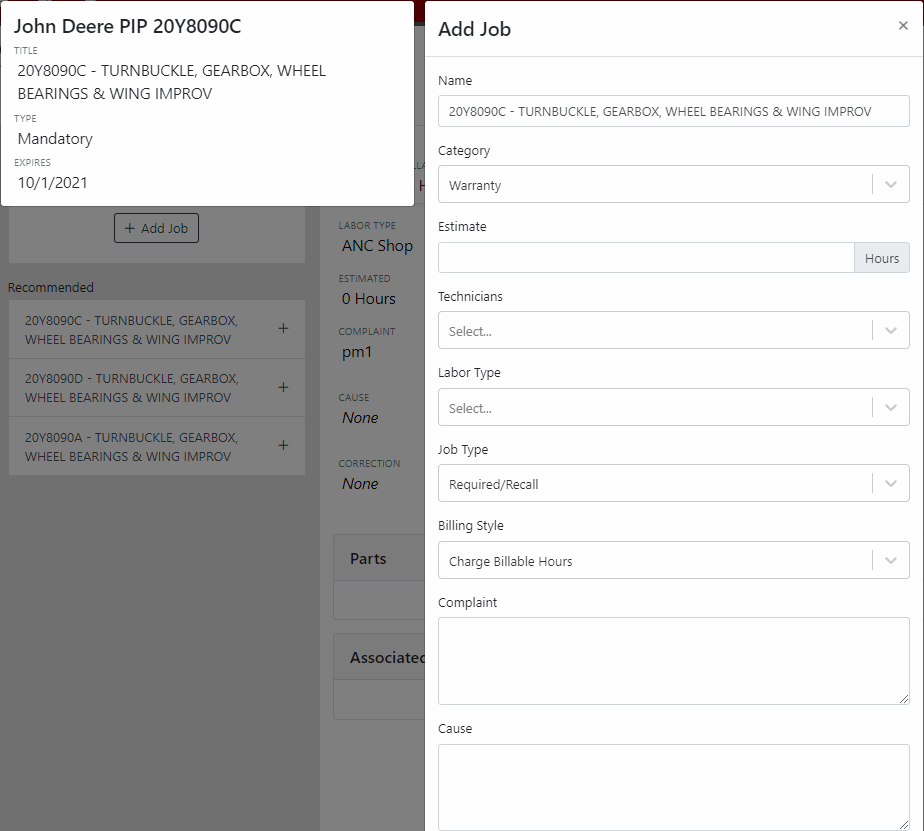 Job Templates
In order to save you time on creating templates for common jobs, you can now create a job template directly from a job you have on a work order.
Complaint, Cause, Correction
In our new work order, we have moved away from work requested and work done on jobs to a complaint, cause, and correction structure. This gives the opportunity to input the customer's complaint, then the technician's analysis of what caused the problem. The correction field will be used to communicate the work done. Only complaint and correction are required.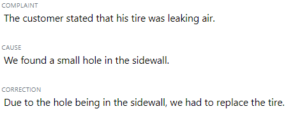 Disabled Actions Labels
Description labels appear when a button is disabled to give insight as to why the button is disabled.

Banners
Banners are back! After getting a new look, banners are being reintroduced to update you on important information.



BETA Rental Updates
We will soon be adding more customers to the new rental system. Here are some of the new features that will be available!
Rentable Items
We now support renting out items. To make an item rentable, you will need to edit the item and check the Item Can Be Rented box.

While you are there, you can add rent schedules to cover all of your pricing structures.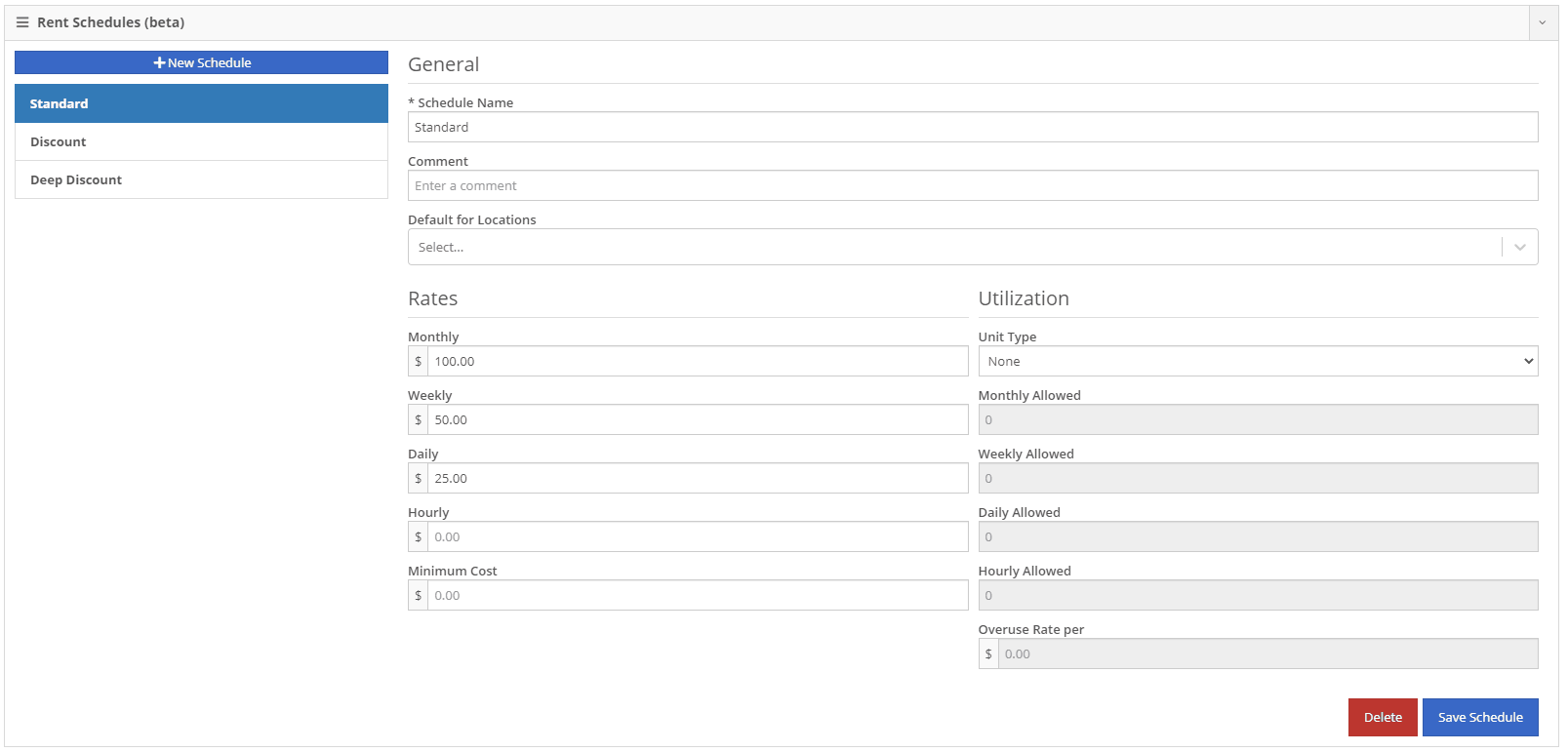 Rental Kits
A rental kit consists of one machine and a group of items that must be rented together. An example of this is renting a serialized air compressor with a hose and pressure regulator. The air compressor is the serialized machine, while the air hose and pressure regulator are optional items. When adding the machine to the rental, you can choose the amount of each item you will rent with the machine. These items will then be pulled from inventory when checked out, then added back to inventory when checked in.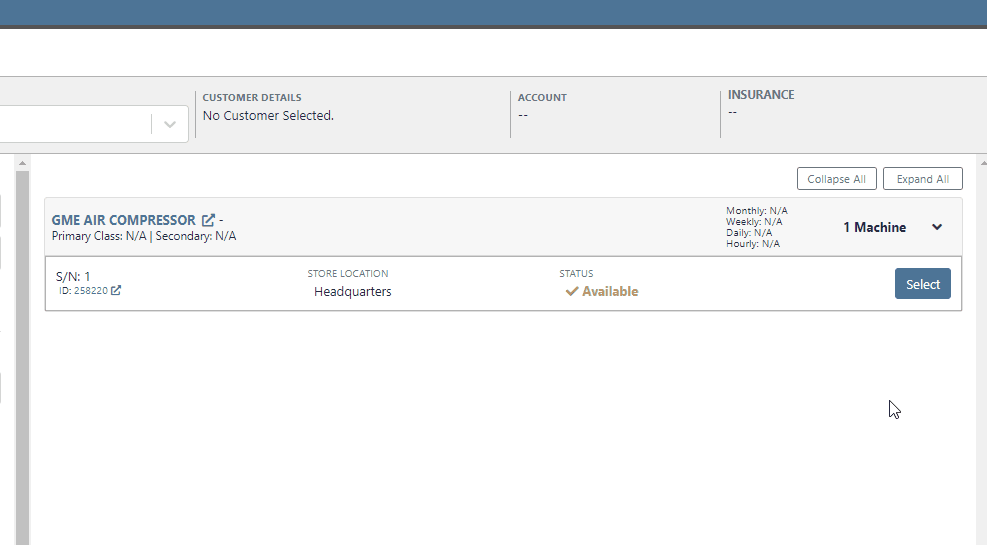 Flyntlok Surveys
Customizable Email Templates
We now support customized email templates on each survey template that you send out. If you are interested in adjusting your email template or learning more about our survey system, please reach out to consulting@flyntlok.com!
Store Specific Surveys
If you are a multi-store company, you can now configure your surveys to only send when the sale is closed at a certain store.
Not yet a Flyntlok Customer?
Learn More at Flyntlok Dealer Management System
Youtube
Check out our Flyntlok YouTube channel for more highlights of the application!
Check out the latest updates to the Flyntlok Equipment Dealer Management System.
Rental Creation Redesign
We want to make renting equipment easier for you!
We have added a new page to research machines and create rental contracts.  You can access this page under the "New" section of the left navigation.
You can filter available machines based on customer requirements. Then, select the machines and attachments to add to the rental contract. The selected equipment will be moved to the Selected Machines section.  Once all equipment has been selected, clicking the continue button will let you move forward with quoting or reserving the contract.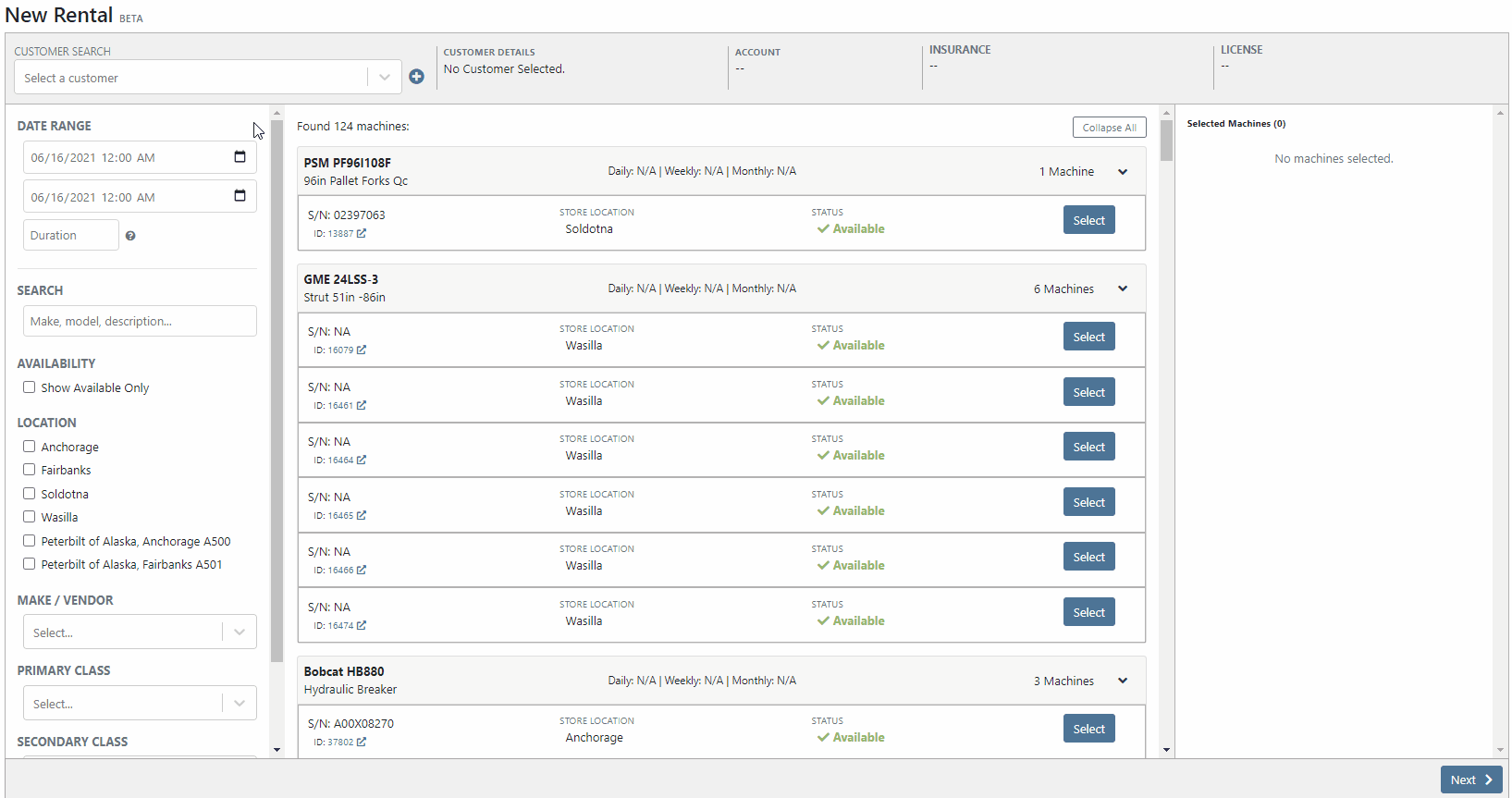 The Filter bar makes it easy to find a machine that meets your customer's requirements.
Select Date Range - This will carry through to the rental contract
Search by Machine/Make/Model/Description/SN
Select "Show Available Only" to filter out machines that have a known conflict in your date range

Conflicts can be other rental contracts, reservations, and work orders

Filter by Location
Filter by Primary Class and Secondary Class
Machines that pass your filters will appear in the Machine section.
Easily see all of your machines and select the equipment that works best. You can select as many machines and attachments as needed. Selected equipment will be added to the Selected Machines section.

The Selected Machines bar allows you to add multiple machines to a single rental contact.
The Selected Machines bar allows you to edit the rental contract. You can see the equipment you have already added, delete machines, and view the machine's rate sheet. When everything is perfect, click continue at the bottom of the page to finalize the rental contract.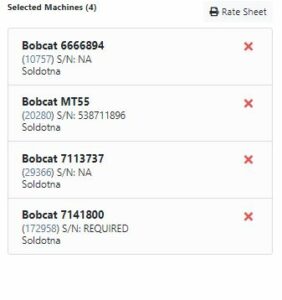 While we beta this new form, our existing form for rental creation will remain in place, so you can still you that one if you would like.
We're very interested in your feedback on the new page, so please let us know any suggestions by submitting a support ticket.
Work Order Dashboard (Closed Beta)
We have changed our Work Order Dashboard! Participating customers only; coming soon to everyone.  This update to the work order dashboard comes with a tabbed layout giving more space to focus on the center point on the work order - jobs.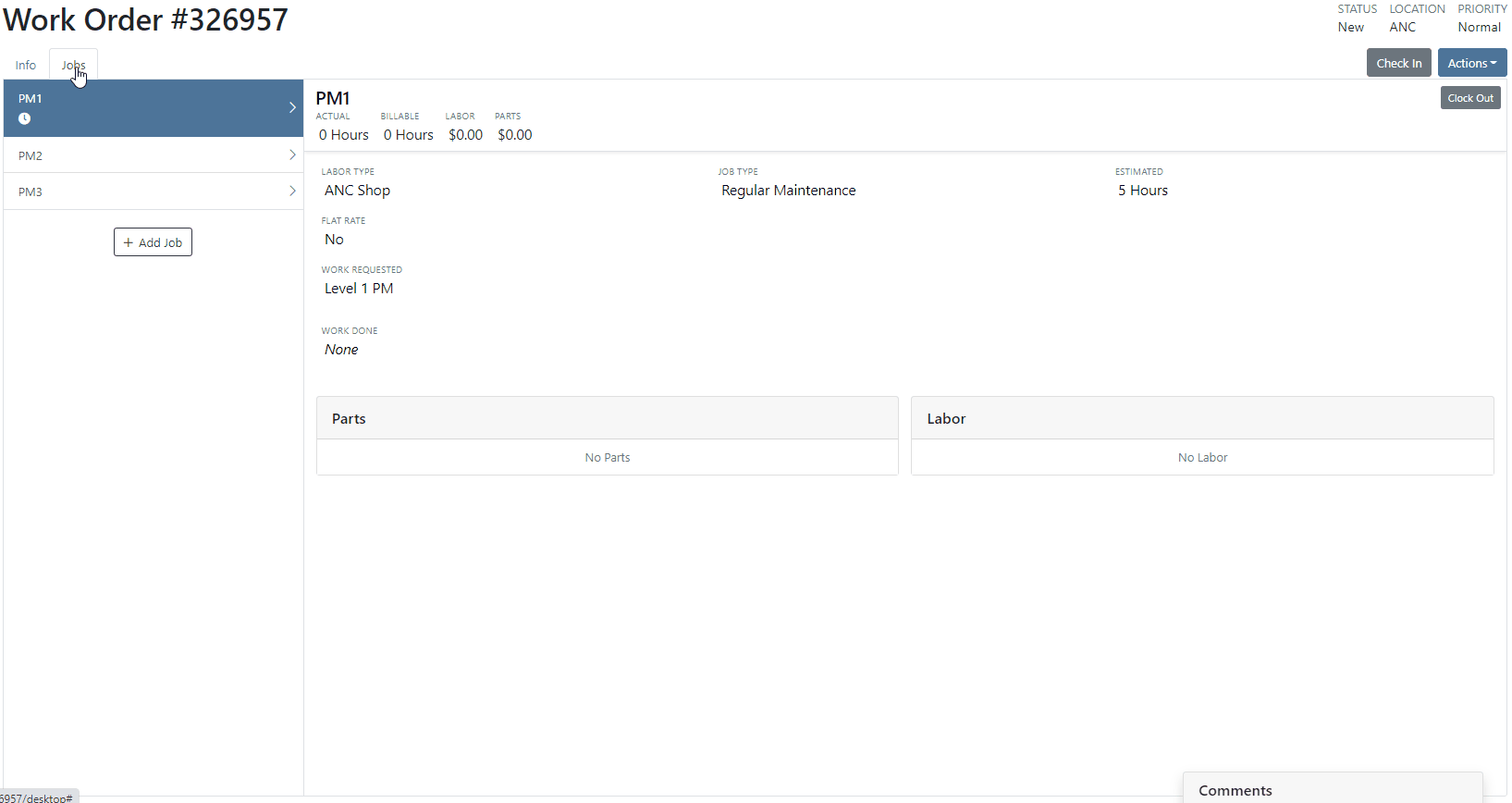 Jobs Tab:
We crafted the Jobs tab to show everything a technician would need to perform work. We scaled down the dashboard to the essential information, removing clutter.
Info Tab:
We designed the Info tab to meet the needs of a service manager or parts associate. The Info tab shows customer and machine information essential to your job.
Future updates to the Work Order Dashboard
We will be rapidly expanding the functionality on this page to include the following features:
The ability to bill a job based on the estimated time, actual time, or a flat rate. Currently, we only support flat rates and actual.
Customizable hotkeys for this page.
Wider access to add/edit work order shortcodes for all work order users.

Shortcodes are pre-built blocks of text that a technician can input saving them time from having to manually type everything.

Job Categorizations - categorizing the work on a job as revenue, warranty, shop, rental, etc.  This will help drive labor reporting.
Open beta should begin 06/30/2021.  If you are interested in participating, please reach out to consulting@flyntlok.com and we can ensure you are included.
Prevent Duplicate Model Creation
If you try to create a duplicate machine model, we will alert you!
If you already have model duplicates and want to clean them up. A company admin can go to Wrench -> Flyntlok -> Widgets and use the Merge Model Widget.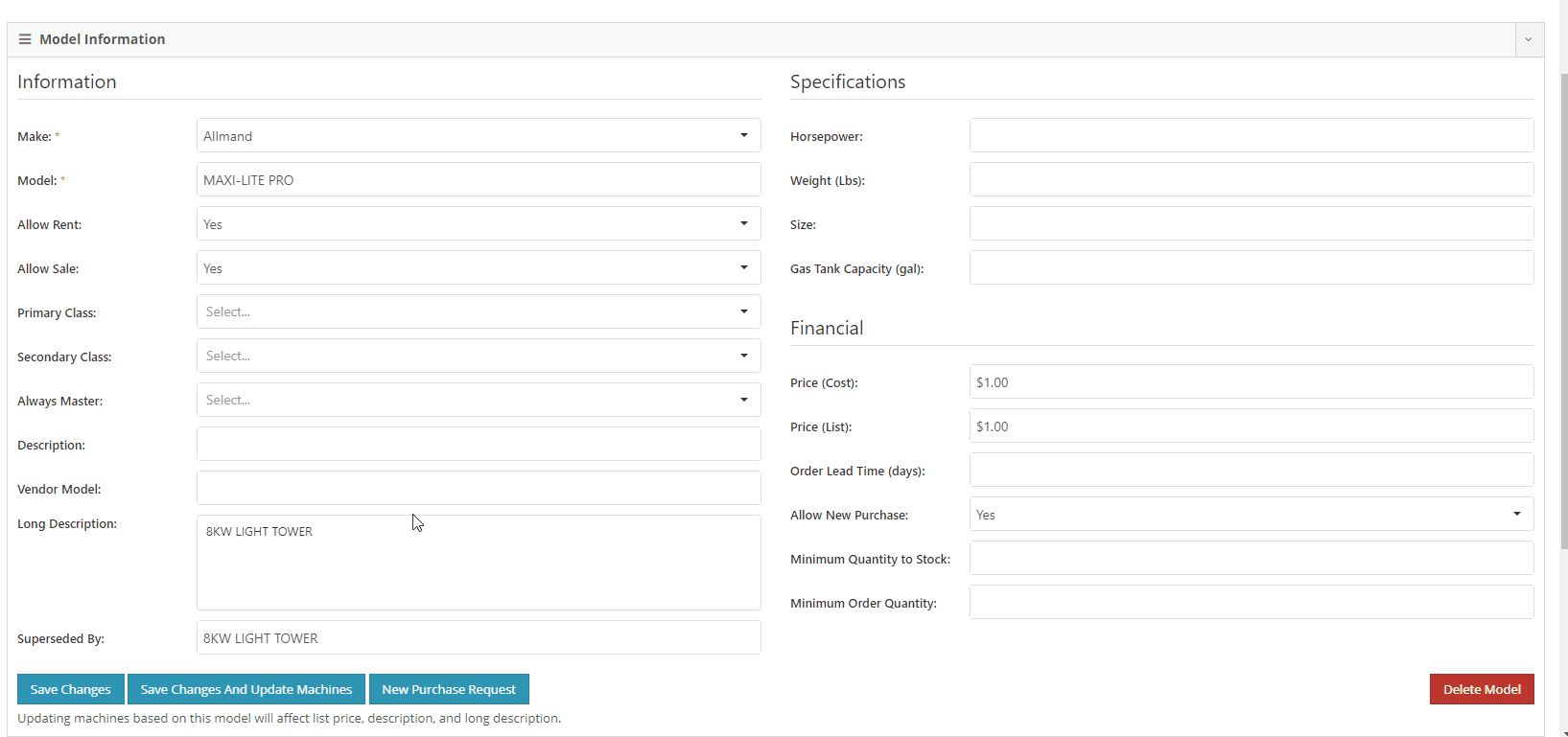 Exclude From Auto-Email
It is easy to disable emailing on a case-by-case basis. After reversing a sales order we recommend using this feature. This will prevent your customers from receiving multiple emails for the same transaction.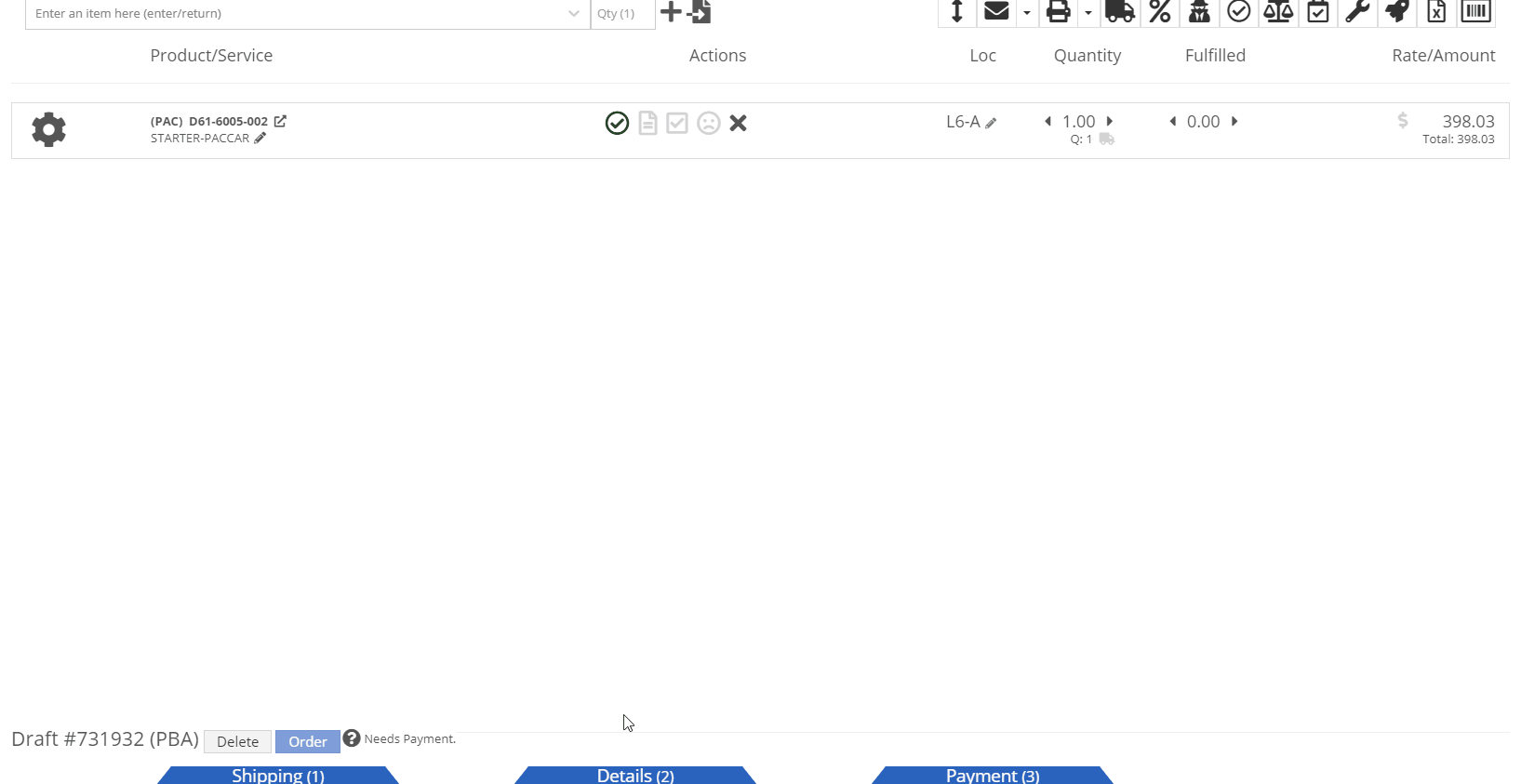 Visibility to Paccar Bond Loyalty/Fleet Accounts
Moving forward, the Bond Loyalty/fleet accounts options will only be available for locations of your dealership that support Paccar. This continues our trend of decluttering; only showing the information you want to see.
Default Model Classes
You can now set a default primary/secondary class for models.  This is done at the company level.  To set this data, head to the Wrench -> Flyntlok -> Flyntlok Details.  Under the model primary photo, you can set these defaults.
Primary Model Images
We allow you to set primary photos for a model in Flyntlok.  This is the default for any machines created of this model.  However, if you updated this photo, we weren't correctly updating the settings to make the new photo the primary photo.  That has been fixed!
Last Release Notes
Not yet a Flyntlok Customer?
Learn More at Flyntlok Dealer Management System
Youtube
Check out our Flyntlok YouTube channel for more highlights of the application!
Make sure you turn on landscape print!
Make sure you turn on landscape print!
Make sure you turn on landscape print!
Check out the latest updates to the Flyntlok Equipment Dealer Management System.
$25 VISA GIFT CARD CONTEST
Between today, May 27th, 2021, and June 9th, 2021, we want to reduce unnecessary mouse clicks within the application.  Submit a support ticket with your idea to reduce clicks. As a team, we will determine the most impactful request, implement the changes, and reward that user with a $25 visa gift card!
Automated Customer Satisfaction Surveys
If you have ever wanted to gauge customer satisfaction in real-time then we have the feature for you! We are adding the ability for you to automatically email surveys to your customers after certain actions in the system.  For example, after you close a sale with a customer.
If you have interacted with Flyntlok's help desk recently, you may have received a survey in your inbox almost instantly. While this alone is great, we wanted to take this feature a step further by building "triggers'' that will allow you to send the surveys either instantly, or after a delay chosen by your business. This tool will not only make your dealership look modern and professional, but also provide you with instant feedback from your customers.
We have teamed up with Survey Monkey as a partner for this feature. This allows Flyntlok to trigger actions for surveys and manage data necessary to tailor your survey.  Survey Monkey manages the survey configuration and provides tooling and reporting around your surveys.  The Flyntlok consulting team can assist with all of the setups.
This ad-hoc feature can be configured for you for a cost of 10 cents a survey.  If you are interested in utilizing this, please contact us at consulting@flyntlok.com or submit a ticket within the application, and we will set up a time to discuss.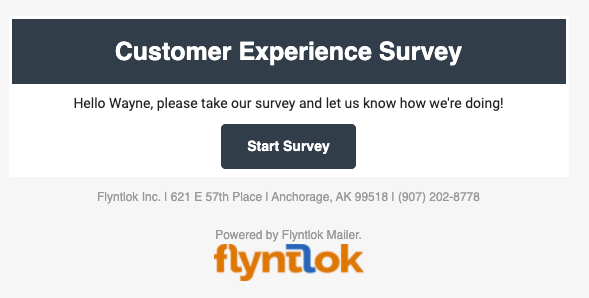 New Sales Order PDF (Closed Beta Testing)
We are happy to announce that we are launching a new version of the Invoice/Sales Order PDF.  We will be adding this feature by customer request in the coming weeks! A Flyntlok consultant will reach out to your management team for approval before adding your business to the beta test. This new sales pdf  will soon become the standard within Flyntlok.
Biggest Improvements:
Ability to advertise
Cost breakdown section
Space conscious layout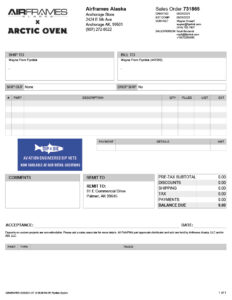 Upcoming
DMS Work Order Dashboard Updates
Over the course of the next two weeks, we will be working on a new implementation of the work order dashboard.  This will be a job-centric dashboard with screen space optimized for tablets and laptops.  Starting 06/09 we will launch a closed beta for this feature and open that beta to customers who are interested in trying out this new dashboard in late June.
DMS Work Order Job Template Manager
Since we are making updates to our work order system, we will take this opportunity to update the job template editor as well.  This will be finalized and out with our release 06/09!
Point of Sale Improvements
New Hotkey "F"
Due to popular demand, we have added a new hotkey to our sales order page. "F" can now be pressed to fulfill as many items as possible on the sales order. We continue to encourage ticket submissions with click reduction ideas!
View Updated Hotkey Cheat Sheet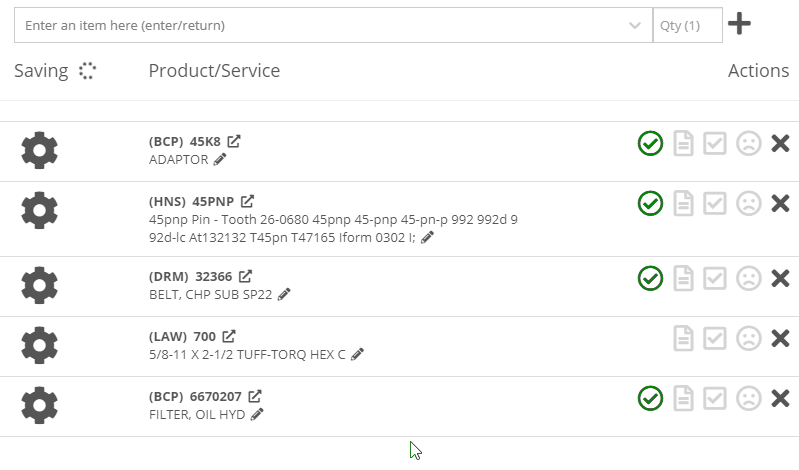 Cursor Movement After Parts Selection
After using the mouse to select parts from the parts searcher drop down, the cursor will automatically move to the quantity field.

Item Quick Add
We added a link from the POS item quick add dialog to the full new part creation form.  If you had some data already entered into this form, it will be saved and you will continue to edit the newly created part in a new tab. Just remember, the form has to be completely filled out before clicking the advanced button.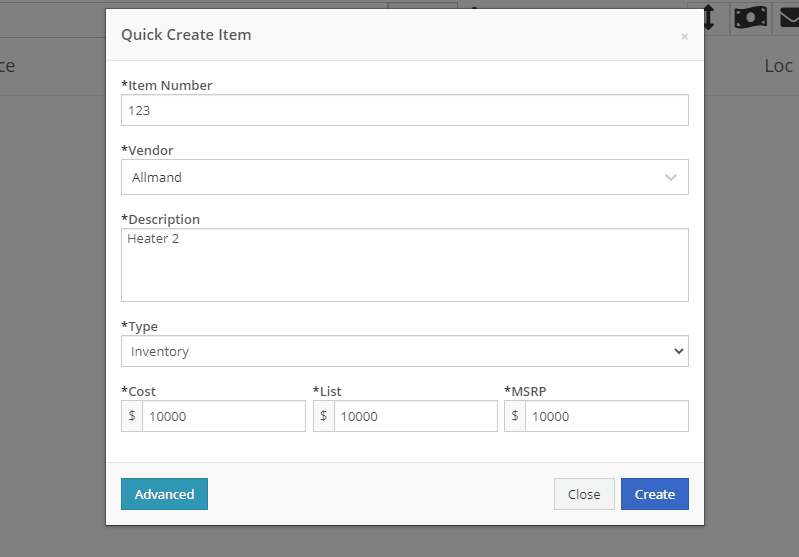 We will also start checking for duplicate customers. This should help prevent quickly adding customers that are already in the system.
Sparks Portal
Clicking "Accept Order" Assumes Responsibility
Sparks Orders were being created with a user set to "Flyntlok System".  In order to support downstream workflows (like purchase requests), we will assume the user clicking "accept order" will be responsible for that sales order moving forward.
Photos
We fixed a bug causing sparks machines photos to be different than Flyntlok DMS ones. This occurred when a machine's picture was updated from its original version.
Consignments
Dashboard Layout Updates
We optimized this page for laptop uses. Since consignment locations are often remote or on service trucks, we made some layout changes that should give laptop users a better experience. Specifically, any action button should be accessible without the need to side scroll.
Remove Insufficient Quantities
We added a button to remove out-of-stock items when transferring quantities to consignment locations.  When this button is clicked, we will reduce the transfer amount to the max quantity available to get you closer to your target quantity.  Previously, we removed the whole transer.

Redirect on Submission of WO Internal Quote
We realized the redirecting between work orders and internal quotes was choppy. We have implemented better redirects to help streamline the process. Upon completing an internal quote you will now be redirected back to the work order you started on. The system will behave exactly as if you bought the parts from an internal account; eliminating clicks and allowing you to enter additional work order data.
Better Error Handling on the User Settings page
You might have run into an error while editing/saving your user settings (such as updating your personal photo) and not realized it. We have now updated that page to communicate errors to you, should one occur.
User Photos - No Permissions Necessary
Being able to put a face to a name is more important now than ever. We made sure that all users are able to add a user photo. No permission is now necessary.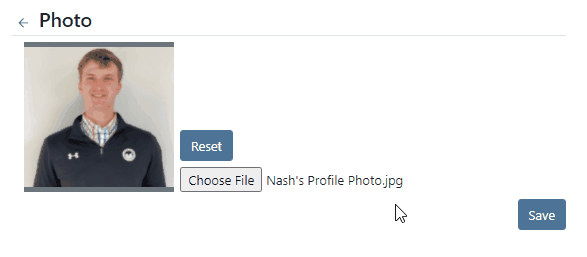 ERP Work Order Updates 
ERP Grading Workflow
Users were mistakenly grading a work order before signing it as assembled or signing the first article inspection.  Now, a work order must be signed as assembled before the option to grade the work order will be made available. If a work order requires first article inspection, that must also be completed before the option to grade will be made available.
Notes Modal (Gabe K - Click Reduction Contest)
This submission came from Gabe K during our click reduction contest. If your mouse left the space on the screen where the modal (pop up) was, the modal would automatically close. We understand that can be frustrating so we made sure that the modal stays open until you choose to click close or save.
Expected Total Cost
We give an extensive breakdown of costs on ERP work orders. We went ahead and added them up for you! This can be found on your ERP work order dashboard.
Quick Searching - Open in New Tab (Gabe K - Click Reduction Contest)
If you have the user setting enabled to open your QuickSearch results in a new tab, we were not leaving the input after you submitted your search.  When you returned to that tab, the QuickSearch guide would overlay over the page and block your view, requiring a click to close it. We have handled that for you now.
Adding Notes Only Available in Draft Status
It is important that closed sales orders remain closed and not changed. A few users found that our new hotkey improvements worked a little too well; allowing notes to be added to sales orders after they were closed. "N" will now only add notes to work orders in draft status.
Searching for Supersessions/Alternates/Cores After Creation
We have continued to improve on last week's core-focused improvements. You will now be able to find newly created cores in the parts searcher immediately after they are created. This will allow you to connect cores to parts immediately, smoothing your workflow.
Customer Unit Number Now Searchable on Work Order Create/Edit
We have added the ability to update, search and link machines to work orders based on the customer-supplied unit number. Previously, the technician had to supply the Flyntlok unit number.
Last Weeks Release Notes
Not yet a Flyntlok Customer?
Learn More at Flyntlok Dealer Management System
Youtube
Check out our Flyntlok YouTube channel for more highlights of the application!
Check out the latest updates to the Flyntlok Equipment Dealer Management System
Enhancements 🙌
Central Purchasing Report
When creating a stock order, you now have the option to consolidate all of your sales data across your locations.  When this option is selected, we will sum up all of the stocking levels and historical sales per item. The PO will still be for an individual location.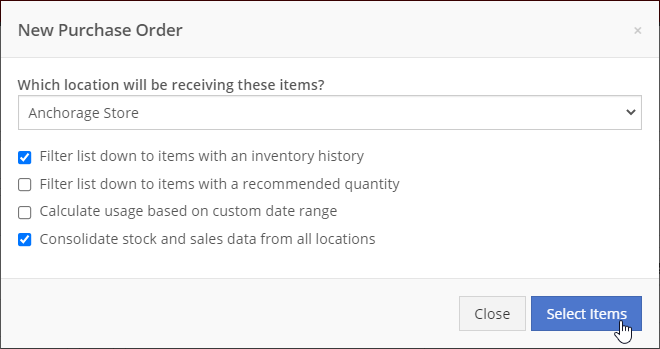 Price Updates on Receive - Margin Lock
We will now default price updates with the current margin of the price by default.  This should save you some time and thought when you update the cost of a part if your margins are not changing!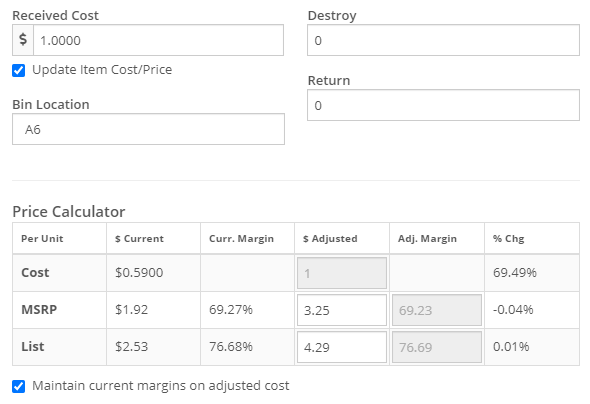 Customer Focused Machine Report
From a machine dashboard, you can now print a report that includes the specifications of the machine and the service history of that machine. To print this report, click the "Customer" in the basic information section.

Default Class on Items
We will now attempt to assign a class to items that do not have a class assigned to them based on the other items on the invoice when posting to QuickBooks Online.
Updated Error Images
We have updated our error images. We hope you enjoy them as much as we do!
---
Resolutions 🐛
Update to the End of Day Report - Average Price
We fixed an error with calculating the average cost of a part on the EOD report.
---
Last Weeks Release Notes
April 14th, 2021 Release Notes
Not yet a Flyntlok Customer?
Learn More at Flyntlok Dealer Management System
Youtube
Check out our Flyntlok YouTube channel for more highlights of the application!
Check out the newest updates to the Flyntlok Equipment Dealer Management System.
New 🆕
Volvo Extended Offer
We are now integrated with Volvo Extended Offer. When you order extended offer parts from Parts Linq, Flyntlok will receive order confirmations and shipping confirmations for these orders' styles.
Volvo plans to let you place these orders from your business system in Q3/4 of 2021.  We will add that functionality when it is available.
Enhancements 🙌
DMS WO - Clock Directly Into Job
When clocking into a DMS work order, you can now choose a job to clock into right away!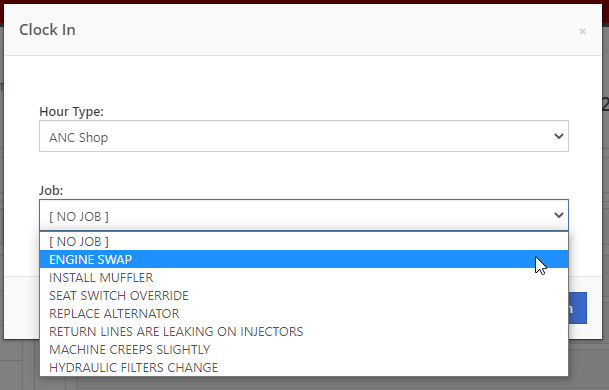 You will also see the option to clock in listed on the jobs as well.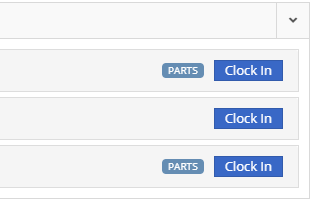 Part Transfers
We made some small adjustments to the form for requesting parts transfers.  The first field in the form is now the "From where?" section.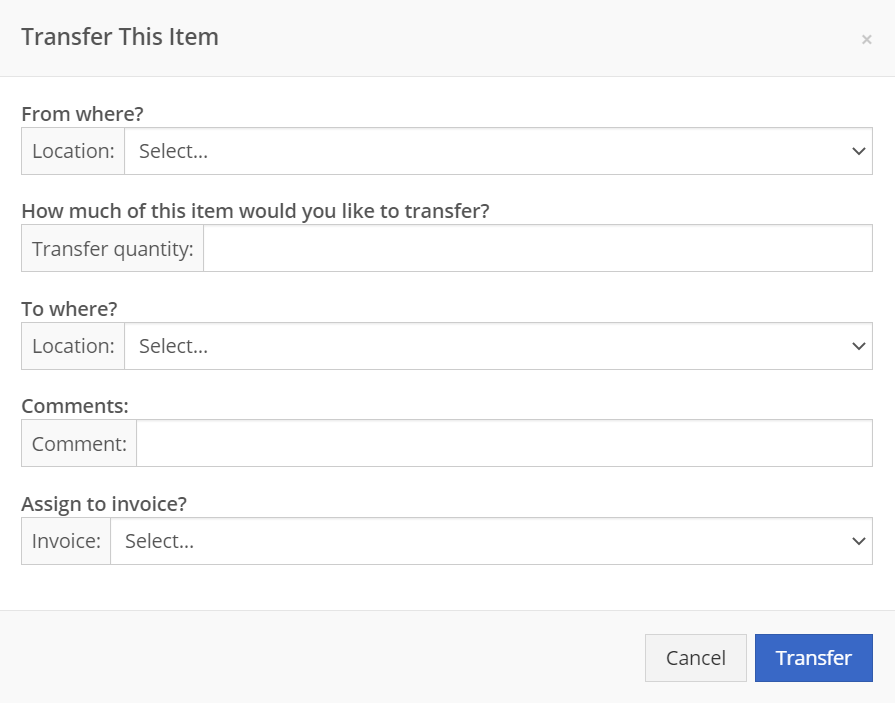 We also now show you the QOH at the location in the dropdown.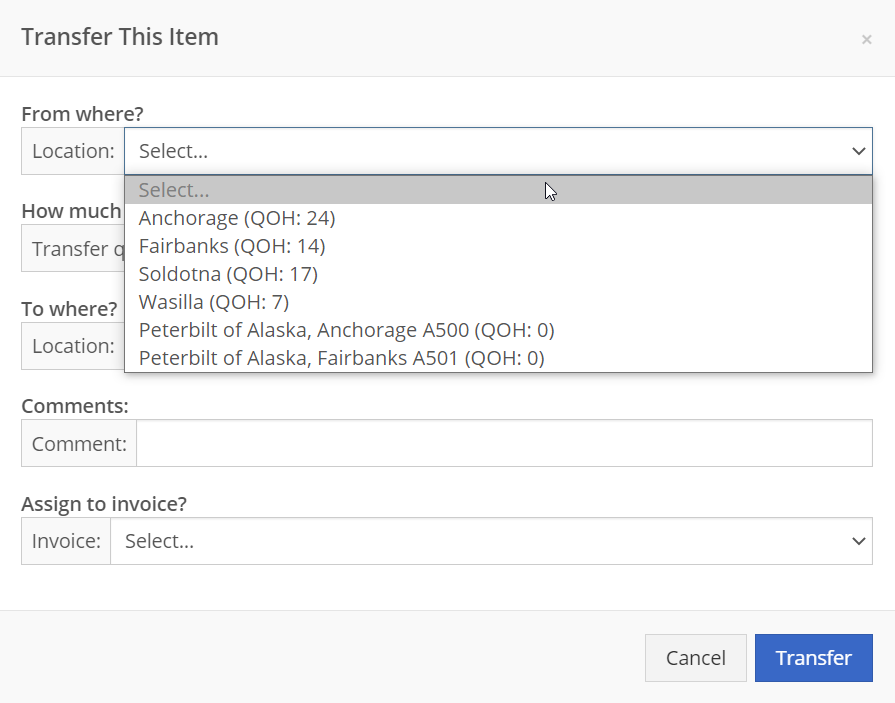 Multi-Discounts for Customers
You can now give a customer multiple discounts. To do this, navigate to the customer editor. In the "Accounting" section, you can set the discounts.
These discounts must be pre-defined by an administrator at your business.
Reject Quantities on MRP Work Order
We will now show you the amount that has been rejected in the top banner of the work order.

PDF Flat Rate Jobs
We have adjusted the DMS work order PDFs to now account for flat rate job pricing.

New Vendor Notification
We have added a new task that will get created for one user, set at the company level when a new vendor is added. This will allow for the vendor's accounting configuration to be double-checked and prevent any incorrect postings.
Journal Entry Logging
We have added logging to the Flyntlok Journal Entry system.
Updating Bin Location
Now, when receiving an item, you will be able to edit or set the bin location.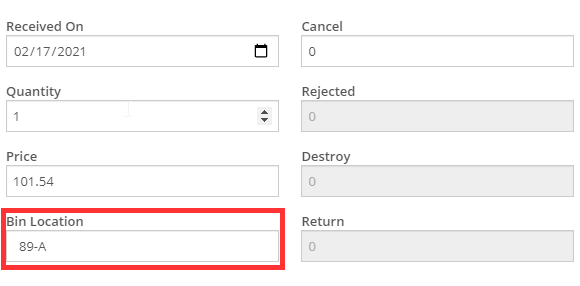 Resolutions 🐛
DMS WO Clock Icon
The clock icon on the list of open DMS work orders will now be highlighted if any tech is clocked into the work order. Previously, it was only if the technician assigned was clocked in.
DMS WO - Template Labor Types
If a job template does not have a default labor type, we will default for you.
DMS WO - Template Parts
We found a bug that prevented draft parts orders from being created when adding a job template to a work order.  That is fixed, and adding a template to a work order that contains parts will create a draft order of those parts.
Incorrect Core Location
We've tracked down and resolved an issue with cores being added to purchase orders with incorrect purchasing locations. Occasionally, when an item was being purchased with a core, the core added to the purchase order was for the incorrect store location.
Notification Setting
We found a bug in notification settings where we were overriding your setting. That is fixed, and they should stick now!
Not yet a Flyntlok Customer?
Learn More at Flyntlok Dealer Management System
Check out our Flyntlok YouTube channel for more highlights of the application!