New 🆕
Quick Return
We have added a "Quick Return" option from the vendor dashboard. This will allow users to quickly create a return of goods for a few items.  To create this style of return, head to the vendor's dashboard and click 'Actions'-> 'Quick Return'.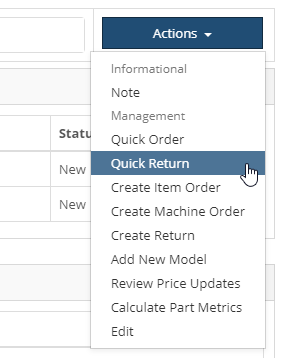 Choose the location, shipping type, and add your items to be returned.  You can choose to create the return immediately, or queue the return plans up to be added to a return of goods at a later time.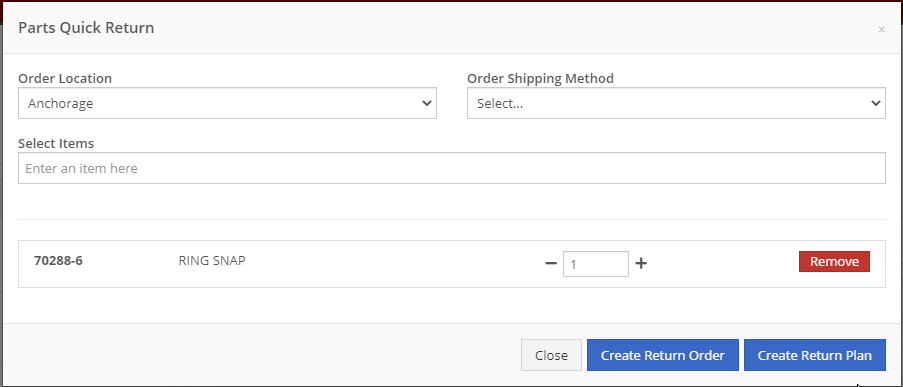 PACCAR-MDI Interface
This interface now allows for PACCAR customers to send part transaction data including sales and stocking levels to MDI. PACCAR will then send back recommend parts to order and stock based on this information. You can find the report of this data stocking data under your Purchasing tab.
PACCAR Electronic POs
From Flyntlok, you can now submit purchase orders to PACCAR. To do this, when you have a Flyntlok purchase order for PACCAR in New status, go to the Actions drop-down, and select the Submit to PACCAR option.
Note: We will be confirming this configuration throughout the rest of this week in conjunction with the PACCAR IT Team.   Your access will be limited until that is complete.
Next, you will get a pop-up that allows you to input the order type, shipping location, comments, and the carrier that it will be shipped on.

After hitting Submit, the purchase order will move to an Ordered status. On a submitted purchase order, you will see a note that the PO was submitted to PACCAR and the user who submitted it.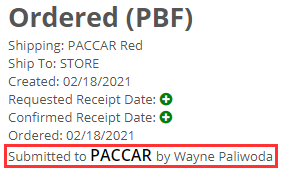 Internal Customers Editor
A new admin editor has been added under the Accounting tab called Internal Customers. From this report, you can view all of your internal customers and make any changes necessary to their accounting configurations.

---
Enhancements 🙌
Loss Reporting
We have revamped the ability to report losses. You can now report a loss from the left-hand navigation under the New section.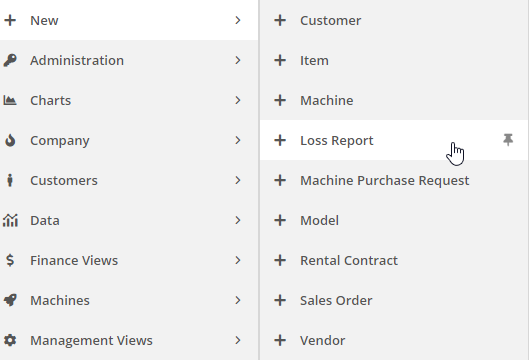 Or you can report a loss from the Actions drop-down on a machine or item dashboard.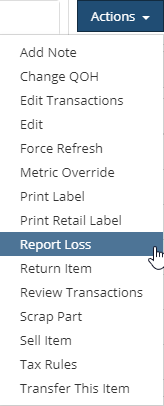 After choosing to report a loss,  you will be taken to our new loss reporting screen. Depending on the method you take to access the loss report, we will prefill the loss type with the data from the machine or item you are reporting the loss from. If you access the loss report from your left-hand navigation, you will be able to select the type of loss you are reporting and associate it with a machine, item, or service.
These reported losses will still show on the currently used win/loss report.
Note: We will have an emailed weekly loss report and dashboard grids that will report on these losses coming out soon.
Customer Unit Number
On all work order PDFs, we have added the customer unit number to the machine box.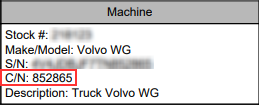 Flyntlok Report Screen Optimization
We have gone in and optimized the screen space for Flyntlok reports. The layout selector has been moved to the upper right of the report to allow for the table of data to be moved higher up on the page, and we have extended the bottom of the report to be closer to the bottom of the page. This will allow users on smaller screens to view more rows of data.
Consolidated Machine Actions
The Complex Actions and Simple Actions drop downs on the machine dashboard have now been combined into one!
Click here to view the key of the new actions dropdown: Machine Actions Dropdown Update
---
Resolutions 🐛
Structured Forms
We have fixed the PDF print-off for associated forms attached to work orders.
Emails Sent to Disabled Users
Previously, we were sending out weekly emails to users that have been disabled, this will no longer happen.
Bin Location Logging
We added a log that gets recorded when a user changes or adds a bin location when receiving an item.
---
Not yet a Flyntlok Customer?
Learn More at Flyntlok Dealer Management System
Check out our Flyntlok YouTube channel for more highlights of the application!