Check out the latest updates to the Flyntlok Equipment Dealer Management System.
Customer Management
New Features
Primary Customer Contact
We want to help you set the customer contact on sales orders, rentals, and work orders. The primary customer contact will solve this problem! Notice that the contacts editor has changed. If a contact is marked as primary, it will have a green check beside it.
To set a contact as primary, edit the contact and check the Primary Contact box.
Remember, there can only be one primary contact assigned to the customer. Once a primary contact has been selected, we will auto-fill that contact on all sales orders, rentals, and work orders. This is only a default and can be changed if needed.
Point Of Sale
New Features
Adding Models to Sales Orders
Models can be added to a sales order, quoted, then easily swapped for a machine.
To add a model to a sales order, click the Rocket and select the Quote Model tab.
Next, type in the model that you would like to add. We will autofill as much information as possible, but you can always edit any information as needed. Then click Quote.
At this point, lets say that a quote has been given to the customer and they have accepted. Its time to associate a machine to the model. Instead of the Fulfill button you will see a Rocket. 
Click the Rocket,  and search for the machine that you would like to link to the sale.
Once you click Associate Machine, the machine will be added to the sales order and the model will be removed automatically. At this point, you can sell that machine following your normal workflow!
Sales Order Terms & Conditions Editing
You can customize the Terms & Conditions on individual sales orders.
From a sales order, Click the details tab:
Then, Click Settings:
Make any changes needed to the Terms & Conditions
Click close
Work Orders
Enhancements
Work Order Creation
When you select Multiple on the work order creation page we will hide unnecessary information like machine hours and miles.

Machine Information Auto-Populate
If a machine has miles and/or hours, we will auto populate that information on the work order.

Bulk Labor Update
When you update a labor type on a job, you will have the option to update all previous labor on the job to the new type.
Estimate Email
We have updated the estimate email to contain the view/sign option and a PDF copy of the estimate. Previously, these came in separate emails.
Google Maps Integration
Over the past couple of weeks have been adding links to Google Maps within Flyntlok, specifically in the work order and rental systems.
If you click this icon 
  you can go directly to google maps where you will be given directions to your destination.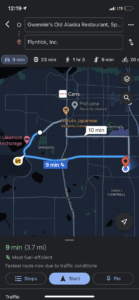 Mobile
Enhancements
Work Order Filtering
If you have a large amount of open work orders, you can use the new filter button to consolidate the list.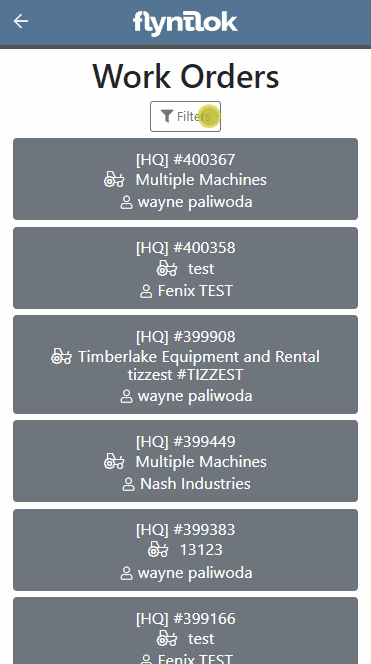 CRM
New Features
Lead List Importer
We are making it easy to import lead lists that you have purchased or built. When you are ready to import a list, head over to the CRM Hub!
Click actions then Import Leads.
From the modal, you can download the template needed to import the lead list. Once you have converted your list to our format, you can add the file and click Import.
Application Management
Enhancements
Performance Tab & Cost Adjustment Permissions
We have added two additional permissions to the Access Control page.
Model Creation Defaults
When a new model is created, Allow Rent and Allow Sale can be defaulted to the value you choose. The default value is no for Allow Rent and yes for Allow Sale for both fields. The default values can be changed on the Flyntlok details page.
Last Release Notes
March 16th, 2021 Release Notes
Not yet a Flyntlok Customer?
Learn More at Flyntlok Dealer Management System
Youtube
Check out our Flyntlok YouTube channel for more highlights of the application!