Point Of Sale Overview
The Point Of Sale (POS) allows a user-friendly way to create Sales Orders (SO), quotes, and other internal documents. It offers a large range of customizable features that expedite and improve customer experience. These features include texting customers when parts arrive, sending out customer experience surveys, emailing customer invoices, and more.
Getting to the POS
Users can access the POS from the Quick Searcher by searching for a Sale Order. You can also click the Sales Order number wherever found in Flyntlok.

Creating a Sales Order
The most common way a user can create a Sales Order is by clicking the Shopping Cart icon located in the Top Menu Bar.

The other ways users can create a Sales Order:
In the left navigation, select

New -> Sales Order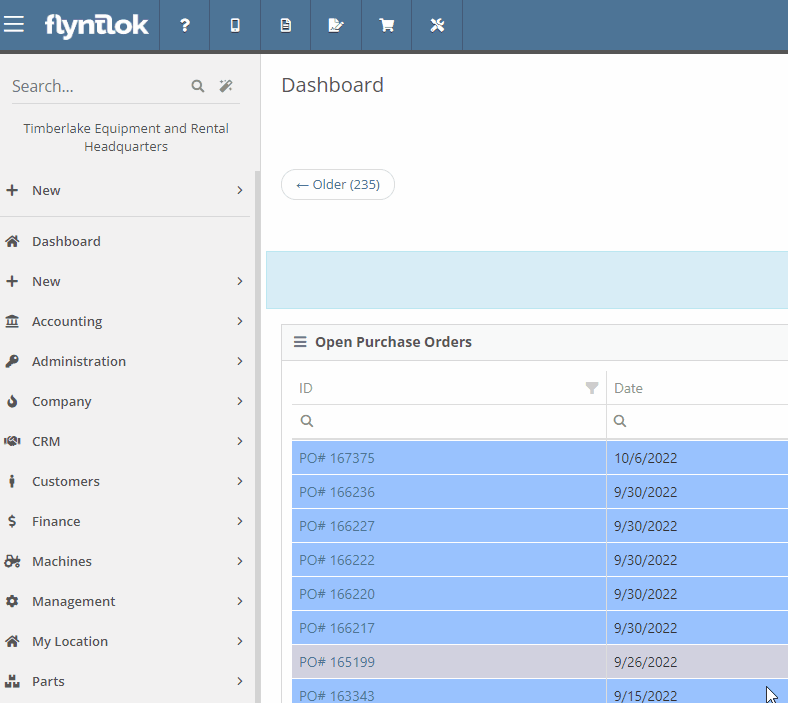 From the

Customer Dashboard

->

Actions

->

Sales Order

The newly created

Sales Order

will have the customer assigned and default contact selected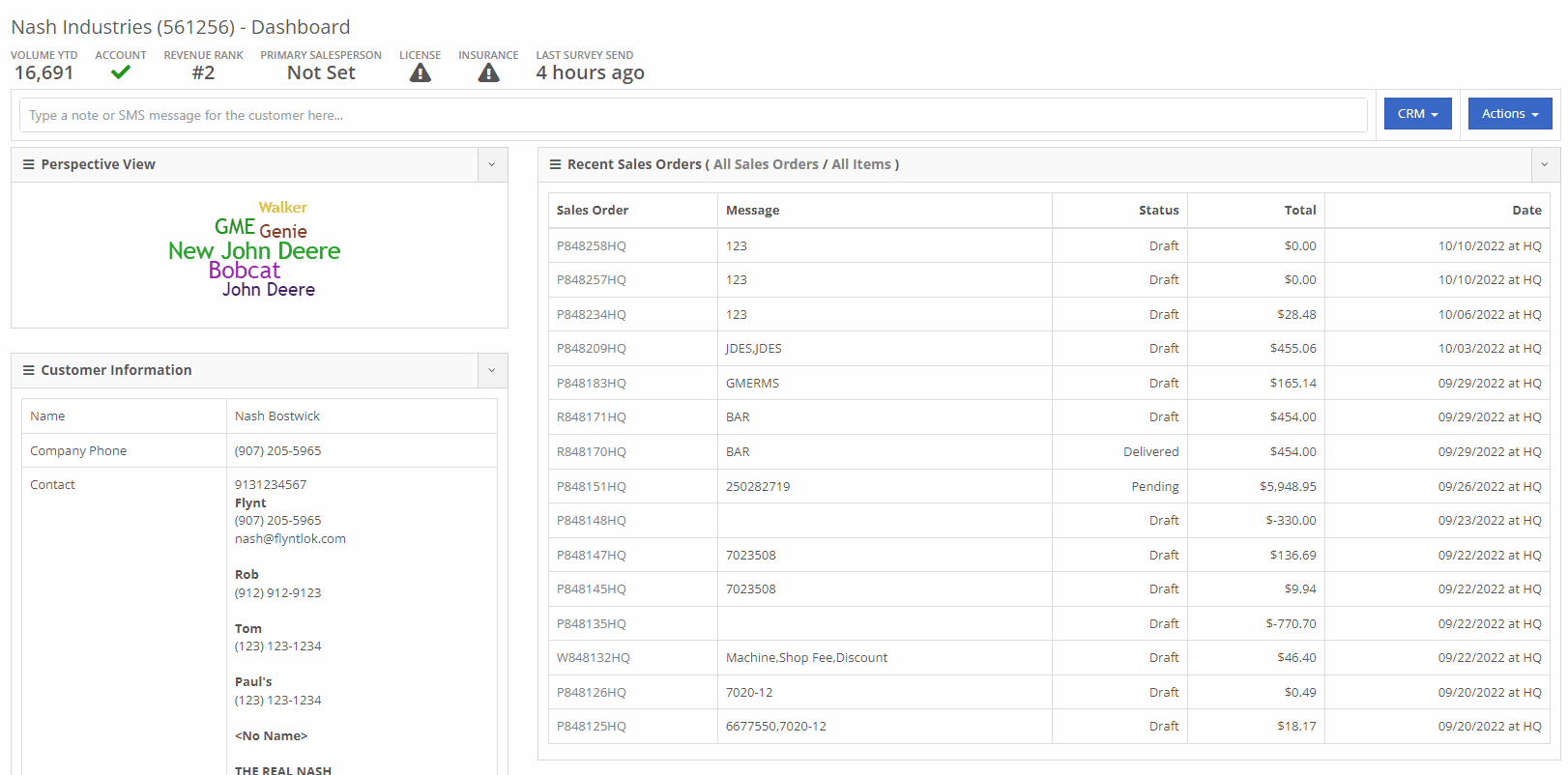 From the

Item Dashboard

->

Actions

->

Sell Item

A new

Sales Order

will be created with the item added
From the

Machine Dashboard

->

Actions

->

New Linked Sales Order

Linked machine information will then auto-populate on the newly created

Sales Order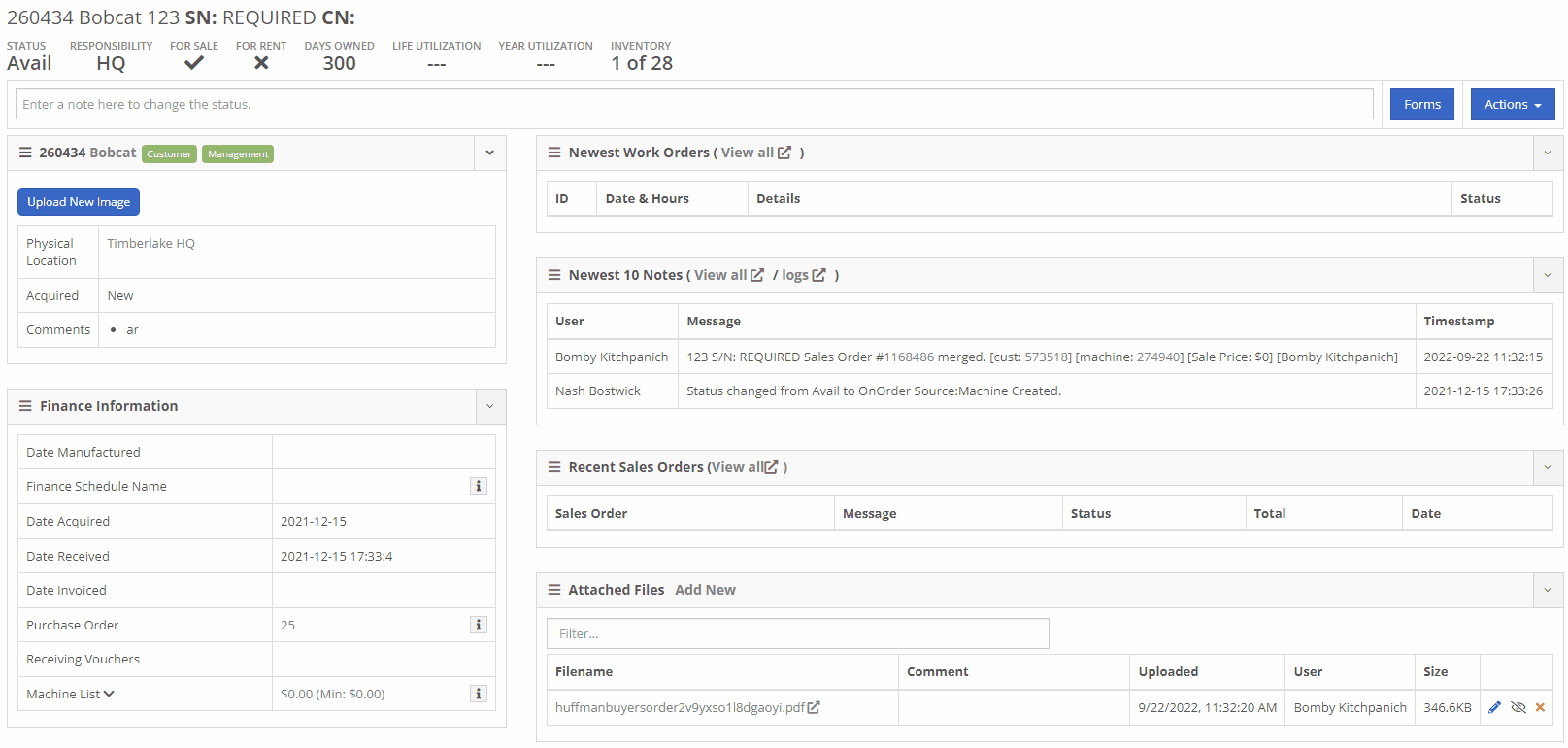 POS Layout
Once arrived, a dashboard appears which includes blue tabs labeled:
The blue Customer tab is the initial tab opened when creating a new Sales Order. This tab prompts users to fill in Customer, Contact, Machine, and other general information. Head to the Customer article for further information.

The Shipping tab includes the ability to create, edit, and view customer Shipping Addresses, and designate inbound and outbound Shipping Methods. Head to the Shipping tab article for further information.

The Details tab includes Customer Purchase Order, public and private message fields, and other actions and settings. Head to the Details article for further information.  

The Payment tab give you options to take Payment, Quote, Copy and more. Head to the Payment or Actions article for further information.
The Activity tab includes a Note Section, SMS options, and a link to the Sales Order Audit Logs. Head to the Activity article for further information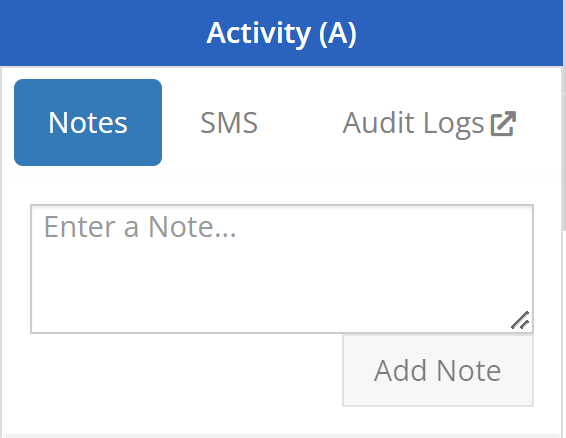 Clicking below the prompted Customer tab into the center of the POS or clicking above the Shipping, Detail, or Payment tabs, will reveal the Item Search Bar, Item Line Details, and other Sales Order Features. Go to the Item Search Bar article for further information on the following Look-up functions.
Search Mode vs. Scan Mode
Part Number Searcher
Quantity editor
Add a new item
Import items from a file
For further information on looking-up and entering Items in the Point of Sale, go to the Item Search Bar article.

In the homepage of your POS, users can access all necessary Sales Order Actions. Many of these features are displayed by relatable icons in the top right corner of the POS and include: 
Reverse line-item order
Email this Sales Order
Print this Sales Order
Print thermal receipt
View packing slip
Apply a percentage discount to the entire order
View internal pricing information
Fulfill all items as much as possible
Modify tax rules
Adjust payment posting dates
Your most commonly sold items
Sell a machine
Export to Excel
Create Label
For further information on Point-of-Sale Actions, go to the Actions Articles.

By searching or scanning, items are added to the Sales Order. In each item line, users can:
Access

Item Dashboard

View/Edit line description

Fulfill line

Check traceability

Verify the correct item number

Report lost sale

Remove item from a

Sale Order

Update item bin

Change quantity

View quantity on hand

Override quantity on hand

Fulfill quantity

View/edit/discount line amount
Above the Shipping tab, users may view the status, the Sales Order number, view Downstream Operations, as well as choose to Delete or Order. Also, above the Activity tab, badges describe additional context of the Sale Order and Customer. For further information on Line Items, go to the Line Items article.

| | |
| --- | --- |
| Main Point of Sale Screen | |
| Key | Action |
| E | Emails Sales Order |
| F | Fulfill all Items as Much as Possible |
| N | Adds a new note to a sales order |
| CTRL + O | Completes Sale |
| P | Prints Sales Order |
| 1 | Opens the Shipping tab |
| 2 | Opens the Details tab |
| 3 | Opens the Payment tab |
| 4 | Opens the header box |
| Tab/Enter | Either Tab or Enter can be used to switch from the parts searcher to quantity. |
| Item Description | |
| Shift + Enter | Starts a new line while typing |
| Escape(Esc) | Closes Pop-up |
| Payment Tab | |
| C | Cash |
| R | Credit |
| D | Debit |
| K | Keyed in Credit |
| A | Account |
For further information on POS Hotkeys, go to the Hotkeys article.
Settings for the Point of Sale can be found underneath Editors (Wrench) -> Point of Sale. These settings allow users to adjust:
Customer relationship types
For further information on Point-of-Sale Administration, go to the Point-of-Sale Administration article.